Cambridge, Mass. Considering New York Style Soda Ban
Another local official wants to join the War On Big Soda.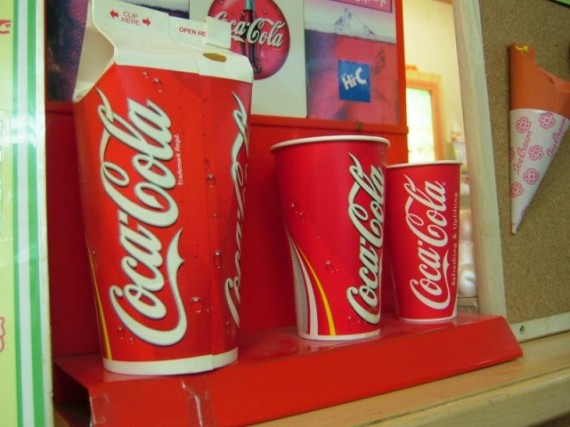 Mayor Michael Bloomberg's proposal to ban large-sized sodas in New York City is, not surpringly, inspriring other local officials to consider similar moves:
Following in the footsteps of New York City, Cambridge is considering limiting the size of sodas and sugar-sweetened beverages in city restaurants.

Cambridge Mayor Henrietta Davis proposed the idea at the council's meeting Monday night, saying she brought the idea forward because of the health risks caused by consuming too much soda.

"In addition to being an obesity threat, soda is one of the contributing factors to an increasing rate in diabetes and heart disease amongst younger people," Davis said.

Davis said the ban she had in mind is similar to that recently proposed by New York City Mayor Michael Bloomberg, that would impose a 16-ounce limit on any sugary bottled or fountain drink that contains more than 25 calories per 8 ounces that is served at restaurants, delis, and movie theaters. The New York City proposal would not affect diet soda or any drink that is at least 70 percent juice, or half milk or milk substitute.

But Cambridge City Councilor Leland Cheung said he was befuddled to see the proposal because there has been such a backlash against the idea in New York City. Cheung said the soda ban in New York has been ridiculed in the media, and is almost a nightly subject of the political comedy program "The Daily Show with Jon Stewart" on Comedy Central.

"Before launching ourselves into the middle of another maelstrom, I would want to see how that sorted itself out in New York," Cheung said.

Davis said she would like to see what recommendations Cambridge's Public Health Department would make about limiting serving sizes in local restaurants.

City Councilor Minka vanBeuzekom said she supports the idea of limiting the size of sodas because of the health concerns.

"It's a very good thing to try and pursue, and in my opinion to ban, but it won't be easy," she said.

The council voted to refer the proposal to its health subcommittee to explore.
Not surprisingly, Mayor Davis, who has described herself in the past as favoring an "earthy, crunchy agenda," takes much the same paternalistic attitude toward the citizens who elected her as Bloomberg does:
"It seems like the way we have to go is look at the environment, look at the temptations that are out there for people," Mayor Davis told CBS WBZ NewsRadio 1030 in Boston. "See if that can be easier on all of us by not having bottomless pits of soda."
It doesn't seem to occur to Davis that the people of Cambridge are perfectly capable of making choices on their own, and dealing with the temptations that surround them in a bountiful society such as ours. Instead, she believes that it is her job as Mayor to police their food and beverage choices to ensure that they choose the "right" things, with "right" of course being determined, of course, by all-knowing technocrats such as herself and Mayor Bloomberg. When she's done dealing with the "temptation" of large servings of soda, will the Mayor then move on to fried food, donuts, alcohol, and the "problem" of married men tempted by young, attractive woman? Where, exactly, does this new found job of the state to police "temptation" end? More importantly, where does it come from? It certainly doesn't seem to be part of any philosophy of government that anyone in this country would recognize, and seems to more resemble the kind of "benevolent" authoritarianism one sees in a nation like Singapore. Is that the model that Davis sees for her city?
Large sodas, of course, aren't the first example of the rise of these nanny state laws, which have been something of a nationwide phenomenon. Several California localities, including the City of San Francisco, have banned Happy Meals unless they contained "healthy" food, and a woman affiliated with the Center For Science In The Public Interest   (the "Food Police") filed a Federal Lawsuit because she apparently lacked the power to refuse her daughter's requests for a McDonald's Happy Meal. In that case, apparently, the "experts" believe that parents are quite simply too weak-willed to refuse the request of a three year old, or that they're just generally too stupid to know what's good for their children.
Of course, at it's root, the Nanny State treats all of us like children. Instead of accepting the fact that people have the right to make their own lifestyle choices, and are fully capable of understanding the consequences of the choices that they make, leaders like Mayor Davis and Mayor Bloomberg assume that we are really no different from that toddler throwing a temper tantrum because they want to go to McDonalds. Not only is that an inaccurate view of the way people actually are, it's an insulting one when it's held by elected officials who have decided to take it upon themselves to decide what's best for us. People have the right to drink a large soda, or eat fatty food, if they want. They have the right to drink alcohol, and they should have the right to gamble. It really isn't the business of the state to be protecting people from the consequences of the decisions they make. That's what life is for.