Campaign Donation Disclosure and Incumbent Backlash
Public disclosure of campaign contributions makes it easier for incumbents to pressure backers of their opponent.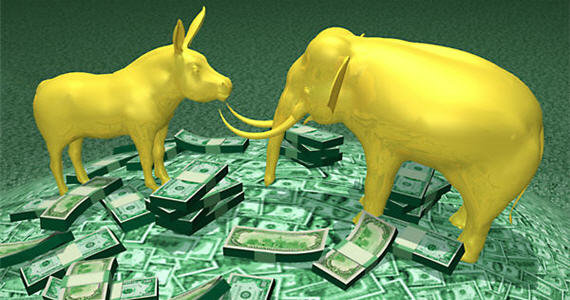 James Huffman, Oregon's Republican nominee for Senate in 2010, explains in today's WSJ "How Donor Disclosure Hurts Democracy."
In the debates about campaign-finance regulation and the Supreme Court's Citizens United decision of last year, there seems to be widespread agreement on one thing: Public disclosure of political contributions is a good thing. That was my view as well, until I campaigned as the Republican nominee for the U.S. Senate seat in Oregon in 2010.

The reality is that public disclosure serves the interests of incumbents running for re-election by discouraging support for challengers. Here's how it works.

A challenger seeks a contribution from a person known to support candidates of the challenger's party. The potential supporter responds: "I'm glad you're running. I agree with you on almost everything. But I can't support you because I cannot risk getting my business crosswise with the incumbent who is likely to be re-elected."

[…]

Disclosure makes threats possible, and fears of retribution plausible. Within weeks of a contribution of $200 or more, the contributor's name appears on the public record. Contributors know this, and they know that supporting the challenger can, should the challenger lose, have consequences in terms of future attention to their interests. Of course no incumbent will admit to issuing threats or seeking retribution, but the perception that both exist is widespread.
This is indeed a legitimate fear. Of course, any limitation on campaign fundraising–including institution of public financing–works to the advantage of incumbents.
There's no way to simultaneously inform voters about who's backing a candidate and keep that information secret from other candidates, including the incumbent. And it's quite plausible, indeed, that victorious incumbents will hold grudges against those who spent money trying to get them ousted.
Is that rational concern enough to justify making political donations secret? After all, the secret ballot–the notion that it's nobody's business who you're voting for–is a cherished part of of political culture and publishing one's donations pulls the veil off.
Then again, as Jonathan Adler notes, disclosure "gives voters additional information and could make it easier to assess corruption claims." Is that trade-off worth it?
UPDATE: Megan McArdle offers and interesting suggestion:
I've long toyed with the notion that we should go the other way: allow unlimited donations, including from corporations.  But force them to go through an institutions which strips off the names and pools the money, so it's impossible to see who donated, or even the size of the individual donations.  Once a month, you get a check from the campaign finance bank, and that's it.

I have no idea whether this would pass constitutional muster.  But it would certainly cripple lobbying via campaign contributions, while allowing people to give as much support as they wish to candidates who they think will further their interests.  The overall result would probably be much less money in politics, with candidates much more dependent on small donors.  And it's possible that this could advantage incumbents–who get free television time–even more.
Commenters retort that anonymous donations wouldn't preclude donors communicating to incumbents that they'd donated. But nothing would preclude saying you'd donated when you hadn't, either.
Ultimately, I doubt this would work given the number of signaling devices available. But that's why I'm skeptical of the campaign finance reform enterprise generally: motivated people will figure out ways to game the system, regardless of the system.
The problem isn't as much the influence of money in politics but the influence of politics on money.