Campaign Spending, Free Speech, and Disclosure
The Koch brothers will spend more money in this election cycle than the entire McCain campaign did in 2008.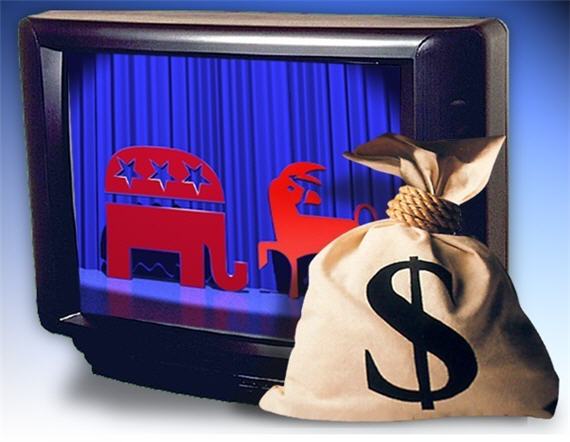 A startling stat jumped out at me this morning: "The Koch brothers, by themselves, will spend more money in this election cycle than the entire presidential campaign of John McCain in 2008."
The source is Mark McKinnon, an advisor to the 2000 and 2004 Bush campaigns who has become a leader of such third party movements as No Labels and Americans Elect, appearing on NPR yesterday with Democratic pollster Mark Mellman to discuss what could not only be the first billion dollar presidential race but quite possibly the first four billion dollar presidential race.
While Romney is thus far outraising Obama directly and thumping him in terms of SuperPAC money, both men think that Obama is thus far capitalizing on his funds better.
MELLMAN: But look what's happened with the Obama campaign and the attacks on Romney with respect to his stewardship of Bain Capital and the decisions, the business decisions he made that ended up hurting a lot of average folks: a lot of crossfire in the press about that – some from a few Democrats, some from reporters, editorialists, others. But you see where those ads have actually been on the air in swing states, it's made a difference. It's really damaged Mitt Romney's image, and it's helped Obama take the lead in some of those important swing states. So, again, an example where the media didn't necessarily pick up on the narrative the way the campaign would have liked, but the ads themselves did make some measurable difference.

MCKINNON: And I would just add to that, that that Bain story is the narrative that Obama campaign is trying to establish, and they've done a pretty effective job of it. And they've done it by spending very heavily, very early. And that's when you can have the most impact, which is exactly what we did against John Kerry in 2004.
Interestingly, while both are concerned about the impact of this money, both also agree that the vast majority of the money will likely be "wasted" and that the law of diminishing returns will likely kick in well before the billion dollar mark.
In today's NYT, two former moderate Republican Senators, Warren Rudman and Chuck Hagel–argue in favor of transparency.
Yet what really alarms us about this situation is that we can't find out who is behind these blatant attempts to control the outcome of our elections. We are inundated with extraordinarily negative advertising on television every evening and have no way to know who is paying for it and what their agenda might be. In fact, it's conceivable that we have created such a glaring loophole in our election process that foreign interests could directly influence the outcome of our elections. And we might not even know it had happened until after the election, if at all.

This is because unions, corporations, "super PACs" and other organizations are able to make unlimited independent expenditures on our elections without readily and openly disclosing where the money they are spending is coming from. As a result, we are unable to get the information we need to decide who should represent us and take on our country's challenges.

Unlike the unlimited amount of campaign spending, the lack of transparency in campaign spending is something we can fix and fix right now —without opening the door to more scrutiny by the Supreme Court.

A bill being debated this week in the Senate, called the Disclose Act of 2012, is a well-researched, well-conceived solution to this insufferable situation. Unfortunately, on Monday, the Senate voted, mostly along party lines, to block the bill from going forward. But the Disclose Act is not dead. As of now, it is 9 short of the 60 votes it needs.

The bill was introduced by Senator Sheldon Whitehouse, Democrat of Rhode Island, who deserves tremendous credit for crafting such comprehensive legislation, listening to his critics and amending his bill to address their concerns in a bold display of compromise. At its core, Whitehouse's bill would require any "covered organization" which spends $10,000 or more on a "campaign-related disbursement" to file a disclosure report with the Federal Election Commission within 24 hours of the expenditure, and to file a new report for each additional $10,000 or more that is spent. The F.E.C. must post the report on its Web site within 24 hours of receiving it.

A "covered organization" includes any corporation, labor organization, section 501(c) organization, super PAC or section 527 organization.

This is a huge improvement over the status quo, where super PACS currently have months to disclose their donors (often withholding this information until after an election) and 501(c) organizations have no requirement to disclose their donors at all.

The report must include the name of the covered organization, the name of the candidate, the election to which the spending pertains, the amount of each disbursement of more than $1,000, and a certification by the head of the organization that the disbursement was not coordinated. The report must also reveal the identity of all donors who have given more than $10,000 to the organization.
In full disclosure, Hagel is Chairman of the Atlantic Council and my boss' boss. Still, while I'm sympathetic to his argument here, I'm not passing this bill would solve much.
On the one hand, I see little downside to requiring disclosure for major donors. Indeed, while I'm opposed every if not all campaign finance reform effort over the years on free speech grounds, I've also advocated for full and speedy disclosure of contributions. While there are speech arguments for privacy for small donors—essentially, the same ones that exist for a secret ballot—they don't really apply at higher thresholds. Certainly, those who can afford to give away $10,000 are unlikely fear that their boss or union leadership will retaliate and there's a legitimate public interest in knowing who influences candidates. Giving $200 to a presidential candidate is just enough to get on a mailing list asking for more money; giving $20 million buys regular access.
On the other hand, the problem being addressed strikes me as highly theoretical. That is, we already know who the big donors are. The Koch Brothers, Sheldon Adelson, and others are becoming household names–well, at least in households with political wonks.
Further, while disclosing the names of major donors strikes me as reasonable, I'm dubious of the value in requiring filing of an extensive report every time an organization engages in what the Supreme Court has ruled is political speech. Certainly $10,000 is hardly a major "disbursement" in today's world; why not raise the threshold to an amount that would really impact a race? And, while I get the need for speedy disclosure very late in a cycle, a 24-hour turnaround seems onerous in July. Especially if it's required every single time an organization spends $10,000. Why not a single report after a major expenditure (say, enough to buy a statewide television ad in Virginia or Ohio) and an updated report every 30 days for organizations that continue to make big buys?
There's both a right to speak–and, again, like it or not the Supreme Court has ruled that buying TV ads and the like is speech–and a public interest in knowing who's pulling the strings. Disclosure of high dollar donors strikes me as a reasonable balance. Onerous reporting requirements for small expenditures, not so much.
UPDATE: Lest readers get the impression this is a purely partisan position, note that I'm on the same side as the ACLU here.
ACLU Urges No Vote On DISCLOSE ACT; Bill Will Compromise Free Speech

[…]

The American Civil Liberties Union is urging senators to vote against the bill because those disclosure requirements are overly broad and inconsistent and will likely infringe upon the free speech and privacy rights of Americans.

The Democracy is Strengthened by Casting Light on Spending in Elections (DISCLOSE) bill (H.R. 5628) includes a provision obligating many advocacy organizations that wish to speak out on candidates and, in certain situations, political issues, to release the identities of many of their donors, while allowing a few large organizations to preserve the privacy of their donors. The amendment exempts organizations that have over 500,000 members, are over 10 years old, have a presence in all 50 states and whose revenue from corporations and unions is less than 15 percent. By exempting larger organizations that might tend to be more mainstream from certain disclosure requirements, the bill inequitably suppresses only the speech of smaller organizations that might be more controversial, and compromises the anonymity of small donors.

[…]

"The ACLU supports the disclosure of large contributions to candidates as long as it does not have a chilling effect on political participation, but the DISCLOSE Act would inflict unnecessary damage to free speech rights and does not include the proper safeguards to protect Americans' privacy. The bill would severely impact donor anonymity, especially those donors who give to smaller and more controversial organizations."
So, disclosure good; this specific set of disclosure requirements, bad.
Correction: The original mistakenly misidentified Rudman as a Democrat.