Can Any Republican Beat Obama in 2012?
Does it matter which candidate the GOP nominates?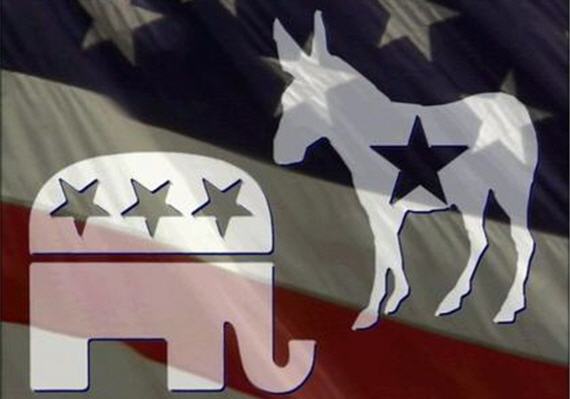 In my ridiculously early handicapping of the 2012 Electoral College, among my caveats was "Presuming that the Republicans nominate a plausible candidate (Romney, Perry, Huntsman, or Pawlenty would all qualify)." Let's revisit that in light of some other pieces going around.
Public Policy Polling's Tom Jensen uses state-by-state surveys to proclaim "if the Republicans nominate Mitt Romney it's a toss up. And if they nominate anyone else it's 2008 all over again."
Obama's holding his ground against everyone but Romney in Nevada because voters there find the whole GOP field even more unpalatable than him. Romney comes close to breaking even on favorability at 38/43 but the rest of the Republicans are quite unpopular- a -9 spread for Cain at 24/33, a -12 for Perry at 24/36, a -21 for Bachmann at 30/51, and a -28 for Palin at 32/60.

Voters disliking the Republican candidates really is a vital component of Obama's horse race numbers holding up as well as they are even as his approval numbers struggle. It remains to be seen whether he can really get reelected by being the lesser of two evils or if the election will end up being solely a referendum on him regardless of who the GOP puts forward. And one thing's for sure- if voters ever warm up to one of the Republican candidates Obama will really be in trouble, in Nevada and everywhere.
The problem with this analysis is that, with the exception of Palin and Bachmann, all of the Republicans mentioned have lower disapproval numbers than Obama. Moreover, with the possible exceptions of Palin and Bachmann, most of the non-Romney candidates simply aren't well enough known at this point for opinion numbers to be particularly meaningful.
More important, as Jonathan Bernstein and others have taken pains to constantly remind us, most of the political science data shows much smaller effects for candidate personality and campaign goings-on than the punditry would have you believe. In fact, economic data seems to be the overwhelming indicator of presidential election outcomes.
Kevin Drum believes–indeed, knows–that Rick Perry is unelectable simply because Texas governors and drawls are still tainted with the stink of George W. Bush. Matt Yglesias, rightly in my view, notes that Perry is "exactly the sort of person who wins presidential elections" and that, if the economy is still in the toilet, he'd have an excellent chance of winning.
Scott Lemieux goes even further, declaring that, "Barring an unusually strong economic turnaround that the debt-ceiling deal makes even less likely, anybody who wins the GOP nomination will have a reasonable chance of getting elected. Indeed, I'd push it even further, and say that this absolutely applies to Bachmann as well." He adds, "The candidate chosen by the Republicans might make some difference at the margin—but that's it. Anybody who wins the nod will have a real chance of winning, and Democrats who are hoping that Republican primary voters follow their worst instincts should be very careful what they wish for."
Even Bernstein is skeptical about pushing it to this level observing, "There's a clear possibility in my view that GOP nomination politics will be so nutty that the eventual nominee, whoever it is, will be at least somewhat damaged by it; as I've said before, the odds of the Republicans nominating a crazy candidate aren't very high, but the odds of them nominating someone who has said crazy things keep increasing."
Lemieux has two ways to be right here: First, simply winning a major party nomination confers a substantial amount of gravitas and plausibility. Second, the process itself tends to eliminate the crazies, even those who seemingly have great appeal to the base. Howard Dean–who, in hindsight at least, wasn't a crazy but came across that way at times in 2004–imploded. Rudy Giuliani, who many of us considered the Great Sane Hope early in the 2008 cycle, was revealed to be batshit insane by this point in the race. So, Michele Bachmann is extraordinarily unlikely to win the Republican nomination but, if she does, it will be because along the way she convinced people that she's actually a serious, reasonable candidate for the presidency.
Additionally, past experience shows that the American public is remarkably forgiving of candidates who have "said crazy things." Hardly anyone is paying attention yet and people are mostly concerned with candidates coming across as likable, confident, and reasonably competent by the time of the second or third general election debate. Pretty much everything that happens before, short of a Kitty Dukakis rape moment, is the equivalent of an bad play in a preseason football game.