Can Senators Handle The Truth on Syria?
Senators John McCain and Carl Levin have demanded answers from General Martin Dempsey on Syria. Can they handle the truth?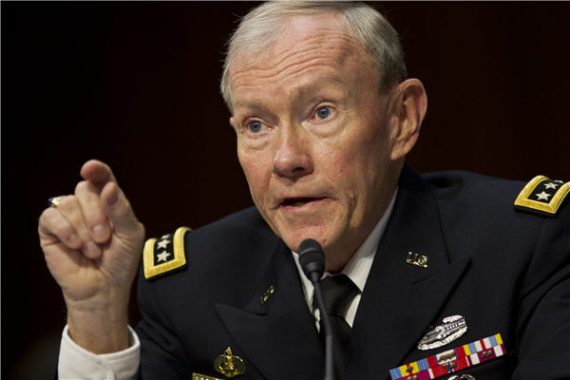 My latest for RealClearDefense, "Dempsey to Senators: Can You Handle the Truth on Syria?" has posted:
Senators John McCain and Carl Levin have demanded answers from General Martin Dempsey on Syria. Can they handle the truth?

[…]

It's rather immediately obvious that these options range from not very good to downright awful. Nor are either of the extremes—doing nothing or a full-out invasion of Syria followed by an occupation force—considered.

Dempsey notes, correctly, that none of the options ought be "considered in isolation," arguing that "It would be better if they were assessed and discussed in the context of an overall whole-of-government strategy for achieving our policy objectives in coordination with our allies and partners."

After all that, the chairman finally comes as close as he's going to in offering an actual policy recommendation: "To this end, I have supported a regional approach that would isolate the conflict to prevent regional destabilization and weapons proliferation. At the same time, we should help develop a moderate opposition— including their military capabilities—while maintaining pressure on the Assad regime." To say that this raises more questions than it answers is a decided understatement.

[…]

The chairman recognizes that this isn't what anyone in Washington wants to hear. But he begins with a simple premise: "As we weigh our options, we should be able to conclude with some confidence that the use of force will move us toward the intended outcome." None of the options on the table, at least as described in Dempsey's letter, inspire such confidence.

Furthermore, while the crisis in Syria may well have serious spill-over effects, so might more significant American military action. Dempsey reminds us that, "We must also understand risk—not just to our forces, but to our other global responsibilities," adding, "This is especially critical as we lose readiness due to budget cuts and fiscal uncertainty. Some options may not be feasible in time or cost without compromising our security elsewhere."

Indeed, we're already reducing our forward-deployed seapower and canceling classes at the Naval Academy in the wake of sequestration. Another overseas intervention costing billions of dollars a month will require some combination of greater cuts in other parts of the defense budget, radical cuts in our social safety net, significant tax increases, or increased government borrowing. Given Congress' inability to come to a compromise to avoid the sequester—which was specifically designed to be so stupid and painful as to give them no choice but to work out their differences—it's highly unlikely that they'll consider any of those options palatable.
s