Can War Compete with Football, iPhones, and TV?
President Obama is trying to launch a war but there's a lot of competition for attention.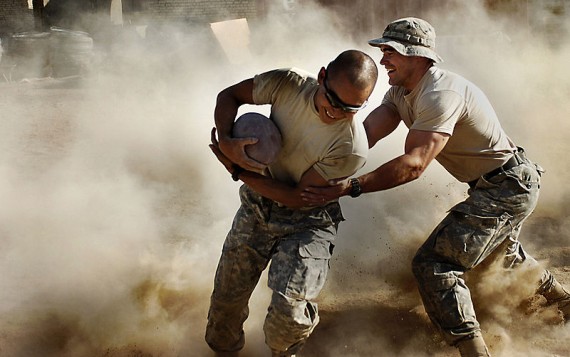 No, this is not from The Onion.
POLITICO ("President Obama's toughest Syria hurdle: The calendar"):
On the short list of seemingly intractable obstacles to President Barack Obama's Syria plans: a war-weary nation, the feckless United Nations — and the Gregorian calendar.

From the beginning, Obama's recent Syria push has been hobbled by the calendar — and the scheduling snarls only get worse from here. Obama will sit Monday for interviews for six TV news programs, which will air within an hour of what had promised to be the week's most highly-anticipated Washington event: the NFL Redskins' season opener against Philadelphia.

[…]

If Monday Night Football pushed Obama's address to the nation on Syria to Tuesday, odds are low for the president to have the nation's attention to himself the rest of the week either.

The Sept. 11 anniversary comes Wednesday, the same day the Senate could vote for cloture. Yom Kippur begins Friday.

Obama won't even have Tuesday to himself. Hillary Clinton is due to deliver a speech that afternoon in Philadelphia. Voters in New York City will head to the polls for that city's primary elections. And the new iPhone event scheduled for that day has become an annual media spectacle.

Then there are the seasonal realities to grapple with: Many Americans are spending time getting their children to start new school years — and the launch of a new fall TV season is underway, in an era when the nation already pays less attention to presidential addresses than during the days before 1,000-channel cable TV lineups.

"How do you hold the attention of the American people when it is increasingly hard to do so with the distractions of the NFL season and religious holidays and back-to-school nights?" said Mike McCurry, a press secretary for Bill Clinton. "This is the challenge of the presidency, the ability to gather the nation around a common campfire is just not there anymore. You have to go for the sporadic bursts of attention and deal with the perpetual A.D.D. that people have."

Timing has worked against the White House from the very start. The Aug. 21 attack that prompted the administration to gear up for a Syria strike left Obama violating his predecessor's key rule on selling the public on a war: Don't do it in August.

"From a marketing point of view," George W. Bush chief of staff Andrew Card said in 2002 as that White House began its Iraq war sales pitch, "you don't introduce new products in August."
In hindsight, we shouldn't have launched that product at all. Indeed, wars that need to be "marketed" probably shouldn't be fought at all.