Cap'n Crunch Not A Captain, May Be French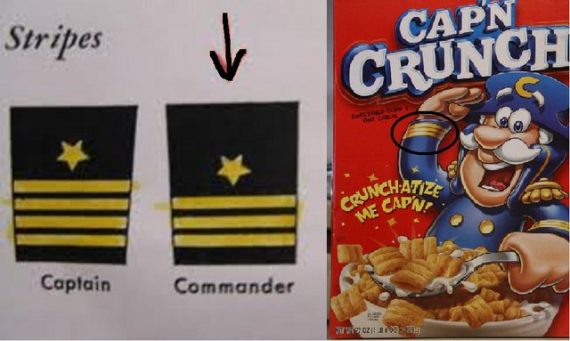 A scandal is rocking the breakfast cereal world:
Everything we thought we knew about Cap'n Crunch has been a lie.

Upon closer examination, the three stripes on his coat indicate he's a lower-ranked commander, not a captain.

An attentive Reddit user was the first to make the discovery, but the story has now been picked up on popular food blogs.

With the Napoleon-style hat, you might question whether the stripes on the coat are more emblematic of the French Navy. The French version of Frigate Captain has three stripes, but that translates to 'commander' in English.

Either way, Cap'n Crunch is either a fraud or he's French.
We know for a fact that he's never been in the U.S. Navy:
The controversy deepened on Wednesday when the Pentagon said it had no record of a Cap'n Crunch ever serving in the U.S. Navy.

"We have no Cap'n Crunch in the personnel records – and we checked," said Lt. Commander Chris Servello, director of the U.S. Navy's news desk at the Pentagon. "We have notified NCIS and we're looking into whether or not he's impersonating a naval officer – and that's a serious offense."
Someone needs to get to the bottom of this, obviously.