Caption Contest Winners
The Shiite Christmas Edition OTB Caption ContestTM is now over.
The Shiite Christmas Edition OTB Caption ContestTM is now over.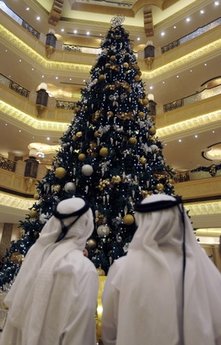 ✰ THE WINNERS ✰
First: Debbie Mabey – I think we're about 2000 years late with these gifts. I told you to ask for directions.

Second: Peterh – At ninety dollars per barrel, I figured it's a token concession….

Third: JazzShaw – "There's no point in complaining. It was either this or a menorah." AND "I'm not sure, Abdul. I think it has something to do with a moose."
HONORABLE MENTION
charles austin – … On the second day of Christmas, Prince Faisal gave to me, Two Emirates, And a shopping mall in north New Jersey.

Robert W. Armijo – "You know what this means, don't you? Next year, it's our turn to bailout America."

Maggie Mama – Look, just take down the Star and replace it with a minaret. Then everything's 'kosher.'

John425 – "It's called a Tree, Achmed. In America they have miilions of them. Don't eat those fruit balls off them, though. It tastes like glass.

Mr. Prosser – Relax, Masood, it's just a way to make them think we like them. In a couple of months we'll put up a rabbit, in July a hot dog, in November a turkey. Window dressing, Masood, window dressing.

mannning – Look, Muhammad, how very wasteful they are! We have exactly 559 palms in our entire nation, Allah be praised, and they cut down some of their trees every year for religious decorations of some sort.
ℛODNEY'S BOTTOM OF THE BARREL
"I'm dreaming of a Shiite Christmas."

"So how did you do it Mohammad?"
"I just told them the ornaments represented the balls of our dead enemies."

"Tell me again about the fat jolly Camel trader that brings toys, Semtex, and AK-47's on his cart, lead by eight tiny goats, to all the good little Islam girls and boys till all the infidels are crushed and slaughtered. "
The Thursday Contest is hoping for many happy returns.