Caption Contest Winners
The Wild Hogs Edition OTB Caption ContestTM is now over.
The Wild Hogs Edition OTB Caption ContestTM is now over.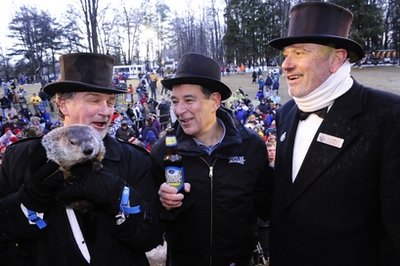 (AP Photo/Samuel Adams, John Heller)

✰ THE WINNERS ✰
First: Maggie Mama – Phil says he'll only tell his forecast to Andie MacDowell.

Second: Robert W. Armijo – Punxsutawney Phil, the world famous weather prognosticating rodent and political pundit, emerges from his home on Gobbler's Knob to predict an early spring and 30 more years of dictatorship in Egypt.

Third: John Burgess – "You were right! Crowd size swelled when we replace the woodchuck with a beaver!"
HONORABLE MENTION
Michael Hamm – The prognosticator of all prognosticators says that Al Gore and Global Warming are frauds.

MstrB – Its rare to see three men excited over a frigid beaver.

FormerHostage – Granted, it was a disaster but at the time, and after several Sam Adams', the idea of combining Punkin' Chunkin' and groundhogs seemed like a great idea.
ℛODNEY'S BOTTOM OF THE BARREL
"What kinda beer goes best with hog?"

"Hey, This one is still a whole hog, where's the meat grinder."

Gratuitous Groundhog shot.

"I just know Mel Gibson is around here somewhere."

SSDD
The Thurday Contest is voting Mubarak off the island.