Carly Fiorina For President?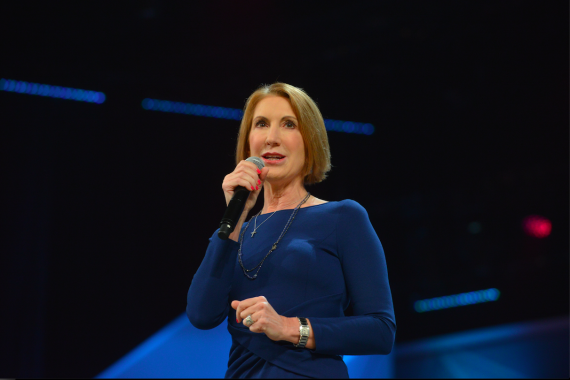 For some reason, Carly Fiorina claims to see an opening for her to run for President:
On a Republican presidential debate stage expected to be filled with more than a dozen current and former politicians, Carly Fiorina envisions herself standing out — as the only woman and the only CEO.

Sensing an opportunity in a crowded field that lacks a front-runner, the former Hewlett-Packard chief executive is actively exploring a 2016 presidential run. Fiorina has been talking privately with potential donors, recruiting campaign staffers, courting grass-roots activists in early caucus and primary states and planning trips to Iowa and New Hampshire starting next week.

Fiorina, whose rise from secretary to Silicon Valley corporate chief during the dot-com boom brought her national attention, has refashioned herself as a hard-charging partisan hoping to strike a sharp contrast with the sea of suited men seeking the GOP nomination.

But Fiorina, 60, has considerable challenges, chiefly that she has sought but never held public office. Lingering disarray from her last campaign could also haunt her next one, undercutting her image as an effective manager. Fiorina still owes nearly $500,000 to consultants and staffers from her failed 2010 Senate bid in California — debts that have left some former associates bitter.

Privately, several prominent Republicans spoke about Fiorina with disdain, saying she has an elevated assessment of her political talents and questioning her qualifications to be commander in chief.

But allies defended Fiorina's credentials, saying she would make a strong contender.

"She's very articulate, she's very thoughtful and has a very positive message," said David Carney, who has been a top strategist for past GOP presidential candidates and whose wife worked with Fiorina this year in New Hampshire. "She's got just as much of a record of accomplishment and a story and ideas as anybody else who's running."

Carney drew a comparison between Fiorina, a free-market advocate, and Sen. Elizabeth Warren (D-Mass.), a populist firebrand: "She's sort of the antidote to the Elizabeth Warren arguments from the left."

In June, Fiorina started the Unlocking Potential PAC with a mission of galvanizing female voters and beefing up the GOP's ground game. The super PAC made modest investments in four Senate races while funding Fiorina's travel to presidential battlegrounds such as Colorado, Iowa and New Hampshire. "She left people wanting more," said Angie Hughes, the group's Iowa director. "We did a lot of things that would be helpful to anyone wanting to run for president."

This month, Fiorina sent handwritten notes to some Iowa activists thanking them for their help with her super PAC and looking forward to "the next phase."
Fiorina's one venture into electoral politics occurred, of course, in 2010 when she ran for Senate against California Senator Barbara Boxer. Despite pumping a great deal of her personal fortune into the race, Fiorina ended up losing that race by ten points in a year when Republicans nationwide did very well indeed. Given that, it's hard to see what would recommend her to a nationwide run for office. That being said, she would potentially be the first serious female Republican candidate in a Presidential field since Elizabeth Dole's brief run in 2000 (no, Michele Bachmann was not a serious candidate for President) and that, combined with her business experience, would likely be enough to get her media attention in a crowded field. In some sense, Republicans might welcome that if only to push back on the whole "war on women" meme. Given her views, though, I doubt Fiorina would get very far among the party base.