Catalan Voters Headed Back To The Polls
Two months after a referendum that supported independence from Spain, Catalan voters head to the polls for a new round of parliamentary elections that remain up in the air.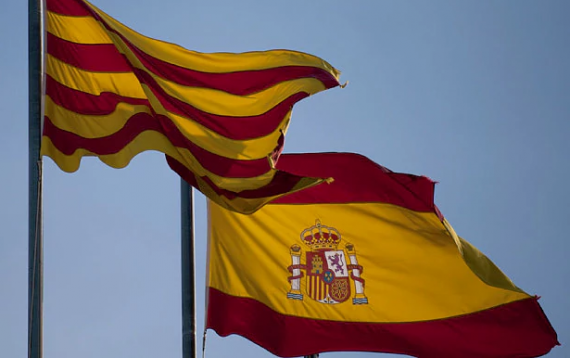 With citizens apparently bitterly divided, the voters of Spain's restless region of Catalonia head to the polls later this week in new elections called in response to the independence vote earlier this year:
BARCELONA — In an auditorium as chilly as a meat locker, in a tough working-class neighborhood, Catalonia's amateur boxing championships were staged here over the weekend. In the ring, the pugilists pounded each other as their trainers shouted from the corners, some in Spanish, others in Catalan: "Hit, hit, jab, finish him!"

But after the bell rang and the three-round fights were over, the exhausted boxers — their noses bloody, their cheeks swelling — embraced.

The audience, the competitors and the coaches represented the gamut of emotions and politics swirling in Catalonia on the eve of Thursday's early election to replace the secessionists and others tossed out of office by Madrid after a chaotic referendum and unilateral declaration of independence in October — events declared illegal by the constitutional courts, the central government and even Spain's King Felipe VI.

In the stands around the boxing ring, there were staunch pro-Spain unionists beside pro-independence Catalans — as well as plenty of people who were sick of the whole debate over whether the well-to-do Catalonia region, with its unique language and culture, should remain a part of Spain or go its own way.

As much as the various sides disagreed about the coming parliamentary vote, they appeared to share a sense that the people of Catalonia are more divided than ever — and that Thursday's election, described by pollsters as too close to call, is unlikely to settle matters.

This idea of a fractured, weakened Spain going into 2018 worries Europe, which faces its own surge of nationalist, populist movements.

"Society is broken," said Rafa Martin, 55, owner of the Barcelona Verdun gym and the son of political refugees from the Spanish Civil War in the 1930s.

"There is more hate; things that were underground, that were unspoken" are again said in the streets, he said.

Martin explained: "Anyone who thinks differently is bad. If you want a united Spain, you're a fascist. If you want an independent Catalonia, you're a traitor."

Activists on both sides say their social media accounts are filled with taunts and threats of violence.

Spanish Prime Minister Mariano Rajoy and his government, evoking the untested powers of the 1978 constitution, called the early election in Catalonia after dissolving the region's parliament Oct. 27.

Rajoy has urged Catalans to oust the separatist politicians, telling supporters of his conservative Popular Party in Barcelona that he wants to see a massive turnout to say "no" to their cause.

"It's urgent to return a sense of normality to Catalonia and do so as soon as possible to lower the social and economic tensions," Rajoy said in a visit to Barcelona last month.

But as many here have observed, there is little normal about this election.

The former president of the Catalonia region, Carles Puigdemont, fled across the border and into self-exile in Belgium in late October. Now he is seeking to return to power, addressing crowds back home via teleconference links from an office in Brussels.

What happens if Puigdemont's party is a top vote-getter and he is elected president again?

Nobody knows.

Meanwhile, former vice president Oriol Junqueras sits behind bars in the national prison in Estremera, in pretrial detention as prosecutors weigh sedition charges, which carry a maximum sentence of 30 years. He pens letters to his party's followers, which are read aloud at rallies by his surrogate on the campaign.

Another pair of activists, Jordi Sanchez and Jordi Cuixart, who ran pro-independence Catalan civil society groups, are also awaiting a possible sedition trial while being held without bail in a Spanish jail.

In Barcelona on Saturday night there was a rally lit by torches, with onlookers sporting yellow ribbons in support of what critics of the Rajoy government call the "political prisoners."

"Imagine if Puigdemont is elected president again. Then let us see if Europe can turn a blind eye toward Catalonia," said Gabriela Serra, an ousted lawmaker from the far-left pro-independence party known as CUP.

Serra said Puigdemont could form a "government in exile."

"Why not?" she said. According to Serra, Catalans did something not seen in a generation in Europe: "More than 2 million people staged an act of mass civil disobedience. They voted!"
All of this, of course, is taking place in the context of the events that flowed from the referendum in October in which voters overwhelmingly voted in favor of independence from Spain, a vote that the central government in Madrid had rejected as illegal even before it had taken place. In the wake of that vote and the attempted crackdown that Madrid attempted to put in place to try to stop it from even taking place, there was a short period during which there was a something of a standoff between the two opposing sides as Madrid pondered its next steps while pro-independence politicians in Barcelona considered their next steps, which could have included a formal declaration of independence. That standoff was cut short in late October, though, when the central government dissolved the regional parliament and the leaders of the independence movement either went into exile or were arrested on sedition and other charges. Now, voters are set to select a new government and the question is what we might see come from that.
One possibility, of course, is that we see another big win for the pro-independence party notwithstanding the fact that its leaders are in jail or in exile. If that happens, then it seems likely that pro-independence forces will step up the pressure on Madrid and that the standoff between the region and the central government will become even tenser than it has been since October. Another possibility is that the voters will see the results that have followed the referendum in October as a sign that moving in that direction isn't going to accomplish anything and that sentiment will swing back toward pro-unionist parties. In that case, the central government will likely consider itself a victor, but it's not clear that this would be the end of pro-independence sentiment in the region. Finally, of course, we could see a result that is something of a standoff between both sides that divides the region even further.