Catalonia, And All Of Spain, On Edge As Independence Referendum Vote Nears
Catalonia's independence referendum is one day away, and nobody seems to know what to expect.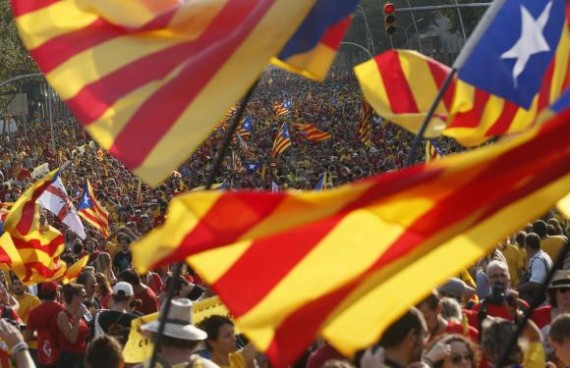 With one day to go, there still appears to be an open question as to whether or not Catalonia's referendum on independence will even go forward:
BARCELONA — Catalonia's independence referendum is no longer about whether Catalans want statehood but whether they will be able to vote on Sunday at all.

Far from the orderly vote that separatists wanted to stage, the referendum has instead turned into a covert operation to avoid a Madrid-ordered shutdown.

The government of the conservative Prime Minister Mariano Rajoy has called on residents to stay home. With the help of Spanish courts and the police, it has confiscated paper ballots and closed referendum-related websites.

The moves are an attempt to thwart the turnout and to deny any legitimacy to a referendum that Spain's constitutional court has formally suspended. Nevertheless, Catalan officials and many residents say they will find a way to vote.

In Barcelona and elsewhere in the region, some residents began occupying schools and other potential polling stations to thwart any attempt by the police to shut them down.

One of the unknowns on Sunday will be the role of the Catalan autonomous police, which has paid lip service to Madrid's orders to shut polling stations, but has made clear that its priority is to avoid violence.

Any clampdown could help nullify Sunday's result, but it could also backfire and prompt frustrated voters to take to the streets. Many now fear violent clashes.

After each police intervention so far, the Catalan separatist government has defiantly announced that it had contingency plans for the referendum, and accused Madrid of returning Catalonia to the days of a dictatorship that ended in the 1970s.

"This isn't a cat-and-mouse game. It's a big cat against normal people who just want to vote," said Marta Rosique, a student and spokeswoman for an association called Universities for a Republic, which was set up to help organize the referendum.

"It's difficult to organize a referendum in these conditions, but even harder to prevent it because once a lot of enthusiastic people mobilize, that can't be stopped," she said. "Even if they close down the internet completely, we've got a lot of people who are ready to go house to house to inform people and help them vote."

The referendum has even become the latest electoral battle ground for online activists, triggering a new round of allegations of meddling by Russia.

Two weeks ago, Julian Assange, the founder of WikiLeaks, posted a message on Twitter supporting the Catalan vote, which threatens to sunder an important European Union member.

Carles Puigdemont, the leader of Catalonia, said in an interview this week that Mr. Assange and others could voice their support, but that no one had sought their help.

Voting will be a particular challenge for older Catalans, who are less inclined to use the internet and social media platforms, which have so far kept people updated on fast-shifting voting preparations.

Outside one of the main buildings of Barcelona University, people were lining up all week to receive instructions from student volunteers on how to vote, having never received their normal voting papers at home.

Some walked off discreetly, but others made clear that Madrid's referendum ban had galvanized them.

"I don't have internet, I had no idea what to do on Sunday, and it's really sad to have to vote like this," said Honorato Pons, 79, a retired welder. "But I'm not going to let anybody in Madrid shut my mouth and leave me feeling humiliated."

Madrid has said that the police sent from other parts of Spain are in Catalonia to ensure order, but the central government is also clearly fearful that the Catalan police will not heed its calls to block polling stations.

Some police from outside the region have been billeted on cruise liners moored outside the Port of Barcelona — and turned into objects of separatist derision because the ships are decorated with Looney Tunes characters.

The labor union representing Barcelona's 1,000 dockworkers has refused to help supply the police ships.

"A political conflict has to be solved by politicians and not policemen, so that's why we're just not going to work with these ships," said Josep Maria Deop, secretary of the dockworkers' union.

Catalonia held a nonbinding vote in 2014 on independence that was declared illegal by the constitutional court, but which the central government and the police did not prevent. The pro-independence result was dismissed by Madrid as unlawful, but also because just 2.2 million of 5.4 million eligible voters had taken part.

This month, however, Catalonia's regional Parliament, in which separatists have a majority, passed its own laws to make any referendum result binding, which could lead to a unilateral declaration of independence within 48 hours.

Mr. Rajoy is treating that threat as an act of insurgency, worthy of a forceful police response.

"Madrid has made things very complicated, but there is an important part of the logistics of the referendum that hasn't been disarticulated," said Jordi Sànchez, the head of the Catalan National Assembly, a citizens' association that has spearheaded secessionism in Catalonia.

"They may have seized more than nine million ballot papers, but everybody knows that can be replaced easily," he added.

Still, the reliance on home-printed voting papers may add to the legitimacy shortfall for a referendum that could instead turn into a broader separatist show of force on Sunday, particularly if frustrated citizens, unable to vote, take to the streets.

The website of the Catalan National Assembly was shut down on Monday. Mr. Sànchez denied reports that the separatists were relying on Russian hackers to build proxy websites with electoral information to circumvent any information blackout.

"This story that part of our support and help now comes from Assange or Russia is part of the post-truth that some are building to discredit the referendum," Mr. Sànchez said.

Despite the extra police sent to Catalonia, separatists argue it will still take more officers to prevent any voting across the whole region, home to 7.5 million people.
The big question for tomorrow, of course, will be how many Catalans actually turn out to vote, what steps the central government in Madrid might have planned to stop the vote, and what might result afterward if they are successful or depending on the outcome of the vote.
The regional government claims that it has a backup plan to deal with any anticipated effort by Madrid to stop the vote, but it's unclear if they will succeed in that effort if the crackdown effort is both effective and widespread. Additionally, it's possible If the crackdown discourages most voters from turning out, or the government crackdown means that there's nowhere to go for them to vote at all, then it's possible that the entire referendum may just fizzle out and that the pro-independence forces in charge in Barcelona will suffer a significant political defeat. Alternatively, blocking the referendum could end up just inflaming the situation in the region, leading to widespread protests and clashes between crowds and authorities. In that case, an important question will be which side the police take, that of the central government or that of the regional government. As the article quoted above notes, the police are independent of the political powers in Barcelona and appear to be following the orders of authorities in Madrid when it comes to cracking down on the referendum in advance. Whether that will still be the case in the event of widespread protests in Barcelona and elsewhere, though, is unclear, meaning that tomorrow and the days after could end up being very tense on the streets.
Even if the vote goes forward, the future is quite uncertain. Madrid has made clear that it will not recognize the result of the referendum regardless of what the outcome is, so the ball would be in Barcelona's court to back up words with some idea of how they might actually advance their cause if they can. Obviously, if vote ends up rejecting independence then Madrid would like point to that as a sign that independence is a lost cause notwithstanding their previous statements regarding the illegitimacy of the vote. If the result is in favor of independence, though, and there's both widespread turnout and a strong pro-independence vote, then things could become very complicated very quickly. The politicians in Barcelona have said that they would take a pro-independence outcome as a signal to move forward on de facto independence, but it's unclear exactly what they can do. Ultimately, Catalonia's bid for independence would depend on some form of consent from Madrid and, so far, the government has made clear that such consent will not be forthcoming. This will make the days and weeks after Sunday quite interesting, to say the least.