Cents More for Big Macs Could Mean Thousands More For Workers
A negligible price hike of hamburgers might enable fast food outlets to pay their workers much better.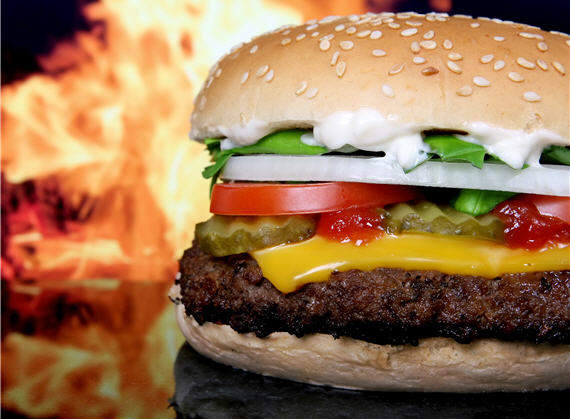 Daniel Gross passes along "The McPoverty Calculator," which argues that a negligible price hike of hamburgers would enable fast food outlets to pay their workers much better.
This week has seen mass protests and job walk-outs across the fast-food industry, with employees from McDonald's to Taco Bell demanding higher wages and better treatment. Some labor economists have said that a slight increase in the price of a burger could result in a big jump in wages—enough to raise the fortunes of thousands of $7.25-an-hour employees. (Even working 40 hours a week, 52 weeks a year, a minimum-wage worker only takes home $15,080 a year, well below the poverty line of $18,480 for a family of three.)

But if the fast-food giants agreed to do this, would consumers bite?

To find out, we consulted with economists Jeannette Wicks-Lim and Robert Pollin who have studied the relationship between wage increases in the fast-food industry and the cost of doing business. Using their formula, we created a Big Mac calculator that lets you see how your extra cents could translate into real-life wages.
The poll tells us that "The average price of a Big Mac is $4.56, and many fast-food workers make $7.25 an hour." It then asks readers to select how many more cents they'd be willing to pay.  According to the calculator, paying an additional 5 cents for the burger would bring workers to $8.03 an hour, or $16,696.79 a year–still below the poverty line. Still, that's a pretty massive pay hike for a measly nickel a burger. Paying an additional 10 cents brings workers to $9.56 an hour, or $19,885.60–just above the poverty line. My initial answer, 20 cents*, almost doubles their salary to $14.12 an hour, a whopping $29,263.75 a year. That's actually a decent wage in most of the country.
Now, it's not a slam dunk that people would really pay an additional 20 cents for the burger in practice, especially if competitors were holding the line on prices. But I suspect they would; for most of us, it's simply a negligible amount. And, of course, there's no guarantee that all of the increased revenue would go to the employees.
Still, the point of the exercise is to demonstrate that, contrary to what most people—myself included—would instinctively guess, McDonald's wouldn't have to radically alter their business model to pay decent wages. I would have guessed that doubling wages would have required selling $8 hamburgers, not selling $4.56 burgers for $4.76.
Following the leak to the Wicks-Lim and Pollin paper [PDF], which argues for raising the minimum wage to $10.50, here's how they derive their formula:
Our estimate that business costs for fast food restaurants would rise an amount equal to 2.7 percent of sales revenue is extrapolated from the findings of five separate studies.

In Table A1 below we present these five studies, along with the size of the minimum wage hike analyzed, and the accompanying estimate of the business cost increase relative to sales revenue figure.

We use the numbers in Table A1 to produce a scatterplot (see Figure A1) with the size of the minimum wage increase on the x-axis, and the size of the business cost increase to sales on the y-axis. We find that the curve with the following equation best fits the data points (with an R2 of 0.73):

y = 0.0454 x 0.6363

We use this equation to extrapolate that the business cost increase relative to sales figure given a 44.8-percent minimum wage hike would be 2.7 percent (0.0454 x 0.448 0.6363 = 0.027). Therefore, a price increase sufficient to cover half of this rise in costs would amount to a 1.35% (2.7%/2). For a $4.00 Big Mac, a 1.35% increase equals about 5 cents.
Here's the scatterplot: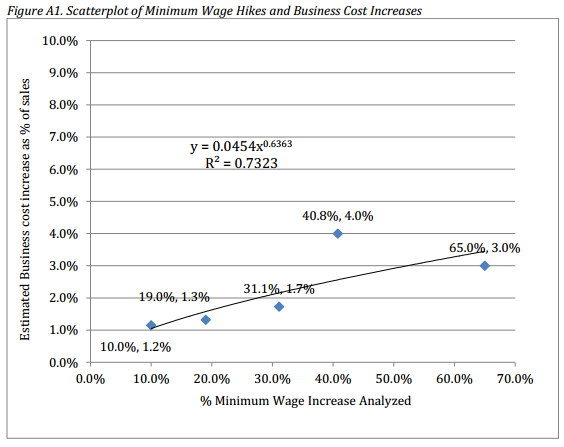 I'd note that two of the five studies cited are by the authors, which could potentially contaminate the results. But their calculations seem reasonably consistent with the other three studies when controlled for the size of the increase in wage (all five studies proposed different hikes).
It's not clear how this extrapolates to other facets of social inequality. Raising wages to above-poverty levels would obviously be a great start. Adding health care and other benefits, presumably, would require additional price hikes. Still, I suspect Americans could sustain our gluttonous lifestyle quite easily if Big Macs went up to $5.
____________
*In actuality, I'm not a fan of McDonald's hamburgers and only eat them when I'm traveling, in a hurry, and given no other fast alternatives. For that matter, I'm a ketchup-only guy, so wouldn't order a Big Mac, anyway. But I likely wouldn't even notice a 20 cent price hike.