Change in American Political Parties
If the Republicans win back Congress in November, it will be largely unearned. But that doesn't mean that there's no incentive for change in American politics.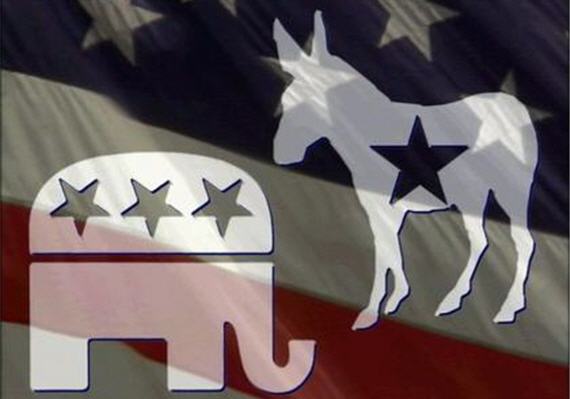 Alex Massie argues that a major shortfall of American politics is that the opposition party can win without a plausible alternative platform or demonstration of basic competence.   While there's not much doubt about that, he takes it too far:
In most countries elections are a two-question examination in which voters decide if a) the government has failed and b) has the opposition done enough to deserve to be in power. You need two Yes answers to change the government. The nature of the mid-term elections mean it's different in the United States. There, voters conclude that the party sitting in the White House (and, sometimes, Congress) stinks and it doesn't matter that the other party stinks just as much. Regardless of who controls government, the opposition can learn nothing and do nothing and still do well.

With the single exception (in recent times) of the 9/11 2002 mid-terms the party governing the White House has been defeated (that is, lost seats) in the mid-terms. The scale of these defeats varies but the fact they can be predicted with near-certainty means there's little incentive for Congressional leaders to rethink their views or positions on, really, any issue. Why bother when the nature of the political cycle means you'll probably pick-up seats anyway?

One of the problems with America's two party system (which is increasingly parliamentary in the way it operates) is that there's no third party for protest votes. By default a protest vote – whether active or stay-at-home passive – can only benefit the other mob who, generally speaking, are little if any more appetising than the crew against whom you feel like protesting.

That makes for unhappy voters and politicians who don't often need to have a real think about what they're offering or trying to do. The difference in the way our respective systems are organised ensures that comparisons are only of limited use; nevertheless America's two party system and the way it operates creates few incentives for internally-driven reform. Congress doesn't produce a Thatcher ot a Blair or a Cameron type* of figure who will change their party to reflect changing situations or changed public views. There's little sense of renewal in Washington, little sense that the opposition is really doing the hard work of preparing for power.

And so, assisted by the way districts are drawn and by the advantages of incumbancy, off-year elections in particular are a matter of enthusing the base. The most vulnerable members are usually, though obviously not exclusively, on the moderate wings of their party while the leadership, again mainly but not exclusively, reflect an established orthodoxy that satisfies few voters and excites even fewer.
While this is true at the margins, it's not true in the main because it misapprehends what American parties are.  Alex is viewing the Republicans and Democrats through the lens of parliamentary democracy, where they function as unified actors, rather than as the sum of 536 disparate parts.
While he's right that they increasingly behave in parliamentary fashion in Congress, lining up based on whether their guy is in the White House and demonstrating heretofore unseen voting discipline, it's not how they function nationally.  The two major parties are primarily branding and fundraising vehicles with rather little control over, well, much of anything.   Certainly, the Republican Establishment would not have chosen Rand Paul and Christine O'Donnell as standard bearers.  For that matter,  Hillary Clinton would have been the Democrats' nominee in 2008 and Barack Obama would have been her running mate if the DNC had their way.  But the two parties' candidates are instead chosen in a free-for-all based on popularity, charisma, and the ability to energize the most rabid elements of the base.
Nor is there an American equivalent of a prime minister and shadow prime minister.  The Democrats are led by Barack Obama because he's the sitting president.  Until they choose their 2012 nominee, the Republicans have no leader.   Certainly, most Americans — and, indeed, most Republicans — have no idea who John Boehner is.  And while Sarah Palin, Newt Gingrich, and others have the ability to attract crowds and sell books, there's no machinery behind them in the way that there is with Milleband the Younger in England.
But, yes, the combination of electoral disaster and charismatic leadership can lead to a radical change in a party's identity in this country. Ronald Reagan radically rebranded the GOP in 1980.   Bill Clinton did the same for the Democrats in 1996.   (Indeed, his Third Way, New Democrat playbook was copied across the Pond by Tony Blair and New Labour in 1997.)   George W. Bush and his Compassionate Conservative message in 2000 was surely as much of a tweak in the Republican message as David Cameron's  "We Can't Go On Like This" campaign.    And I'd argue that Barack Obama tried to position himself as a break from the tired old politics of the past in 2008.
One presumes Obama will be re-nominated in 2012.  He might still run on a CHANGE! platform but, realistically, he'll face some constraints in that message.    Will the Republicans run on some shiny new platform?  It all depends on who the nominee is.   But a Mitt Romney candidacy would be rather different from a Sarah Palin candidacy.
Changing platforms based on voter demand and changed circumstances is not only possible in American politics, it's constant and inevitable.    The Democratic Party of today barely resembles that of Michael Dukakis, much less Adlai Stevenson.   And, while the Republican Party has been trying to sound like Reagan since he left the scene, they've abandoned dozens of planks as they lost favor.
It's only through the framework of a two-year cycle that it looks like little has changed.  On a wide variety of social issues, the George McGovern of 1972 — pilloried as a lefty radical in his day — would be too conservative for today's Republican Party.  And plenty of the policies advocated by and even signed into law Sainted Reagan would be too left for today's Republicans.