Changing Electoral Maps
Looking back at the Electoral College results of the modern era--and ahead to November.
Brendan Loy tweets, "The 1976 electoral map looks just so freakin' weird by today's standards, doesn't it?"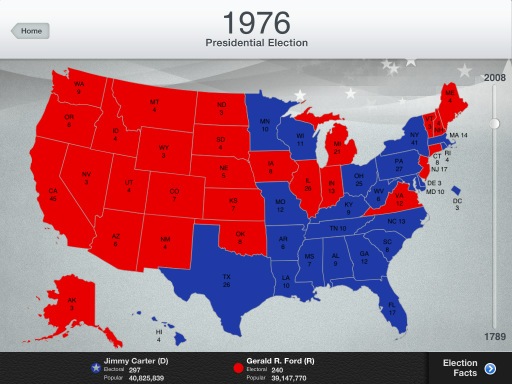 Yes. Yes it does.
Granted, Democrat Jimmy Carter was a Southerner and born again Christian who was more socially conservative than his Republican opponent, Gerald Ford. And there was that whole Watergate thing.
But the American political landscape realigned itself in 1980 when Ronald Reagan managed to bring Southern white conservatives into the Republican fold. And again in 1992 when Republican immigration policy (at the state level) finally drove California into the Democratic column.
Still, there's been considerably fluidity even in modern times. Dave Leip's Political Atlas has electoral maps going back to the beginning, although they're slightly confusing because he maintains the long-defunct practice of coloring Democrats red and Republicans blue and because he uses additional colors in cases where a third party candidate prevented either major party candidate from winning a majority. But it's an excellent resource.
In 1960, Nixon took all of the West except Nevada and Kennedy took most of the South, including Texas.
In 1964, Johnson almost ran the table against Goldwater, losing only Goldwater's native Arizona and a band of states in the Deep South from Louisiana to South Carolina.
In 1968, Nixon took the West except Washington state and most of the Midwest, Humphrey took Texas and most of the Northeast, and Wallace took most of the South.
In 1972, Nixon pretty much ran the table against McGovern, losing only Massachussets and DC.
In 1976, as seen on the above map, it was almost an East-West split.
In 1980, Reagan took everything but Minnesota, West Virginia, Maryland, DC, Massachussets, and Carter's native Georgia.
In 1984, Reagan took everything but DC and Mondale's native Minnesota.
In 1988, Bush took all but a handful of states, with West Virginia the most surprising loss from today's perspective.
In 1992, we had a bizarre patchwork of outcomes, with Southern Democrat Clinton taking a handful of Southern states and, as noted earlier, putting California in the Democratic column for the first time in years.
1996 looks much more familiar to modern eyes although, again, Clinton managed to peel off a handful of Southern states.
2000 and 2004 both conform to modern expectations in terms of geographical breakdown.
2008, of course, saw quite a number of traditionally Republican states go to Democrat Barack Obama. Given the incredibly low approval ratings of George W. Bush at the end, the timing of the economic meltdown, the weak candidacy of John McCain, and the disastrous choice of Sarah Palin as his running mate, there was something of a perfect storm for Democrats in that election.
It's almost certain that Obama will not win as many states in 2012 as he did in 2008, given diminished enthusiasm among the Democratic base and the youth cohort and the fact that the economy is now his. But it's quite possible that 2008 was the beginning of a trend rather than an aberration, with several traditional Republican states (notably Colorado, North Carolina, and Virginia) becoming swing states if not Democrat-leaning.
Public Policy Polling's Tom Jensen has taken a look at the 2012 electoral map and concludes "Obama's in pretty good shape for reelection." Looking at recent state-level polls, he finds,
Obama should find this heartening- he has 255 electoral votes locked up in states where we found him with at least a 5 point average poll lead in 2011.  If he can win just one out of Ohio, Florida, Pennsylvania, and North Carolina that puts him over 270.

It's funny that for all the talk of the changing electoral map that Florida, Ohio, and Pennsylvania are still the key states.  But Obama's continued strength in Virginia and Colorado now makes it so that he only needs to win one out of that trio of states to get to 270 electoral votes, where John Kerry and Al Gore both lost because of their inability to carry two of them.
There's of course still a long time between now and November 6. A lot will depend on what happens to the economy, which will be heavily influenced by events in Europe and China almost completely out of Obama's control. The Republican nominee will matter a lot, too, with Mitt Romney (or, implausibly, Jon Huntsman) having a much easier time winning swing states than Rick Santorum, Rick Perry, or Newt Gingrich.
Right now, though, of the states Jensen says will be key–Ohio, Florida, Pennsylvania, and North Carolina–Obama has a tiny lead in all four.