Chaos Continues As Trump's Labor Secretary Nominee Withdraws
The President's choice for Labor Secretary withdrew his name from consideration yesterday, but this is just the latest example of what has been a transition that has largely consisted of fumble after fumble by the Trump team.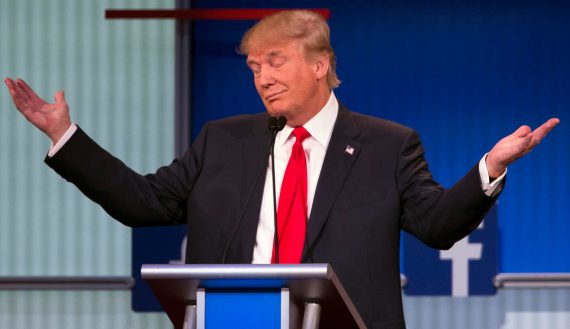 Andrew Pudzer, the fast food CEO who Donald Trump had nominated for Labor Secretary, withdrew his nomination late yesterday amid controversies over tax issues, opposition from labor groups, and accusations of domestic abuse:
WASHINGTON — The fast-food executive Andrew F. Puzder withdrew his nomination to be labor secretary on Wednesday as Republican senators turned sharply against him, the latest defeat for a White House besieged by infighting and struggling for traction even with a Republican-controlled Congress.

The toppling of one of President Trump's cabinet picks was a victory for Democrats, unions and liberal groups that had been attacking Mr. Puzder's business record and his character since he was chosen in December. Conservative publications, including National Review and Breitbart, had also expressed resistance, zeroing in on Mr. Puzder's employment of an undocumented immigrant as his housekeeper.

And records from his 1988 divorce, disseminated Tuesday night by opponents, resurfaced spousal abuse accusations that made some Republican senators uncomfortable. His ex-wife had recanted those accusations, but senators from both parties privately screened a videotape from "The Oprah Winfrey Show" that featured her laying out the charges while in disguise.

The opposition from Republicans was broad, and the reasons varied. Among the senators who expressed concerns were John Thune of South Dakota, Rob Portman of Ohio, Thom Tillis of North Carolina, Susan Collins of Maine, Johnny Isakson of Georgia, Lisa Murkowski of Alaska and Tim Scott of South Carolina, more than enough to scuttle the nomination.

A spokesman for Mr. Puzder, George Thompson, said his treatment had been "an unprecedented smear campaign."

In a statement, Mr. Puzder thanked the president and those who supported him for their optimism about the "policies and new thinking" he would have brought to the job.

Mr. Puzder's withdrawal came two days after the resignation of Mr. Trump's national security adviser, Michael T. Flynn. Earlier this month, his nominee for Army secretary, the billionaire financier Vincent Viola, also withdrew his name from consideration, saying he could not disentangle his business connections. And his secretary of education, Betsy DeVos, was confirmed only after Vice President Mike Pence cast a tiebreaking vote.
According to some reports, there were as many as twelve Republicans ready to vote against Pudzer if his nomination made it to the floor of the Senate, but even before that happened Pudzer would have had to make it out of the committee that would have been voting on his nomination. Those hearings were set to begin this morning and promised to be quite explosive, with Democrats bringing up many of their complaints against Pudzer, including the allegations of domestic abuse that his ex-wife made some thirty years ago on an episode of "The Oprah Winfrey Show," although it is fair to note that she later withdrew those allegations and has since stated in writing that she made the allegations as part of an effort to gain leverage in the couple's then-ongoing divorce proceedings. Whatever the truth about those allegations, though, the revelations about Pudzer proved to be one too many and it was clear that his nomination might not make it out of committee with a majority vote, and most definitely would not have succeeded on the Senate floor.
As with the issues that have arisen with several other Cabinet nominees, the information about Pudzer appears to have arisen after his name was put forward by the Trump transition team prior to January 20th and was largely unknown to both Trump and to members of the team assigned to assist with screening nominees. The main reason for this, it's become clear, is the fact that the Trump transition team did not do very much of the traditional vetting of nominees that other incoming Administration's have done prior to putting a nominee's name forward. The reason for that process, of course, is to ensure that the Administration is aware as possible of anything in the nominees past that could put their nomination in peril so that they can either take steps to deal with it beforehand or give the incoming President a basis for possibly deciding that someone else would make an appropriate nominee. This is especially important largely due to the fact that losing out on any Cabinet nomination is something that is embarrassing to any incoming Administration, and especially one such as this one which is quite obviously dealing with a lot of internal chaos that has nothing to do with who the Labor Secretary might end up being.
It didn't have to be this way. Before the transition process was taken over by Mike Pence, New Jersey Governor Chris Christie and the group that he was working with after the election had reportedly drawn up a transition plan that included a rigorous vetting process for Cabinet appointments. When Christie was forced to the side in favor of Pence running the transition team, the entire transition plan was essentially abandoned and the process started from scratch with just over a month left before Inauguration Day. Because of this time crunch, it now appears in retrospect that much of the vetting that would have ordinarily been done prior to naming Cabinet nominees was either done in a rapid, ad hoc, basis that skipped over important details or it wasn't done at all. It's not unlike how we've seen other things done in the Trump Administration as we approach the end of its first four weeks in office. For example, we now know that Trump's infamous immigration Executive Order, which remains on hold thanks to two Federal Courts, was not put through the normal review process and that important players, such as the incoming Secretaries of State and Homeland Security and the lawyers at the Department of Justice, were not consulted prior to the release of the order, nor were they aware that the order was even coming. The same chaos can be seen in the Michael Flynn affair and the revelation that President Trump and his inner circle knew that Flynn had lied to them for two weeks prior to informing the Vice-President into the loop and letting him know that he too had been lied to. Every Administration exhibits some problems at the start, of course, but the past four weeks seem to make clear that the Trump Administration entered office largely unprepared for the task ahead of them, and there are few signs that they've learned their lesson yet.