Charges Against Erdogan Security Detail Dropped
Turkish security personnel who assaulted peaceful protestors in America's capital will go free.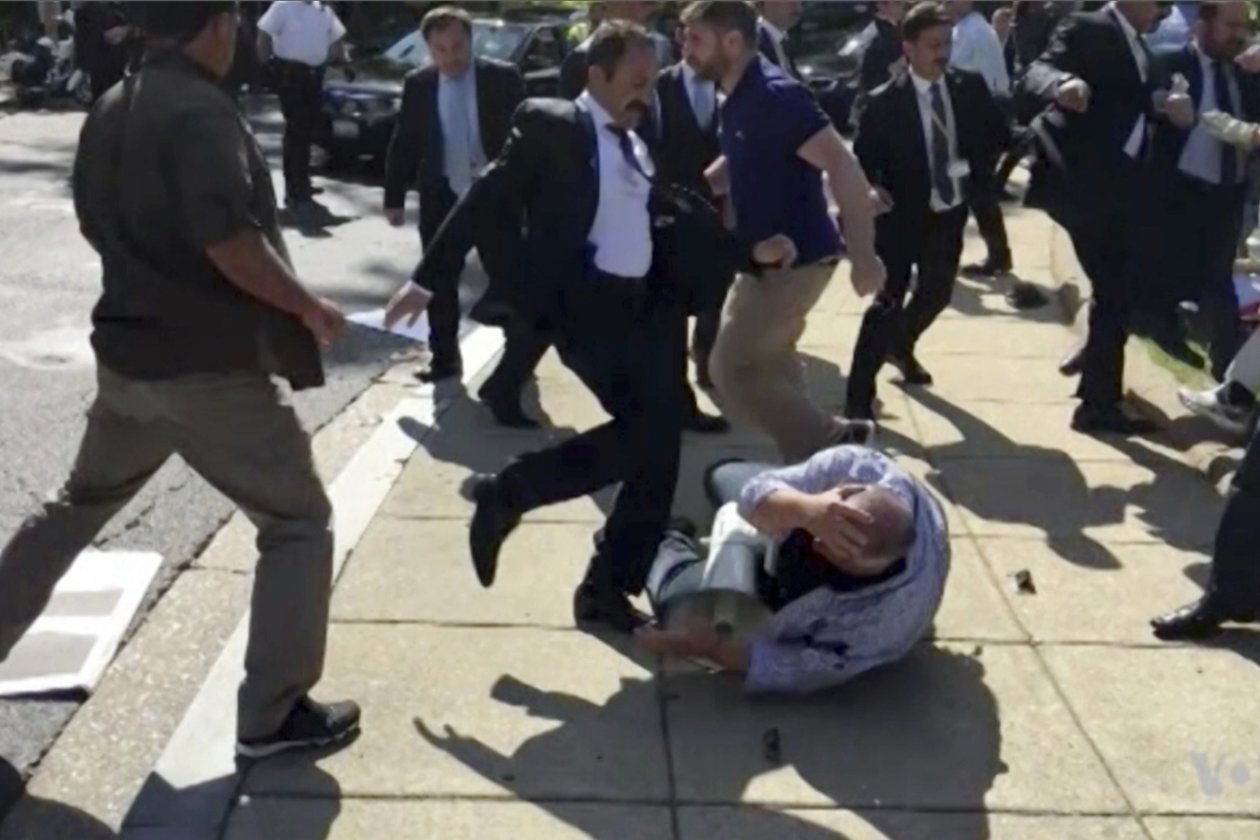 WSJ ("Charges Have Been Dropped Against Most Turkish Officers in D.C. Clash"):
Federal prosecutors have dropped charges against 11 of 15 members of Turkish President Recep Tayyip Erdogan's security team who were accused in connection with the beating of protesters during their visit to Washington last year, the latest twist in a case that caused a diplomatic rift between the U.S. and Turkey.

The decision by the U.S. to prosecute the 15 men added to political strains as the Trump administration was trying to reset relations with Turkey, a key U.S. ally in the fight against Islamic State. The move to dismiss charges against most of them stands to ease one source of tension between Washington and Ankara.

Prosecutors first asked a judge in November to dismiss charges against four members of Mr. Erdogan's security detail. Then they dropped charges against seven others on Feb. 14, the day before Secretary of State Rex Tillerson flew to Ankara for a meeting with Mr. Erdogan meant to ease tensions. Among those freed of legal jeopardy immediately before the high-level meeting was the head of Mr. Erdogan's security team.

U.S. officials said that no one pressured prosecutors to drop any of the charges for political reasons. Instead, the decisions were the result of investigators misidentifying some of the suspects and failing to develop enough evidence against others, according to the U.S. officials and an attorney who provided some free legal advice to defendants in the case.
That's . . . hard to believe.
Mr. Tillerson, in his private talks with Turkish leaders, pointed to the decisions to drop charges—which hadn't been publicized or announced—as an example of how the U.S. had addressed Mr. Erdogan's grievances, according to administration officials familiar with the talks.
Really, really hard to believe.
The administration's efforts to reset relations with Turkey have been buffeted by a series of challenges, including the prosecution of the guards and a decision by President Donald Trump to directly arm Syrian Kurdish fighters that Turkey considers terrorists.

In January, Turkey launched a new military operation aimed at Kurdish forces in northwestern Syria. The U.S. criticized the move and warned Turkey not to turn its focus toward Kurdish fighters working alongside U.S. forces in the strategic Syrian town of Manbij.

The U.S. and Turkey have set up special teams that are trying to try to bridge their differences in Syria, but there are broad concerns that the efforts may not avert a volatile standoff in Syria, according to American military and diplomatic officials.

The charges against members of Mr. Erdogan's security team were the outgrowth of a chaotic clash last May near the Turkish ambassador's residence in Washington against demonstrators protesting the Turkish president's visit.

Videos of the clashes showed men in suits with side arms punching and kicking demonstrators as Washington police and U.S. Secret Service officers tried to intervene.

At least nine demonstrators were hospitalized. One police officer and two members of the Secret Service were also injured.

U.S. lawmakers denounced the attack and some called on the Trump administration to expel Turkey's ambassador. District of Columbia Police Chief Peter Newsham characterized it as an unprovoked and "brutal attack on peaceful protesters."

Turkish officials accused protesters of attacking Mr. Erdogan's supporters and blamed Washington police and the Secret Service for not doing enough to separate the two groups.

The police department produced large "wanted" posters featuring photographs of the Turkish security guards that they displayed at a news conference announcing the charges, which included felony assault for several members of the security detail.

Mr. Erdogan blasted the charges as "scandalous" and said his team was only trying to protect him. "Why would I take my guards to the United States if not to protect myself?" he said last June.
Veteran journalist David Beard characterizes this bluntly: "US bows to another dictator." Dion Nissenbaum, the lead reporter for the story, is a bit more subtle: "The day before Tillerson met with Turkish President Erdogan to ease tensions, US prosecutors quietly dropped charges against his security team stemming from bloody DC melee." But, as much as I'd like to blame Team Trump for yet more coddling of authoritarian regimes, this was likely the standard outcome.
Indeed, given diplomatic sensitivities—and the system of diplomatic immunity—I'm surprised we got to the level where charges were seriously considered. Erdogan's detail acted like thugs because, well, they're thugs. But, despotic though he may be, he's the democratically-elected head of state of a crucial ally.
And, in fact, there was actually botched police work in the case:
Washington police worked with the State Department to identify the suspects, but the case began to unravel last fall. In November, at the request of prosecutors, a judge dismissed charges against four members of Mr. Erdogan's security detail.

Gunay Evinch, an attorney and co-chairman of the Turkish-American group that organized pro-Turkey demonstrators who clashed with anti-Erdogan protesters, said the four men were able to demonstrate that they weren't at the scene of the protest when the fighting erupted.
That's naturally going to lead to charges of incompetence, at best, and racism, at worst.