Charles Krauthammer Dies of Cancer, Aged 68
A towering figure gone much too soon.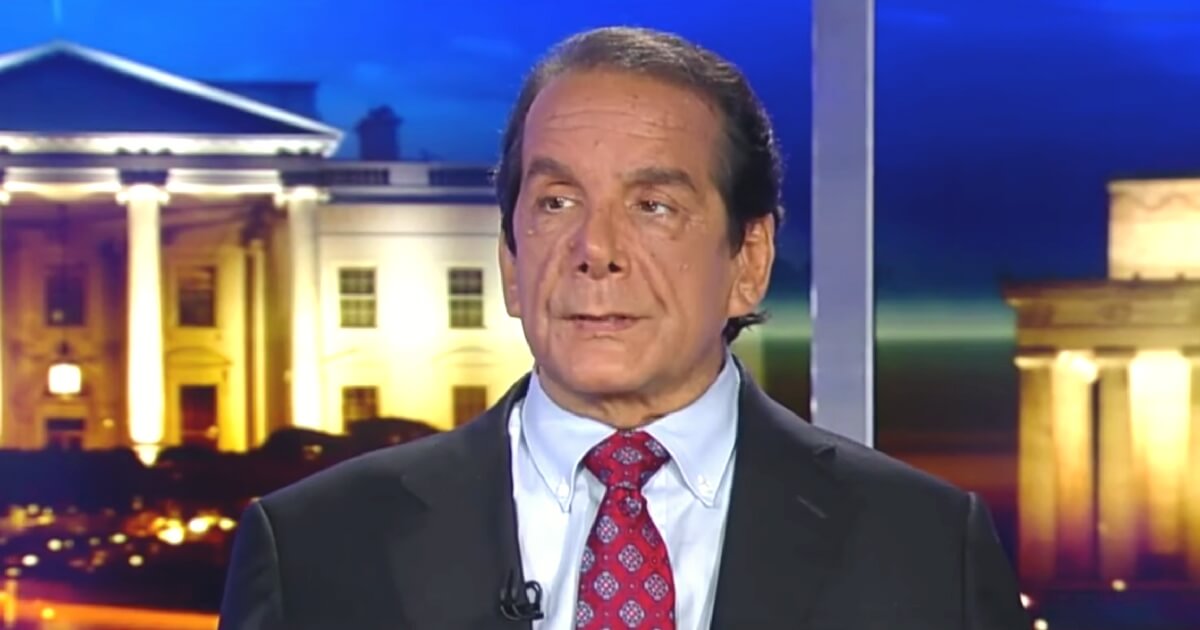 His obit at the Washington Post, his longtime home:
Charles Krauthammer, a Pulitzer Prize-winning Washington Post columnist and intellectual provocateur who championed the muscular foreign policy of neoconservatism that helped lay the ideological groundwork for the 2003 U.S.-led invasion of Iraq, died June 21 at 68.

The cause was cancer of the small intestine, said his son, Daniel Krauthammer. He declined to provide further information.

"I believe that the pursuit of truth and right ideas through honest debate and rigorous argument is a noble undertaking," Charles Krauthammer wrote in a June 8 farewell note. "I am grateful to have played a small role in the conversations that have helped guide this extraordinary nation's destiny. I leave this life with no regrets."

A star of page and screen, Dr. Krauthammer (pronounced KRAUT-hammer) was one of the highest-profile commentators of his generation. In addition to his syndicated weekly column in The Post, which garnered him a Pulitzer in 1987, he was a marquee essayist for magazines across the political spectrum, including Time, the New Republic, the Weekly Standard and the National Interest foreign policy journal. He also was a near-ubiquitous presence on cable news, particularly Fox.

By any measure, Dr. Krauthammer cut a singular profile in Washington's journalistic and policymaking circles. He graduated in 1975 from Harvard Medical School — on time, despite a diving accident that left him a paraplegic — and practiced psychiatry before a restless curiosity led him to switch paths. Instead of diagnosing patients, he would analyze the body politic.

Jacob Heilbrunn, author of "They Knew They Were Right: The Rise of the Neocons" and editor of the National Interest, said in an interview that Dr. Krauthammer "crystallized conservative thought and exerted influence by setting the terms of public debate at key moments in the nation's political life."

Known for acerbic, unsparing prose and hawkishness on U.S. and Israeli security matters, Dr. Krauthammer long directed his moral indignation at the "liberal monopoly" on the news cycle. He was festooned with honors by right-leaning groups and sought after by Republican policymakers. Vice President Richard B. Cheney once praised him for his "superior intellect."

To the left, Dr. Krauthammer was a bogeyman, most notably on the matter of President George W. Bush's "war on terror" and the ultimately catastrophic efforts to democratize the Middle East.

On Israeli-Palestinian relations, he acknowledged suffering on both sides but firmly defended the Jewish state in what he saw as its existential battle for survival. "Israel's crime is not its policies but its insistence on living," he wrote in a 2008 Post column. He declared international law worthless and quipped that Islamist militants are seldom "impressed by U.N. resolutions."

His prolific work extended far beyond politics and foreign affairs to touch on complex social problems that he had first encountered in his medical practice. He wrote poignantly — and at times caustically — about societal treatment of the mentally ill. Many patients, released from psychiatric facilities at the urging of civil libertarians, were set adrift on the "very mean streets" because of a fantasy of "a Rockwellian community ready to welcome its eccentrics," he wrote in Time in 1985.

"In the name of a liberty that illness does not allow them to enjoy," he concluded, "we have condemned the homeless mentally ill to die with their rights on."
I eulogized Dr. Krauthammer a few days back, upon his farewell column at the Post announcing that he had little time left on this earth. I'm happy that, at least, he was able to hear and read all of those testimonials from those who he influenced and touched through his many decades in public life.
UPDATE: A touching reminiscence from Nash Jenkins:
I would like to share a story about Charles Krauthammer.

— Nash Jenkins (@pnashjenkins) June 21, 2018
UPDATE (Doug Mataconis) As expected, this morning's Washington Post has a series of tributes to the long-running columnist, including this from fellow conservative George Will:
When he was asked how to become a columnist, Charles Krauthammer would say, with characteristic drollery, "First, you go to medical school." He did, with psychiatry as his specialty because, he said with characteristic felicity, it combined the practicality of medicine and the elegance of philosophy. But he also came to the columnist craft by accident. Because of one.

It has been said that if we had to think about tying our shoes or combing our hair we would never get out of the house in the morning. Life is mostly habitual — do you actually remember any details of driving home last evening? The more of life's functions that are routinely performed without thinking, the more thinking we can do. That, however, is not how life was for Charles after his accident.

In 1972, when he was a 22-year-old student at Harvard Medical School, he was swimming in a pool. Someone pushed the diving board out, extending over a shallower part of the pool. Charles, not realizing this, dove and broke his neck. At the bottom of the pool, "I knew exactly what happened. I knew why I wasn't able to move, and I knew what that meant." It meant that life was going to be different than he and Robyn had anticipated when they met at Oxford University.

He left two books at the pool. One was a text on the spinal cord. The other was André Malraux's novel "Man's Fate."

Paralyzed from the neck down, he completed medical school, did an internship and, one thing leading to another, as life has a way of doing, became not a jewel in the crown of the medical profession, which he would have been, but one of America's foremost public intellectuals. Nothing against doctors, but the nation needed Charles more as a diagnostician of our public discontents.

During the 1980 presidential campaign, Charles wrote speeches for the Democratic vice-presidential candidate, Walter Mondale, who did not realize — neither did Charles — that the campaign harbored a thinker who soon would be a leading light of contemporary conservatism. Dictating columns when not driving himself around Washington in a specially designed van that he operated while seated in his motorized wheelchair, crisscrossing the country to deliver speeches to enthralled audiences, Charles drew on reserves of energy and willpower to overcome a multitude of daily challenges, any one of which would cause most people to curl up in a fetal position. Fortunately, with more brain cells to spare than the rest us have to use, he could think about doing what was no longer habitual and about national matters, too.
Krauthammer is also being remembered elsewhere in the media, including the New York Times obituary  by Sam Roberts.