Charlie Crist Leads Rick Scott In Florida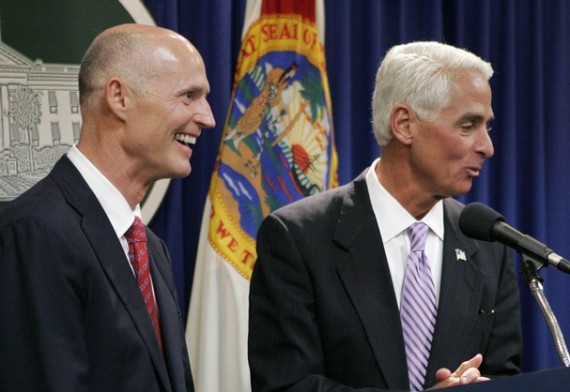 A new Rasmussen poll has former Governor, and former Republican, leading his successor Rick Scott:
Republican-turned-Democrat Charlie Crist leads incumbent GOP Governor Rick Scott by six points in Rasmussen Reports' first look at Florida's 2014 gubernatorial race.

The latest statewide telephone survey of Likely Florida Voters shows Crist, who served as governor from 2007 to 2011, picking up 45% of the vote to Scott's 39%. Six percent (6%) prefer some other candidate, while 10% are undecided.
This number is largely consistent with a SurveyUSA poll from earlier this month, and the RealClearPolitics average shows Crist ahead by an average of 3,3 percentage points. In fact, over the last year there has only been one poll showing Scott leading, and that poll only had him up by one percentage point. While all the usual caveats about it being early in the race still apply, Rick Scott is most assuredly on the list of vulnerable Republican Governors.