Charlie Daniels Dead at 83
The Country Music Hall of Famer is gone.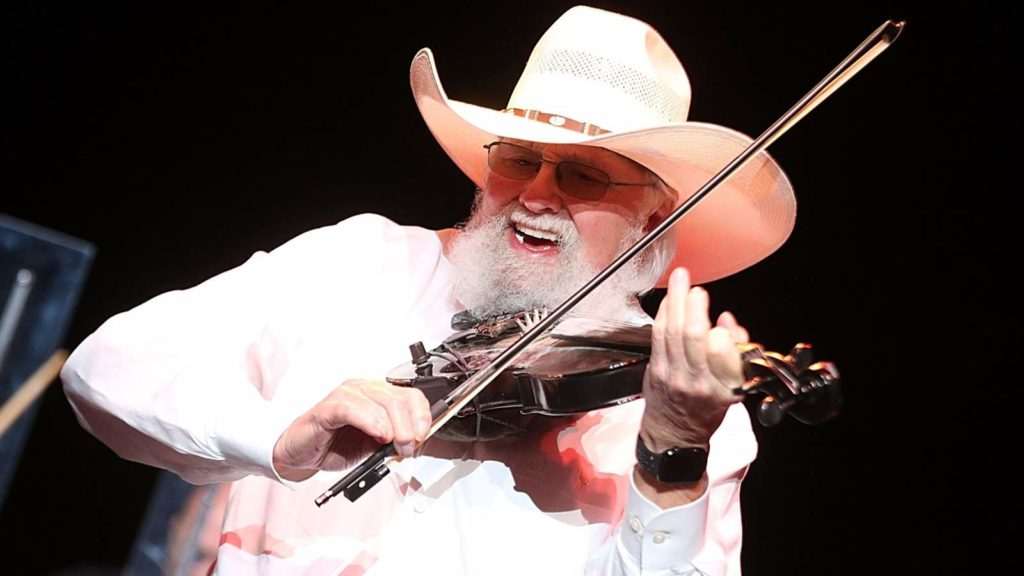 The legendary country music fiddler best known for his 1979 hit "The Devil Went Down to Georgia" has died of a stroke.
The Nashville Tennessean ("Country Music Hall of Fame member Charlie Daniels dies at 83"):
Charlie Daniels, a member of the Country Music Hall of Fame best known for "The Devil Went Down to Georgia," died Monday morning after suffering a hemorrhagic stroke. He was 83.

Daniels' death was confirmed by his publicist, Don Murry Grubbs. He is survived by his wife, Hazel, and son Charlie Daniels Jr.

By the time the Charlie Daniels Band topped the charts with "Devil" in 1979, the instrumentalist, singer and songwriter had long established a remarkable, multifaceted career in Music City. As a session musician, he played on three of Bob Dylan's albums – including the revolutionary "Nashville Skyline" – as well as recordings for Ringo Starr and Leonard Cohen.

At the other end of that 60-plus year career, Daniels used more of his voice in support of U.S. veterans, and was known to speak out on their behalf on social media until his final days.

In 1974, he launched the first "Volunteer Jam," a regular all-star concert that has continued for nearly 50 years. Daniels joined the Grand Ole Opry in 2008, and was inducted into the Country Music Hall of Fame in 2016.

Upon its release in 1979, "The Devil Went Down to Georgia" didn't just top the country chart, it became a huge pop crossover hit – climbing up to No. 3 on Billboard's Hot 100 chart behind The Knack's "My Sharona" and Earth Wind and Fire's "After the Love Has Gone." It gained even greater ubiquity one year later, when Daniels and his band performed it in the 1980 film "Urban Cowboy."

"I get a chance to play it better tonight than I did last night and better tomorrow night than I did tonight," Daniels said in 2016 of the song's famous fiddle solo. "I haven't played it perfect yet. I am in love with walking on stage and entertaining people with songs I have written. It's one of the few times in my life that I feel like I know what I'm doing."
CMT News ("Charlie Daniels, 83, Dies of a Stroke"):
Country legend Charlie Daniels, 83, died on Monday morning (July 6) after a hemorrhagic stroke.

[…]

Known as one of country music's most patriotic personalities, Daniels joined the Grand Ole Opry in 2008 and was inducted into the Country Music Hall of Fame in 2016. Equally known for being outspoken about his conservative political beliefs, he accepted the First Amendment Center/Americana Music Association "Spirit of Americana" Free Speech Award in 2006.

[…]

A prolific recording artist, Daniels charted 34 singles on Billboard's country chart. His Top 10 hits include "Drinkin' My Baby Goodbye" from 1986 and "Boogie Woogie Fiddle Country Blues" from 1988. Other notable singles from his catalog include "Uneasy Rider," "In America," and "Simple Man." A devout Christian, Daniels also earned four Grammy nominations for his gospel recordings.

[…]

Daniels served as a role model for innumerable country artists who weren't afraid for their music to get rowdy. His countless collaborators in his later years included George Jones, Aaron Lewis, Montgomery Gentry, Travis Tritt, and Gretchen Wilson. He appeared on cue in a comical 2009 Geico TV commercial when an announcer rhetorically asks, "Does Charlie Daniels play a mean fiddle?"
The Country Music Hall of Fame hasn't yet noted his passing but his induction page says,
Steeped in musical traditions ranging from folk and bluegrass to gospel, country, and rock, Charlie Daniels was a pioneer in introducing southern rock sounds into mainstream country music.

In the process, he brought millions of young people to a greater appreciation of their country music heritage, established musical alliances with a wide variety of artists in country and other music fields, and helped take country to deeper levels of American culture.

Critical to this achievement was his session work on albums Bob Dylan recorded in Nashville in the 1960s, including Nashville Skyline. Daniels also supported Ringo Starr on Starr's Beaucoups of Blues. "The Devil Went Down to Georgia" and the Charlie Daniels Band were featured in the landmark film Urban Cowboy (1980), a movie that helped ignite a boom in country music's popularity and widened its audience across the nation.

According to the RIAA, Daniels's lifetime record sales have exceeded 13.5 million units. When he was signed for three million dollars by Epic Records in New York in 1976, the contract set a record for a Nashville act. Daniels has nine gold, platinum, or multi-platinum albums. "The Devil Went Down to Georgia," a platinum single, was the Country Music Association (CMA) Single of the Year in 1979 and earned the Charlie Daniels Band a Grammy for Best Country Vocal Performance by a Duo or Group. The chart-topping country hit crossed over to become a Top Five pop smash as well. Daniels was named CMA Musician of the Year in 1979. The Charlie Daniels Band won CMA Instrumental Group of the Year Awards in 1979 and 1980. Daniels's religious recordings won Dove Awards in 1995 and 1997. Daniels became a Grand Ole Opry cast member in 2008 at age seventy-one.
I grew up listening to what was then called "country and western" music as a kid and was just coming back to the states from Germany when "Devil Went Down to Georgia" was breaking out. I was making the transition to listening mostly to the rock music of the day but that song crossed boundaries. Indeed, not only was it a crossover hit but I distinctly remember to country stations my parents listening to using "son of a gun" and rock station I listened to using "son of a bitch" in the classic line near the end of the song. (I haven't heard the "gun" version in a long time.)
Daniels came to play at Jacksonville State when I was there and I'm pretty sure I helped work security and stage setup for that concert as an ROTC cadet. (We worked several shows during my time there to earn money to pay for extracurricular activities.) I definitely went to one of his shows in Hanau, West Germany circa 1989-1990 when I was stationed in nearby Babenhausen. I still own many of his albums on CD.
Over time, he drifted off the top of the charts and became more known for his politics and religious views, which were perhaps unsurprisingly not all that sophisticated.
One particular song illustrating that point, which we've discussed in the comments section here before, is this one:
His 1973 hit "Uneasy Rider," which I must admit is a very different song to me now than it was a few decades ago, is another:
His vocal support for the military is interesting in that he never served himself. But, although there was a draft in place when he graduated high school in 1955, the Korean War was over and Vietnam was a long way down the road. One of his big hits was "Still in Saigon," one of many that rode the wave of re-embracing those who served in Vietnam in the early 1980s.
He was undeniably a legend in the business and it's actually surprising that he had to wait so long to get inducted into the Hall of Fame. Thankfully, he and his wife lived to see it.
Some of my other favorites, most of which predate the music video era: