Charlottesville Anniversary March A Complete Dud
White supremacists held a rally in Washington on Sunday, and almost no one but their opponents and the police showed up.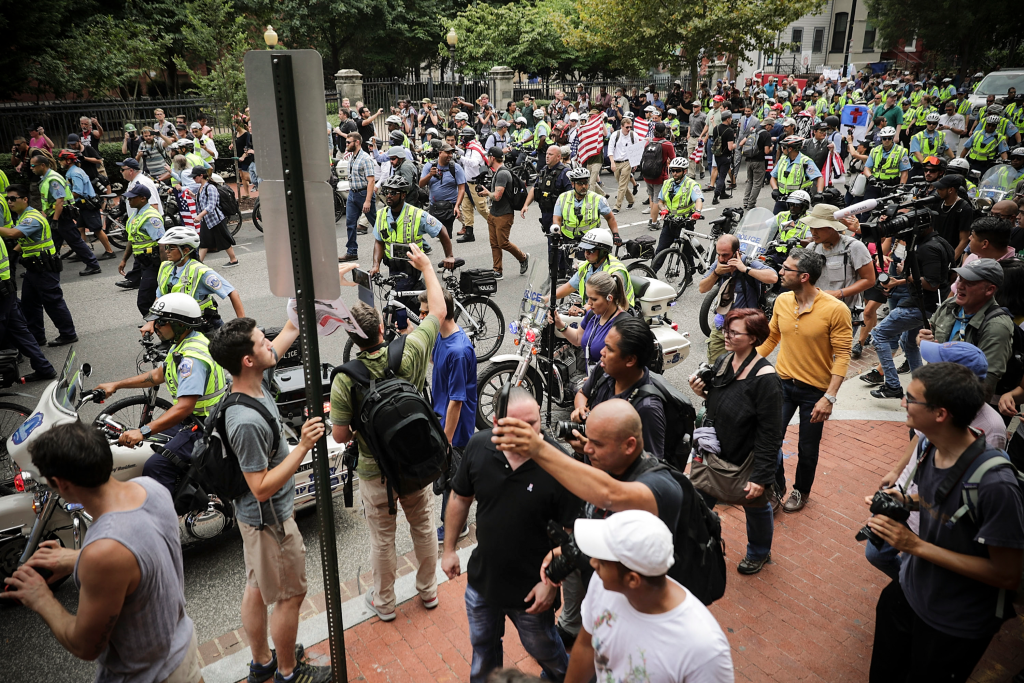 Yesterday's rally by so-called white supremacists on the first anniversary of the "Unite The Right" rally in Charlottesville, Virginia that led to the death of a young woman named Heather Heyer at the hands of a white supremacist turned out to be a complete dud, with counterprotesters vastly outnumbering rally participants and the entire event breaking up earlier than planned due to the sparse crowd:
WASHINGTON — After weeks of hype, white supremacists managed to muster just a couple of dozen supporters on Sunday in the nation's capital for the first anniversary of their deadly rally in Charlottesville, Va., finding themselves greatly outnumbered by counterprotesters, police officers and representatives of the news media.

But even with the low turnout, almost no one walked away with the sense that the nation's divisions were any closer to healing.

Indeed, the streets of downtown Washington were charged on Sunday with tension, emotion and noise, particularly in the afternoon, as the right-wing agitator Jason Kessler and perhaps 20 fellow members of the far right — some wearing bright red "Make America Great Again" hats, some draped in American flags — marched under heavy police escort from the Metro station in the Foggy Bottom neighborhood to their barricaded and heavily protected rally area near the White House.

They were surrounded by a vast, rolling plume of counterprotesters, who hurled insults, waved middle fingers and chanted "Shame!"

"You killed a girl in Charlottesville!" one voice in the crowd yelled, referring to Heather Heyer, a woman who was fatally injured when a white supremacist rammed his car into a crowd of counterprotesters a year ago.

A similar dynamic to the one in Washington played out in Charlottesville on Sunday, where few if any far-right demonstrators could be found, and where the most palpable tensions developed between left-wing protesters and the police, whose presence in the city was heavy and, some argued, heavy-handed.

"The problem is, the only opposition is the police," said Pastor Robert Lewis of the Hinton Avenue United Methodist Church, as he and a group of religious representatives stood facing rows of officers in an effort to form what he called a buffer between them and the protesters.

Only a handful of arrests were reported in Charlottesville on Sunday, including a man and a woman who got into a fistfight after the man saluted the town's statue of Robert E. Lee. By early evening, the security cordon around the downtown area had been lifted, hours ahead of schedule.

In Washington, the mere threat of another large turnout from the far right, coupled with a large turnout from the far left — among them, hundreds of black-clad, masked and helmeted anti-fascist protesters known as antifa — seemed to indicate that the United States was not over its turn toward European-style politics by street protest.

It was also a return to the way extreme-right demonstrations in America tended to play out before Charlottesville.

The template starts when a group like the Ku Klux Klan announces a rally. Next comes news coverage, fevered and intense. That prompts a huge number of activists, police officers and everyday people to turn out, dwarfing what is often a pathetically small band of extremists in hoods or armbands.

That does not mean that hate is on the wane. According to the Center for the Study of Hate and Extremism, there were a total of 1,038 hate crimes recorded in the 10 largest American cities last year, an increase of 12 percent from 2016 and the highest figure in more than a decade.

In Washington on Sunday, the far-right rally felt as though it was over before it had really begun. It was officially scheduled to start at 5:30 p.m., but the small band of extremists arrived early, finished their demonstration and left before that time.

Their effort may have been diminished by the numerous news reports published about the right-wing protesters who were in Charlottesville last year, identifying them and sometimes leading to them losing their jobs.

Another factor was a thunderstorm that rolled over Washington around 5 p.m., dampening enthusiasm and thinning out the crowds. As the rain began falling in earnest, the white supremacists began leaving Lafayette Park in front of the White House.

Counterprotesters in the park booed them, chanting "na-na-na-na, hey hey, goodbye," and their mood soon grew celebratory.

Many Washingtonians felt a sense of relief that the event did not turn into something worse — and that the bad guys had effectively lost.

"I have no problem with them and their protest," said Ianta Summers, a counterprotester carrying a large Black Lives Matter flag. "I have a problem with their ideals, and this just shows them, you can show up and speak, but you have to deal with the consequences."

At the same time, some saw in the wall-to-wall media coverage a kind of public relations victory for the far right. "They are getting international coverage and profiles, and the bottom line is that exposure equals importance," said Brian H. Levin, director of the Center for the Study of Hate and Extremism at California State University, San Bernardino.

Mr. Levin added that there had been "over-coverage" and "hype" in the run-up to the protests. "And at a time when the movement is in disarray and some of its members are getting knocked off of social media, it can, nonetheless, get a message out across millions of eyeballs on television and in print," he said.

In the run-up to the rally, the Washington police had prepared meticulously to avoid violence. In the area around the White House, placards bearing the name of Police Chief Peter Newsham had appeared on light posts as though the nation's capital were a dusty Wild West town: "All Firearms Prohibited Within 1,000 Feet of This Sign." The rule was in effect from 6 a.m. to midnight.

The weapons ban, justified by a section of District of Columbia code, echoed a similar move by the New Orleans police last year as they prepared for a showdown between left and right over a plan to remove Confederate statues there.

Just as importantly, the Washington police kept the two factions strictly separated throughout the afternoon, using barricades, their bodies and motorcycles.

Most of the counterprotesters could not even catch sight of the brief right-wing rally, where some of the roughly two dozen demonstrators inside their penned-off area held signs that said, "Protect the Endangered Species, Stop White Genocide," and "White Lives Matter."

Mr. Kessler, speaking to the small group of marchers he was with in Lafayette Square, said that he did not want antifa counterprotesters "using violence to shut down the speech of people they disagree with."

He tried to account for his group's meager showing by acknowledging that some of his fellow white nationalists were fearful of the reception they would receive.

"There were a lot of people who were at last year's rally who are very scared this year," he said. "They felt like last year they came to express their point of view. They were attacked. And when they fought back, they were overly prosecuted."
More from The Washington Post:
White supremacists held a rally in Washington on Sunday, and almost no one but their opponents and the police showed up.

Jason Kessler, one of the organizers of last year's violent and deadly "Unite the Right" rally in Charlottesville, wanted to hold an anniversary demonstration there, but the city wouldn't let him. So he brought his show to Washington, where he hoped 400 supporters would join him for a rally at Lafayette Square, across from the White House. Fewer than 40 turned out.

The group was met by thousands of protesters who filled their half of the leafy, seven-acre park chanting "Go home, Nazis!" "No Trump! No KKK! No fascist USA!" and "Black lives matter!" They drowned out whatever message Kessler and his small band of followers had hoped to deliver — and that was their goal.

For opponents, the day felt like a victory, albeit an often tense and angry one.

Samaj Calhoun, a Southwest Washington resident, came to protest the rally with friends to show they wouldn't be intimidated by the white supremacists. Calhoun said she hopes the rest of the country watching the District sees "that we're not afraid. And we can defend our city."

City leaders and law enforcement officials were determined that the event would not be a repeat of the mayhem in ­Charlottesville last year, when city police and Virginia state troopers allowed white supremacists and neo-Nazis to clash in the streets with anti-hate protesters. Counterprotester Heather Heyer was killed when a man police say identified himself as a Nazi drove a car into a crowd. Two state troopers died when their helicopter crashed following a day of monitoring the civil disturbance.

A massive police presence Sunday kept the two sides separated, and outside of a confrontation between some antifa, or ­anti-fascist, protesters and police long after the rally had ended, there were no reports of violence. Police reported that one man was arrested after he assaulted a man wearing a "Make America Great Again" hat.

D.C. Mayor Muriel E. Bowser (D) said last week the city would ensure that the rallygoers could exercise their right to free speech — even if what they were saying was distasteful.

"While we are opposed adamantly to what we are going to hear, we know what our responsibility is — to protect First Amendment events, to protect Washingtonians and to protect our city," she said.

(…)

Kessler and his supporters arrived a little before 1 p.m. at the Vienna Metro station, where they were accompanied by law enforcement officers onto the rear car of a waiting train. After the group disembarked at the Foggy Bottom Metro station, a larger police contingent, including officers on bicycles and motorcycles, escorted them on a walk of several blocks past protesters who shouted and chanted at them. Once inside Lafayette Square, protesters were kept far away from Kessler's group.

Critics, including two D.C. Council members and the union representing Metro employees, lambasted the transit agency for providing the group extra protection after having said last week that its members would not be given special treatment.

"Giving white supremacists & hate groups a private Metro rail car is so unbelievably wrong & disgraceful. Beyond the horrible precedent it sets, what does it tell the riding public & operators? Plus, it's the exact opposite of what @WMATA said they'd do," council member Charles Allen (D-Ward 6) tweeted.

At Lafayette Square, protesters continued to yell and chant, and some, including a small contingent of antifa members dressed in black, hoped for a showdown with the white supremacists when the rally ended a little before 5 p.m. Police acted quickly to spirit Kessler and his followers out of the area in white vans to the Rosslyn Metro station, where they boarded a train to return to Vienna. Fairfax County Executive Bryan Hill said police were stationed along Interstate 66 to make sure no one tried to throw debris onto the train tracks or cause any other trouble.

Antifa members vented their frustration at not being able to confront the rallygoers by lighting smoke bombs and firecrackers and throwing eggs in the direction of police. By then, a steady rain was falling, however, and the protest was fizzling. Most began heading home, but police kept a watchful eye as the black-clad group carrying umbrellas wandered about knocking over trash cans, chanting "Bust a window!" and yelling at police to get out of their cars and "meet us in the streets." A confrontation between the protesters and police erupted briefly near 13th and G streets NW.

While police were successful at keeping the opposing groups apart, the effort came at what is expected to be a significant expense to the city for overtime and deployment of law enforcement resources. District officials said late Sunday they were still tallying the cost of the rally to the city. At least some of it would be reimbursed by the federal government, they said, because Kess­ler's event took place on National Park Service land.

At the rally, Kessler spent much of his 15-minute speech defending last year's Unite the Right rally and insisting, despite evidence to the contrary, that most of those who attended had been nonviolent.

Earlier in the day, Kessler spoke to several reporters at the Vienna Metro station. He said he and his group were there to promote free speech and to protest "white civil rights abuses."

When asked whether he had anything to say to Heather Heyer's mother, Kessler offered his "condolences" but said police in Charlottesville should have blocked off the street where she was killed.

Several days after her death last year, Kessler tweeted, "Heather Heyer was a fat, disgusting Communist. Looks like it was payback time."
The fact that the rally yesterday garnered far more counter-protesters and police than it did participants, and that it didn't even include many of the planned speeches in Lafayette Square that had been promoted prior to the event, brings with it no small degree of schadenfreude, of course, along with a sense of relief. On the first count, the combination of the events of last year and the rise of Donald Trump and the brand of politics that he has made a reality has led some people to fear that we were headed for an era where racism, xenophobia, white "nationalism," and similar ideologies were being encouraged to come out of the closet and speak out openly due to the rise of Trumpism. While that is still certainly something to be concerned about, especially given the fact that the attitudes the President has about race and related issues has, over the past eighteen months, manifested itself in the form of policies that are, to say the least, deeply concerning, the fact that this march was able to garner a crowd smaller than, as Joe Scarborough put it this morning on Morning Joe, the line you'd see outside a Whataburger in Pensacola, Florida at lunchtime is somehow rather encouraging as well as providing us with a good opportunity to point and laugh at the pathetically small group of losers and wannabes that showed up in Washington, D.C. yesterday.
All that being said, it's important not to simply conclude that we can move along and not have to worry about this movement, what it represents, and that the base emotions that the alt-right represents are not all that different from what Donald Trump has been preaching for the past three years. As I noted yesterday, Donald Trump rose to power by appealing to the worst aspects of American politics such as nativism, xenophobia, and the kind of populist fear of "the other" that has fueled demagogues of the past such as Father Charles Coughlin, Huey Long, the Dixiecrats, and George Wallace. Additionally, as a noted back in June, his candidacy and Presidency have led to what can only be called a mainstreaming of racism that hasn't been seen in this country since before the Civil Rights Era. That genie is still out of the bottle and there's no telling what kind of damage it can and will do before we get it contained again. This is why Americans of good faith must remain vigilant while at the same time recognizing that, as yesterday demonstrated, the good people still outnumber the haters.