Chase Closing Porn Star's Bank Accounts
Chase is closing accounts because it doesn't like the career their customers have chosen.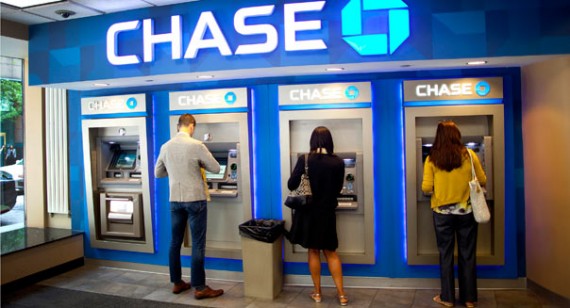 Chase Bank has been closing the accounts of porn stars and others affiliated with the adult film industry, and the Federal Government may have something to do with it:
A bank has got hundreds of porn stars hot and fired up after writing to them to tell them their bank accounts would be closed, News.com.au reports.

The move has sparked fury throughout the adult entertainment industry with workers saying they had no idea why they were being targeted.

Chase bank sent letters to industry workers revealing the accounts would be closed next month.

In the letters sent out by the bank, which is a subsidiary of JP Morgan Chase, no reason is given for the closure but an apology is given for the inconvenience.

"We recently reviewed your account and determined that we will be closing it on May 11, 2014," it reads.

"You may close your account before the date we've provided. Your account agreement says that either of us may close your account at any time, without notice and without a reason," the letter states.

Porn star Teagan Presley said her account was closed and she was turned down when she tried to open another one.

"I called them and they told me that because I am, I guess, public and am recognizable in the adult business, they're closing my account," she told adult industry site XBiz News.

It was unknown exactly how many workers have been affected, however adult industry lawyer Michael Fattoros said banks had closed accounts belonging to industry workers in the past, though "not on this scale".
On the face of it, these actions don't make a whole lot of sense. This situation is entirely different, for example, from the problems that many businesses selling legal marijuana in states such as Colorado and Washington are having in opening bank accounts. In those cases, financial institutions have cited the fact that the business they engage in, while legal under the laws of their state, is completely legal in their home state, it remains illegal in much of the rest of the country and under Federal law. Here, we're talking about an industry that is perfectly legal. Additionally, the accounts being closed aren't limited to business accounts that are, say, used to run adult websites, but personal accounts that, at the most, are used to deposit paychecks and pay bills. In one report, a performer who had her account closed said that the account is one she'd had since she was a teenager. While I'm not aware of any law that would prevent banks from, in effect, discriminating against customers based on the business they are in, there's certainly something about it that seems unfair and heavy handed.
Whatever you might think about the adult film industry, and based on the revenue it garners and the traffic that its websites receive it would appear that most Americans don't really have much of a problem with it, it's a legal business. While current banking laws generally only cover discrimination based on race, gender, and religion, the idea of banks being able to deny people access to the banking system based on where they work is troubling. Potentially, it's something that could be easily abused if, say, a large bank decided to close the accounts of anyone who worked for political candidates that voted against the bank's interest. If there's evidence that the accounts are being used for fraudulent or illegal purposes, then certainly a banking institution should have the authority to protect its own interests. There's no evidence of that here, though, especially not when we're talking about completely private accounts.
Perhaps not surprisingly, a Federal Government program may be behind the whole thing:
Despite being in good financial standing, adult film performers and others in the porn industry have had bank accounts abruptly terminated—and the U.S. Department of Justice (DOJ) may have had something to do with it.

Under "Operation Choke Point," the DOJ and its allies are going after legal but subjectively undesirable business ventures by pressuring banks to terminate their bank accounts or refuse their business. The very premise is clearly chilling—the DOJ is coercing private businesses in an attempt to centrally engineer the American marketplace based on it's own politically biased moral judgements. Targeted business categories so far have included payday lenders, ammunition sales, dating services, purveyors of drug paraphernalia, and online gambling sites.
Jason Oxman, CEO of the Electronic Transactions Association, described Operation Choke Point in detail at The Hill:
The theory behind this enforcement program has superficial logic: increase the legal and compliance costs of serving certain disfavored merchant categories, and payments companies will simply stop providing service to such merchants.  And it's working – payments companies across the country are cutting off service to categories of merchants that – although providing a legal service – are creating the potential for significant financial and reputational harm as law enforcement publicizes its activities.  Thus far, payday lenders have been the most frequent target.  Whatever the merits of payday lending – and there are valid arguments on both sides -it is legal in 36 states.  And if payday lenders are today's target- what category will be next and who makes that decision?
So far, the DOJ is refusing to comment in response to questions regarding whether there is a connection between Operation Choke Point and Chase's actions with regarding to the adult film industry. Whether that's the case or not, the program itself is something that we ought to be having more of a conversation about. It's bad enough if Chase, on its own, is targeting customers for termination based on nothing other than the industry they happen to work in. It's another thing entirely if they are doing it in response to a government program that is already unfairly targeting people in other completely legal businesses over generalized suspicions of fraud.