Chelsea Manning and the Law
Bradley Manning's announcement that she wishes to begin living life as a woman poses some interesting legal questions.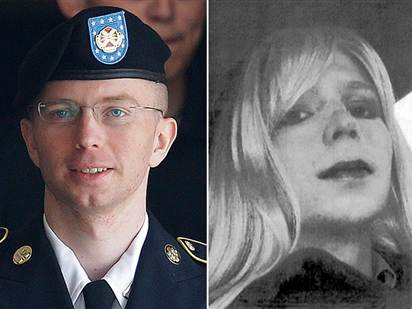 Bradley Manning's announcement that she wishes to be addressed as Chelsea Manning and begin living life as a woman poses some interesting legal questions.
Tom Vanden Brook and Jim Michaels, reporting for USA Today ("Manning Faces Legal Minefield") provide some background:
Legal, medical and mental health professionals, even the Veterans Affairs Department, recognize that transgender men and women can qualify for medical treatment. The VA won't pay for veterans to have sexual reassignment surgery but it will pay for hormone treatment and counseling for those who qualify.

It's unknown how many transgender troops are serving. From 2001 to 2011, there were 3,177 veterans diagnosed with gender identity disorder, according to the VA. The number is increasing annually, it says. About one in 11,000 male babies and one in 30,000 female babies are born with gender identity disorder, according to the Veterans Health Administration.

The Pentagon, meantime, refuses to accept transgender troops or offer them treatment. Gay and lesbian troops may now serve openly, but transgender soldiers get discharged. And the Army says it will not treat Manning for transgender issues during the private's sentence at the Army's Fort Leavenworth prison — a male-only facility.

Activists and lawyers say the Pentagon is fighting a rear-guard action that it can't win. It can't deny a prisoner legitimate, recognized therapy, they say. If Manning receives a diagnosis that he needs gender treatment, he'll be entitled to therapy in prison, says Mara Keisling, executive director of the National Center for Transgender Equality.

"It's really clear-cut," Keisling said. "If a person gets diabetes, you treat the diabetes," she said. "If you break a leg, that gets treated. If you have schizophrenia, that gets treated. It doesn't matter if it is a mental or physical health problem."

Denying therapy or surgery "is the initial reaction most prisons have had. … It's regularly been rejected by courts because the courts say the Constitution requires prisoners be given adequate care," said Neal Minahan, a Boston attorney who has worked on similar cases.

"You can't just have a blanket ban on a medical procedure without some doctor involvement," he said.
Interestingly, while the VA may be diagnosing people with gender identity disorder, it apparently doesn't exist:
Manning's announcement comes at a time of tremendous change in medical and cultural attitudes toward transgender people.

In March, the psychiatric profession's diagnostic manual eliminated "gender identity disorder" from its list of mental health disorders.

The American Psychiatric Association's Diagnostic and Statistical Manual of Mental Disorders does include the term "gender dysphoria," or "the emotional stress somebody might experience because there is a discrepancy between their assigned gender, which they were born with, and the gender they feel they are."
HuffPo's Matt Sledge ("Chelsea Manning's Gender Transition Could Set Military Precedent")
Although the military ended its Don't Ask, Don't Tell policy barring openly gay servicemembers in September 2011, the Army still bars transgender servicemembers as "administratively unfit." The official Army regulation uses medically outdated terminology referring to "transvestism, voyeurism, other paraphilias, or factitious disorders, psychosexual conditions, transsexual, (or) gender identity disorder."

Transgender servicemembers are supposed to be administratively separated from the Army, and cannot receive treatments for gender dysphoria like hormone therapy or sex-reassignment surgery. But administrative separation is not an option for soldiers sentenced to prison like Manning, whose rank will soon be reduced to Army private.

A Fort Leavenworth spokeswoman confirmed to HuffPost on Thursday that the military's refusal to provide hormone therapy to its prisoners is derived from that official Army regulation, not simply a matter of prison policy or practice.

Army regulation stands in sharp contrast to the policies of the American Psychological Association, the American Psychiatric Association and the Endocrine Society, all of which acknowledge hormone therapy as an effective treatment for people who need to transition because of gender dysphoria.
And it's not just the military:
Access to hormone therapy and sex reassignment surgery are contested issues far beyond the military. Many state prisons do not provide one or both, and the Federal Bureau of Prisons only reached a settlement in 2011 to allow prisoners to start hormone therapy while incarcerated. Transgender inmates everywhere, meanwhile, face disproportionate exposure to the rape endemic to America's prisons.
Emily Greenhouse in The New Yorker ("ACCEPTING CHELSEA MANNING"):
No federal law exists to protect transgender people from discrimination in the workplace; a full ninety per cent have reported harassment, mistreatment, or discrimination at work. The rate of unemployment in the trans community is double that of the population at large. Most states do not guarantee access to public services, like hospitals, for transgender people. In New York State, where the modern gay-rights movement really began, gay and lesbian activists dropped their transgender allies for a non-discrimination bill, and still there is no guarantee of equality of gender expression.

Discrimination and violence, especially sexual violence, against transgender women is disproportionately bad. And in prison, according to a 2009 study of inmates in California, some sixty per cent of male-to-female transgender individuals locked up with cisgendered men suffered sexual assault. Not one of the transgender inmates in the study trusted guards to protect them against rape and harm.
But the law is slowly moving. The Kansas City Star ("'I am Chelsea Manning': Reflections on a sexual transformation"):
Courts around the country, however, have ruled that hormone therapy for inmates can be a legitimate medical treatment. Arbitrarily refusing them can violate the constitutional ban on cruel and unusual punishment. The American Civil Liberties Union said it would support Manning's "pursuit of appropriate health care and lawful treatment" while at Fort Leavenworth.

"This is an untested area," said Chris Slobogin, professor of law and psychology at Vanderbilt University. "Generally, prisoners and other incarcerated individuals only have a constitutional right to treatment to prevent deterioration. If Manning could show that without hormone treatment his psychological or physical condition will worsen, he might have a case."

In 2012, a Massachusetts federal judge ordered the state to provide taxpayer-funded sex-change surgery to an inmate serving a life sentence for murder. Since then, however, the judge warned the inmate that she could lose her chance for the surgery because she had violated court-ordered confidentiality rules.
The
ACLU
argues that gender dysphoria is just like any other illness:
Policies, like the one the Army announced this morning, that categorically withhold hormone therapy violate clearly established standards of care for the treatment of Gender Dysphoria as well as clear constitutional proscriptions against deliberate indifference to the serious medical needs of individuals in government custody. Gender Dysphoria (formerly known as gender identity disorder or GID) is a serious medical condition, and hormone therapy is part of the accepted medical protocol for treating this condition. Without the necessary treatment, Gender Dysphoria can cause severe psychological distress, anxiety and suicidal ideation. According to the World Professional Association for Transgender Health (WPATH), the leading medical authority on the proper standards of treatment for people with GID, "hormone therapy…is a medically necessary intervention for many transsexual, transgender, and gender nonconforming individuals with Dender Dysphoria."

When the government holds people in its custody, it takes on a duty to provide them medically necessary care. The National Commission on Correctional Healthcare advises against "blanket administrative or other policies that restrict specific medical treatment for transgender people," particularly where such policies either: (1) "make treatments available only to those who received them prior to incarceration or that limit GID treatment to psychotherapy;" or (2) "attempt to 'freeze' gender transition at the stage reached prior to incarceration." Federal courts that have considered the issue in the last several years have consistently found that the blanket denial of treatment for Gender Dysphoria violates the Eighth Amendment of the Constitution.

The ACLU supports Ms. Manning and the many transgender people who have preceded her, including Ophelia De'lonta, Michelle Kosilek, Andrea Fields, Jessica Davison, and Vankemah Moaton, in the fight for medically necessary treatment while in custody.
Joshua Foust and I discussed this yesterday in a segment for BloggingHeadsTV that should be posted later this morning. As far as we've moved as a society in our attitudes toward homosexuality over the last ten or fifteen years, transgender issues are still something with which most of us have not much grappled. Manning's case will likely speed up our understanding of the issues surrounding gender dysphoria and hopefully help resolve the complex legal questions as well.
While both Foust and I very much believe Manning deserves to be punished for the crimes committed while living as Bradley, we're concerned about the horrors awaiting Chelsea at Leavenworth. I'm not so much worried that she'll be harmed physically—a military disciplinary barracks is a far more orderly place than a civilian penitentiary–but that she'll endure immense psychological trauma.  As Greenhouse eloquently puts it, that's true even if the guards and other inmates aren't mean to her:
Manning, a twenty-five-year-old who suffered neglect as a child, and who was subject to solitary confinement after her arrest, will be in prison for at least the next eight years. And during that time, she will have to live with the knowledge that the world outside has seen those pictures of her as a boy, that others feel a right to determine her identity—who she feels she is inside her body—on her behalf.
And, while I'm inclined to think providing her with hormone treatment is less cruel than the alternative, that itself raises a host of challenges that I've only begun to think about.