Cheney Urged Bush to Bomb Syria in 2007
Dick Cheney's long-awaited book's out anf he promises lots of bombshells that will have heads exploding in DC.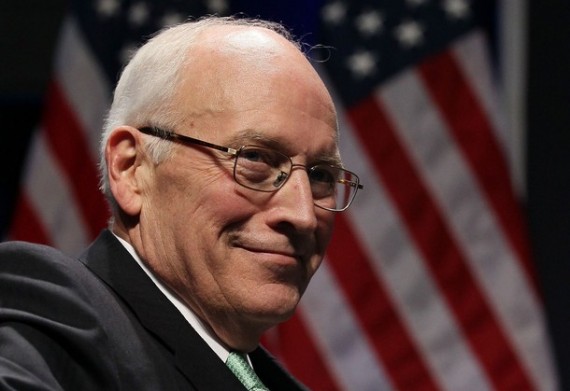 Dick Cheney's long-awaited book's out and he promises lots of bombshells that will have heads exploding in DC.
MSNBC/Today Show ("Cheney: My book will have 'heads exploding' in D.C."):
When former Vice President Dick Cheney releases his memoir early next week, it may cause the second earthquake in Washington, D.C., this month.

In the book, titled "In My Time," Cheney addresses a broad range of topics, including the attacks of Sept. 11; a secret resignation letter he kept in a safe in case he experienced catastrophic health issues, and his thoughts about former President George W. Bush and ex-Secretaries of State Condoleezza Rice and Colin Powell. The 46th vice president discusses those topics and more in his candid, unapologetic interview with Gangel, and he'll likely have more to say when he appears live on TODAY with Matt Lauer on Aug. 30, the day his book hits stores.

One of the revelations in the book is the secret resignation letter that only one of Cheney's staffers knew about. Signed in March 2001, the letter was locked in a safe at all times. "I did it because I was concerned that — for a couple of reasons," he told Gangel. "One was my own health situation. The possibility that I might have a heart attack or a stroke that would be incapacitating. And there is no mechanism for getting rid of a vice president who can't function." "I would strongly support using it again if we had a high value detainee and that was the only way we could get him to talk," he told Gangel.

Cheney also addressed whether Bush will feel hurt or betrayed by the contents of the book, which details private conversations between the two on such topics as whether to attack a target believed to be Iraq president Saddam Hussein. "I didn't set out to embarrass the president or not embarrass the president," Cheney told Gangel. "If you look at the book, there are many places in it where I say some very fine things about George Bush. And believe every word of it."
The sealed resignation letter reveals the best of Cheney: unemotional analysis and a desire to put the needs of the country above his own. And, while I disagree strongly on the wisdom of the torture policy, I can see those same qualities taken to an unhealthy extreme.
As to the book itself and the question of loyalty to the president he served, I'm rather torn. Love him or hate him, Cheney is one of the most important would figures of the twenty year period between his taking the helm at the Pentagon in January 1989 and turning over the keys to the vice presidential mansion in January 2009. He's got a story to tell and a keen, analytical mind. And, being in the unusual position of being older and less healthy than his boss, waiting until Bush goes into the great beyond is an unwise strategy. But a part of me thinks private conversations with the president ought to stay just that for a few decades.
While all the news outlets yesterday were going with the sealed letter story, the NYT's Charlie Savage ("Cheney Says He Urged Bush to Bomb Syria in '07") has something far more interesting.
Former Vice President Dick Cheney says in a new memoir that he urged President George W. Bush to bomb a suspected Syrian nuclear reactor site in June 2007. But, he wrote, Mr. Bush opted for a diplomatic approach after other advisers — still stinging over "the bad intelligence we had received about Iraq's stockpiles of weapons of mass destruction" — expressed misgivings.

"I again made the case for U.S. military action against the reactor," Mr. Cheney wrote about a meeting on the issue. "But I was a lone voice. After I finished, the president asked, 'Does anyone here agree with the vice president?' Not a single hand went up around the room."

Mr. Bush chose to try diplomatic pressure to force the Syrians to abandon the secret program, but the Israelis bombed the site in September 2007. Mr. Cheney's account of the discussion appears in his autobiography, "In My Time: A Personal and Political Memoir," which is to be published by Simon & Schuster next week. A copy was obtained by The New York Times.

Mr. Cheney's book — which is often pugnacious in tone and in which he expresses little regret about many of the most controversial decisions of the Bush administration — casts him as something of an outlier among top advisers who increasingly took what he saw as a misguided course on national security issues. While he praises Mr. Bush as "an outstanding leader," Mr. Cheney, who made guarding the secrecy of internal deliberations a hallmark of his time in office, divulges a number of conflicts with others in the inner circle.
I'll let you click through to Savage's excellent report for those details. But what's been clear since word of Cheney's tell-all book surfaced two years ago is that, shortly into the second term, whatever dominance the vice president may have had in the White House was over. Contrary to the mythos that Bush was an amiable puppet with others pulling the strings, he actually was what he infamously claimed to be: The Decider. And, by and large, his instincts were off-the-charts better than those of his much more seasoned number two.
It's truly remarkable that Cheney, who was a superb defense secretary on the sensible, pragmatic foreign policy team of George H.W. Bush morphed into such a Machiavellian character. The fact that nobody else at George W. Bush's National Security Council table thought he was right on Syria–and, for the record, my hand wouldn't have gone up, either–speaks volumes.