China's Economy Appears To Be Slowing Significantly, And That Could Have A Huge Impact
China's economy is still growing, but it's most recently reported growth rate is slower than the nation has seen in quite some time.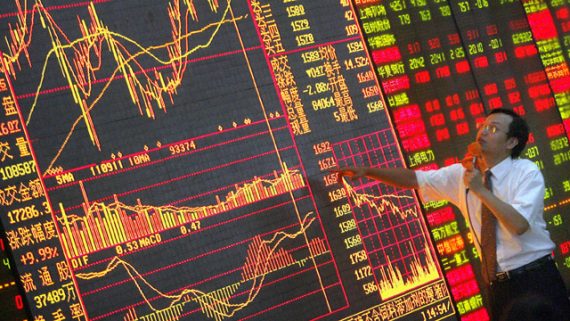 For years now, China's economy has been growing at an incredibly rapid rate as the government in Beijing continues a process of modernization that can trace its roots back to the mid-1970s and the first efforts to turn the nation away from the insular policies that characterized the nation during the first decades of Communist rule. Over that time, China has slowly but surely become a powerhouse economy in its own right. Cities such as Beijing and Shanghai grew at an enormous rate. Chinese manufacturing became the focus of the world thanks to lower wages and a government that essentially looked the other way when it came to worker safety and environmental damages. Port traffic in China's major port cities surpassed that of anywhere else in the world. As time as gone on, though, many outside experts have wondered just how long the Chinese 'economic miracle' could last before there was some kind of readjustment or pause. The fact that economic statistics were, and continue to be, provided by a central government that certainly has the incentive to exaggerate success and minimize signs of trouble ahead, for example, has long led experts to distrust official numbers, or at least to assume that the books were being cooked to some extent.
Notwithstanding the unreliability of official Chinese government statistics, there have been some signs of what really might be happening in China behind the numbers. The stories about Chinese ghost cities — massive construction projects that were built in anticipation of business that never materialized — are well known and rather hard to hide even in a nation like China where information is tightly controlled. Additionally, the stock markets in Shanghai and Hong Kong have largely become beyond the ability of the government to control and are often taken as warning signs of weaknesses in China that the official numbers don't necessarily reveal, though. Now, though, it appears that reality may be catching up with even the official statistics as China is reporting its slowest growth in more than two decades:
China's growth slowed further last year, adding to the troubling economic picture that is unsettling investors around the world.

The Chinese economy grew at a 6.8 percent pace in the fourth quarter, according to data released on Tuesday. It was the lowest quarterly expansion since the global financial crisis in 2009.

Uncertainty about the Chinese economy — and whether the government can manage a slowdown — has been weighing heavily on global markets in recent weeks. Investors, in part, are trying to determine if China's slump will spread, dragging down the rest of the world.

The latest data is not likely to reassure investors that all is well in China, the world's second-largest economy.

The quarterly growth rate was lower than analysts expected. For the full year, China expanded at 6.9 percent, just below the government's target of 7 percent.

It is a pace that would be the envy of many developed countries. But the figure represented China's slowest expansion since 1990, when foreign investment shriveled in the year after the government's deadly crackdown on protesters in Tiananmen Square.

"Signs of growth bottoming out are nowhere to be seen," said Li-Gang Liu, the chief economist for greater China at the Australia and New Zealand Banking Groups. "Instead, we will see at least another two years of further growth slowdown."

After decades of double-digit growth, the Chinese economy is entering a new era of more muted growth. While the government's leaders have said they are comfortable with this shift, the slowdown creat-es a host of unexpected challenges

China's growth is decelerating as its traditional industrial businesses struggle with excess capacity and dwindling demand. A slump in new housing construction is hurting consumption of building materials including steel, cement and glass, even as home prices show signs of a rebound.

China's export base in lower-end manufacturing, once a powerhouse that drove growth and created jobs, has been hollowed out. Factories churning out goods like garments and furniture are losing competitiveness because of lower wages in Southeast Asia and South Asia.

Although consumer spending and more innovative private sector companies are expected to help China's economy expand in the future, analysts worry that their development will be too slow to offset the current and painful industrial slowdown.

And the government's response could add to the challenges. The government has rolled out a raft of stimulus measures to help bolster the economy. But that only threatens to leave already struggling companies even deeper in debt.

Taken collectively, China's results could spell more trouble for global growth, even as the economy in the United States shows resilience.

Separate monthly data released on Tuesday offered no sign that China's slowdown was bottoming out. In December, industrial production rose 5.9 percent from a year ago, retail sales increased 11.1 percent and investment rose 10 percent — all of which were slightly below economists' forecasts.

In a news release on Tuesday, China's state statistics agency said the growth rate last year was challenged by a "complicated international environment and increasing downward pressure on the economy." However, it added that the economy "achieved moderate but stable and sound development."

The weakness in China has reverberated around the world, as investors try to dissect what's actually happening in the country's economy. The plunge in Chinese stocks, which are now in bear territory, only clouds the outlook.
To be sure,  6.8% annualized economic growth is nothing to sneeze at, but it stands in sharp contrast to the past when China's economy was growing at a double digit pace. Of course, to a large degree this was happening in response to the government's ongoing efforts to modernize an economy that decades behind the rest of the world when the modernization process began and which was characterized by massive construction projects, a huge expansion of China's manufacturing base, the creation of a real consumer economy, and, at least in the country's major cities, the emergence of something that in some sense can be called a Chinese "middle class." In many respects, what China experienced during that time period resembled the massive economic growth that history records in places such as the United Kingdom and the United States during the during the Industrial Revolution, and then again in the United States and elsewhere in the immediate years after the Second World War. History also tells us, though, that economic growth at that level is largely unsustainable, and it is replete with examples of economic slowdowns or even outright depressions that would interrupt growth for one reason or another. While China's economy still remains tightly controlled in many respects, the fact that it is now nearly as dependent on the fluctuations of the market as the rest of the world seemingly makes a slowdown at some point inevitable. Additionally, while there is still much room for growth in China it seems inevitable that as the economy there matures it will enter a phase where the upper limit on sustainable growth will be lower than it has been in the past.
Economic slowdowns in China have long been a cause for worry in the West, of course, due to the extent to which China's economy is now so deeply tied to the world economy and the potential impact that a slowdown in China could have around the world. The extent of that concern can be seen in the extent to which instability in Chinese stock markets so easily reverberates around the world now in much the same way that signs of stock market nervousness in Europe or the United States have long had an international impact. An economic downturn in China, investors and analysts fear, could end up slowing growth world wide thanks to the domino effect that it would create, and experts worry that the Chinese government may be responding to these signs of a slowdown in precisely the wrong way:
China has forgotten the first law of holes. It's in one, but it's still digging.

Specifically, China is adding debt at a pretty fast pace even though it's already done too much of that the last seven years. And it's doing it even though the economy is slowing — on Tuesday, the country reported that its economy expanded at 6.9 percent in 2015, the slowest pace in a quarter century.

Despite that slow growth — which many analysts say actually is better than the reality — new borrowing has climbed to its highest level in six months. It's enough that China now has more total debt—including the government, households, and corporations—relative to the size of its economy than we do to ours.

Now wait a minute. Why is China racking up so much debt? Well, the simple story is that Beijing has tried to replace all the foreign customers it lost during the financial crisis with even more spending on roads, buildings and other infrastructure until Chinese customers are ready to take their place.

But that last part is a lot trickier than it sounds. It means building a stronger safety net so people feel like they can spend. And letting zombie companies go out of business so there's room for actually successful ones that can afford to pay workers more. And then giving people enough time to get used to the idea of not socking every last yuan away. Beijing, though, hasn't done any of this. Instead, it's just told state-owned companies and local governments to keep borrowing more and more and more without much of a plan for doing anything else tomorrow.

(…)

This will not end well, and the government knows it. You just can't add this much debt this fast without a lot of it going bad. And it looks like it's already starting to. Developers have built cities where nobody lives, companies havebuilt factories that nobody needs, and local governments have built airportsthat nobody uses. So why hasn't Beijing put the brakes on this? Well, it tried. First, it said that it wouldn't let local governments, which have been a conduit for a lot of this borrowing, do any more. But then it changed its mind as soon as this made the economy start to sputter. It did bring back the limit a few months later, but there's a big enough loophole in it—indirect liabilities are excluded—that it's not clear how much it will really do. Now, you probably heard about the second thing it did. That was hyping up a stock market bubble that it hoped would help companies get the cash they needed by selling equity rather than taking on debt. That hasn't exactly worked now that stocks are down 44 percent from their peak last summer.

So now it's back to Plan B: borrowing, borrowing, borrowing some more.
The extent of the increase in Chinese debt can be seen quite starkly in this chart: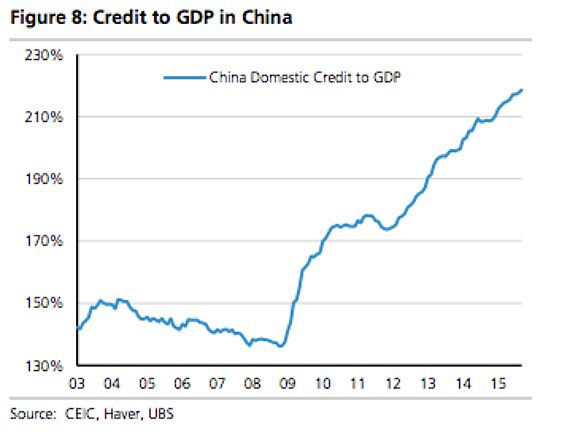 Such an extraordinary increase in debt over such a short period seems indicative of the fact that Chinese leaders aren't really sure about how to deal with the prospect that the Chinese economy could be slowing down to a much slower pace of growth that will, among other things, make placating the ambitions of a rising middle class much more difficult than it has been in the past. So far, the answer from Beijing seems to be to continue the strategy of massive infrastructure projects but that strategy doesn't seem to make much sense when there clearly doesn't seem to be the demand for the residential and industrial projects that it is forcing on the economy at this point. Instead, they seem to be just pouring money into projects hoping that someone will come along and use them, thus creating the economic growth that Chinese have become used to. The more likely outcome at this point seems to be more ghost cities, empty factories, and unused transportation that has already become the stuff of legend in China and around the world. That's not a recipe for economy growth, it's a sign that the growth that's being reported is largely phony and that, at some point, the bubble the government has permitted to grow in the economy and the stock markets will pop, sending China into a new world where the economy actually starts to shrink.
The consequences of a Chinese economic downturn for the rest of the world are unclear, but it's clear that it would have some impact outside of China itself. Chinese purchases of western goods would likely fall off, which would have a noticeable impact on international trade. Western investment in China would also likely slow down as corporations take a step back to wait and see what impact the state of the economy would have on their businesses. On the potentially positive side, a slower economy in China would also likely mean lower worldwide oil prices for a longer period of time as as demand from one of the world's biggest energy consumers falls off for at least some period of time. Whether a downturn in China would automatically mean a downturn elsewhere in the world seems to be less clear. Analysts have noted that Europe and other parts of Asia are likely to be more immediately impacted by a Chinese downturn than the United States, largely because the United States has a larger trading relationship with nations like Canada and Mexico, as well as Europe and elsewhere, than it actually does with China. It's also unclear what kind of impact a downturn would have on China itself and Chinese internal politics. For decades now, the government has kept various social forces mollified with strong economic growth, for example. If that slows down significantly, than we could see the some very interesting social developments in China, especially in the major cities. In any case, this is a story worth keeping an eye on going forward.