China's Olympic Machine
A massive investment falls just short. This time.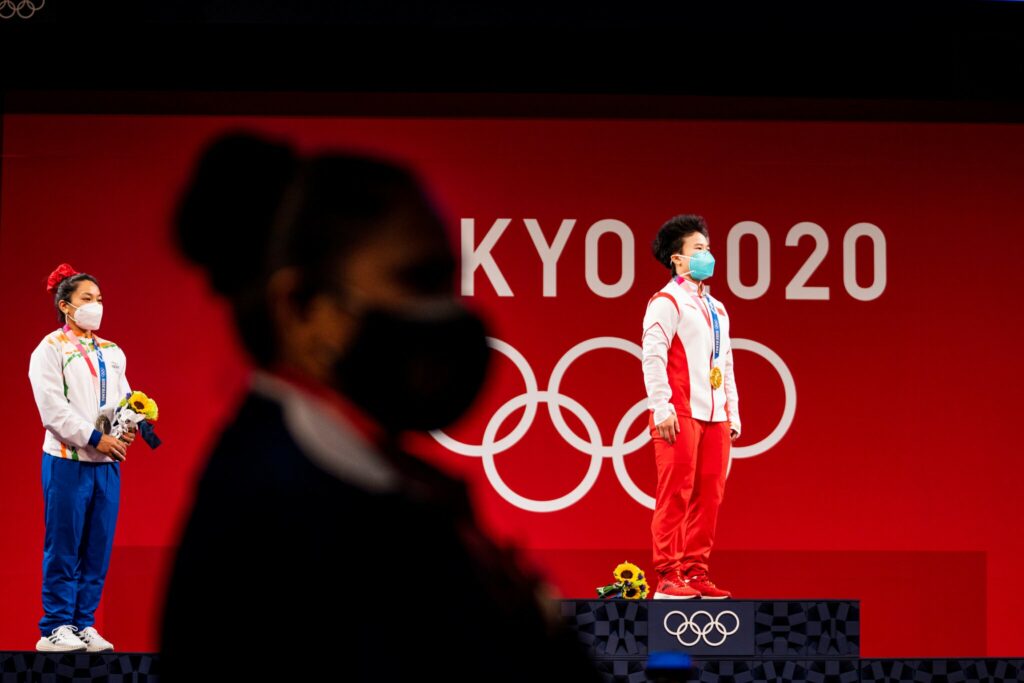 A few days ago, the NYT's Hannah Beech described the People's Republic of China's massive system designed to win Olympic medals to showcase the regime.
China's sports assembly line is designed for one purpose: churning out gold medals for the glory of the nation. Silver and bronze barely count. By fielding 413 athletes in Tokyo, the largest number since the Beijing Games in 2008, China aims to land at the top of the gold medal count — even if the Chinese public is increasingly wary of the sacrifices made by individual athletes.

"We must resolutely ensure we are first in gold medals," Gou Zhongwen, the head of the Chinese Olympic Committee, said on the eve of the Tokyo Olympics.

Rooted in the Soviet model, the Chinese system relies on the state to scout tens of thousands of children for full-time training at more than 2,000 government-run sports schools. To maximize its golden harvest, Beijing has focused on less prominent sports that are underfunded in the West or sports that offer multiple Olympic gold medals.

It's no coincidence that nearly 75 percent of the Olympic golds China has won since 1984 are in just six sports: table tennis, shooting, diving, badminton, gymnastics and weight lifting. More than two-thirds of China's golds have come courtesy of female champions, and nearly 70 percent of its Tokyo delegation are women.

Women's weight lifting, which became a medal sport at the 2000 Sydney Games, was an ideal target for Beijing's gold medal strategy. The sport is a niche pursuit for most athletic powerhouses, meaning that female lifters in the West must scramble for funding. And with multiple weight classes, weight lifting offers up four potential golds.

For Beijing's sports czars, it didn't matter that weight lifting has no mass appeal in China or that the preteen girls funneled into the system had no idea that such a sport even existed. At the weight lifting national team's training center in Beijing, a giant Chinese flag covers an entire wall, reminding lifters that their duty is to nation, not to self.

[…]

Most countries are eager for Olympic glory. The United States and the Soviet Union used the Games as a proxy Cold War battleground. But Beijing's obsession with gold is tied up in the very founding in 1949 of the People's Republic of China, which was seen as a revolutionary force that would reverse centuries of decay and defeat by foreign powers.

The first essay that Chairman Mao Zedong, the leader of the Communist revolution, wrote was about the need for a country dismissed as "the sick man of Asia" to develop its muscle.

For decades, though, politics got in the way of Olympic achievement. Because its rival Taiwan competed in the Games as the Republic of China, Beijing boycotted the Summer Games until 1984, when Taiwan was renamed Chinese Taipei for Olympic competition.

In 1988, China won five Olympic golds. Two decades later, when Beijing hosted the Games, it surpassed the United States to top the gold count.

London 2012, though, was a letdown and Rio 2016 a bigger disappointment, as China came in third behind the United States and Britain.
To the extent the "Olympic spirit" and "amateurism" remain a thing, this obviously flies in the face of it. But the Soviets long ago flouted it with their own version of this system and longstanding history of cheating, which the Russians continue with no real consequence. (Their team was banned from these Games but their athletes were allowed to compete as "the Russian Olympic Committee" in national uniforms and with their national anthem played at the medal ceremonies.) And, while the United States doesn't have anything this draconian, we invest quite a bit in Olympic training.
Even in Communist China, though, people are starting the wonder if the reward is worth the enormous price.
Back at home, sports officials redoubled their efforts, even if a growing number of middle-class parents were unwilling to hand their children to the state for grooming as athletes. China was no longer a desperately poor country where the promise of filled rice bowls made government sports schools alluring. Beijing acknowledged that sports shouldn't be reserved for elite athletes, that every child deserved to run, play and kick a ball.

And there was growing recognition that for every Olympic champion, tens of thousands of other children would not make it. For these castoff athletes, life is often difficult: little education, damaged bodies, few career prospects outside the sports system.

Still, Beijing continued with its plans, manufacturing programs in taekwondo, canoeing, sailing and more. Children who could stack bullets on the palms of their hands were dispatched to archery. Country girls with impressive wingspans were directed to weight lifting.

"Children from rural areas or from families that are not so good economically, they adapt well to the hardships," Li, the Beijing sports official, said of the ideal candidate for weight lifting.

Beijing's focus has been on sports that can be perfected with rote routines, rather than those that involve an unpredictable interplay of multiple athletes. Aside from women's volleyball, China has never won Olympic gold in a large team sport.

[…]

The sacrifices made by China's Olympians are intense. Academic instruction in sports schools remains paltry, and some world champions share dorm rooms with others. They are lucky to see their family a few times a year.

[…]

For female weight lifters, the costs of China's sports system are that much greater. While divers and gymnasts must share proceeds from endorsement deals with the state, at least they can leverage their success after retirement. But advertisers don't tend to be drawn to female weight lifters.
There's a lot more but one gets the idea. It's a pretty horrific system but, as Breech notes in a follow-up, one that has paid dividends in the just-ended "2020" games. China fell just shy of winning the most gold medals: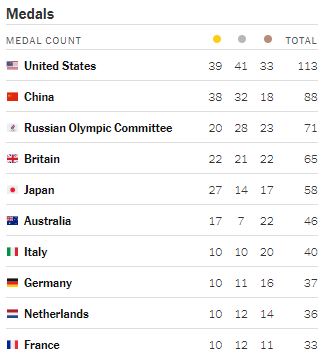 The United States has won the most medals at the Tokyo Olympics and will be the only country to take home more than 100. But on the last day of competition, the race for the most gold medals was a tight contest between the United States and China.

That race is particularly important to China, which has tried to harness its youth for Olympic glory ever since rejoining the summer Olympic movement in 1984.

[…]

It paid off in Tokyo. China scored golds in the sports it has dominated in the past, like weight lifting, diving, gymnastics and table tennis. But it also claimed victories in canoeing, cycling, rowing and athletics, and underscored its growing strength in swimming. The majority of China's gold medals came from women or from mixed team events.
Several of the US medals came in team sports, including men's and women's basketball. And it's worth noting that, for all of the systemic advantages China possesses, the diversity of the US talent pool likely made the difference.