China's Plan For The Collapse Of North Korea
China sends a message to Kim Jong Un.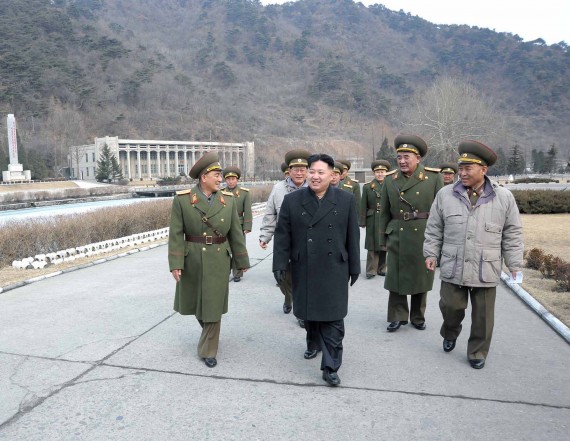 The Telegraph (along with the Japanese outlet Kyodo News) is out with a story that purports to detail the plans the the Chinese government has made in the case of the sudden collapse of the regime in Pyongyang:
China has drawn up detailed contingency plans for the collapse of the North Korean government, suggesting that Beijing has little faith in the longevity of Kim Jong-un's regime.
Documents drawn up by planners from China's People's Liberation Army that were leaked to Japanese media include proposals for detaining key North Korean leaders and the creation of refugee camps on the Chinese side of the frontier in the event of an outbreak of civil unrest in the secretive state.

The report calls for stepping up monitoring of China's 879-mile border with North Korea.

Any senior North Korean military or political leaders who could be the target of either rival factions or another "military power," thought to be a reference to the United States, should be given protection, the documents state.

According to Kyodo News, the Chinese report says key North Korean leaders should be detained in special camps where they can be monitored, but also prevented from directing further military operations or taking part in actions that could be damaging to China's national interest.

The report suggests "foreign forces" could be involved in an incident that leads to the collapse of internal controls in North Korea, resulting to millions of refugees attempting to flee. The only route to safety the vast majority would have would be over the border into China.

The Chinese authorities intend to question new arrivals, determine their identities and turn away any who are considered dangerous or undesirable.
This is unsurprising on many levels. The North Koreans have taken the world to the bring so many times over the past two decades, that it would be foolish for China or any of the other major powers to not have at least some idea of how they might react in the event of a crisis in that nation that led to a collapse of government. Such a collapse could lead to a serious military confrontation with whomever managed to grab control of Pyongyang's military assets, or even just some of them. It would also create a potential refuge crisis that would primarily impact China, but which could also impact South Korea and Japan. On top of all of that, of course, would be the humanitarian crisis that would unfold in the event of a collapse and the prospect of dealing with the population of an entire nation that will have had everything they were ever taught to believe in ripped out from under them in an instant. Obviously, we can't know today how events like these are going to unfold but it would seem prudent to at least have some general idea of how to proceed, along with open lines of communication with the other major powers that would be impacted by a crisis in the north.
Max Fisher comments on the leaked Chinese plans:
This is all actually pretty consistent with China's larger strategy for North Korea. That strategy has been summed up in six little words: No war, no instability, no nukes.

Those six words are as much mantra as strategy, often rendered in the original Chinese: 不战, 不乱, 无核. The order is a big part of it, listing China's priorities from highest to lowest.

Typically, this strategy has been useful in understanding why China tolerates North Korean nuclear weapons. Beijing would prefer that North Korea did not have nukes — they're dangerous! — but it's more important to Chinese leaders that the Korean peninsula remain stable, free of war, and without a pro-American unified Korean government. "No war, no instability, no nukes" — preventing war and instability is more important than preventing nukes.

Now, though, we can look at this strategy to understand the just-leaked Chinese plans for a North Korean collapse. It might seem surprising that Beijing would be so willing to tolerate North Korea's implosion. But look again at the six-word strategy. "No war" comes first, before "no instability." China has probably concluded it should not intervene in North Korea to save it because that would lead to war, possibly with the US — the documents make reference to "foreign forces," which presumably means American troops that could move in if Pyongyang implodes or starts a second Korean War.

China's top priority here seems to be preventing a war that could suck in China against the US, as happened in the 1950s' Korean War, even if that means tolerating the destruction of the North Korean state. You can also see that in the somewhat-creepy plans to put North Korean leaders in a controlled camp, where Beijing would guide their decision-making explicitly to prevent them from harming Chinese interests or worsening any conflict.

Again, Beijing is happy to continue propping up the North Korean government today. But if you're Kim Jong Un, it's hard to miss the takeaway: in the event that your government collapses, which scholars have been predicting since the early 1990s, your only ally in the world will not save you, will not save your country, and wants to put you in a camp to tell you what to do. That should be pretty scary for Kim.
And that brings us to the most interesting part of this story. Assuming that this report is an accurate reflection of Chinese thinking on the potential of a North Korean collapse and how the Chinese would react to it, it seems fairly clear that it was done deliberately. China isn't exactly known as a country with a history of government officials who leak things to the foreign press. Instead, when information like this becomes public in either the Chinese or international press it is fairly apparent that the leak was essentially authorized, and that it was intended to send a message. In this case, the message is obviously to Kim and those around him, letting them know that the patronage and protection from Beijing that is keeping them in power isn't going to last forever. At some point, the Kim regime will collapse, the question is whether the rest of the world will be ready for it.