Chris Christie in Free Fall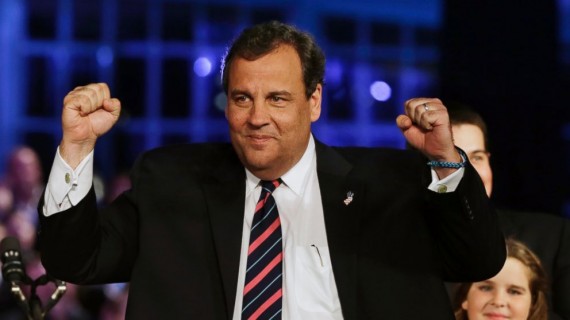 The bridge closing scandal seems to have at least temporarily damaged Chris Christie's public standing.
CNN ("CNN/ORC Poll: Christie's loss appears to be Clinton's gain"):
In late November and early December, in the wake of Chris Christie's landslide re-election victory, the Republican governor from New Jersey was riding high in the polls.

Christie topped the other potential GOP 2016 White House hopefuls in surveys of Republicans' choice for their next presidential nominee, and he was knotted up with Hillary Clinton in hypothetical general election showdowns.

Now, after month of intense media scrutiny over a couple of controversies in his state, Christie's numbers have faded, according to a new CNN/ORC International survey.

In a possible 2016 matchup with Clinton, the poll indicates Christie trails the former secretary of state by 16 percentage points, with Clinton at 55% and the Governor at 39% among registered voters nationwide. That's a dramatic switch from December, when Christie held a 48%-46% edge over Clinton.

"Christie has also lost ground among independents, who were the key to his strong showing late last year," says CNN Polling Director Keating Holland.  "Christie got 59% support among Independents in December.  Now that has dropped to 39%."
A month of negative attention will do that. Then again, Christie has only fallen to the levels he was at before his re-election boost, so his numbers were likely inflated to begin with.
In more good news for Clinton, the Republican bench behind Christie is thin, indeed:
The survey released Monday indicates that the hunt for the GOP nomination is back to where it was before Christie's rise in the polls late last year: a pack of potential White House contenders with no obvious frontrunner.

But according to the poll, there is a new name on top of the list in hunt for the GOP nomination: Former Arkansas Gov. Mike Huckabee, a 2008 Republican presidential candidate.

Fourteen percent of Republicans and independents who lean toward the GOP say they would likely support Huckabee for their party's nomination if he runs.

Sen. Rand Paul of Kentucky is next at 13% followed by former Florida Gov. Jeb Bush and Christie tied at 10%.

Rep. Paul Ryan of Wisconsin, the House Budget Committee chairman and 2012 GOP vice presidential nominee, and Sen. Marco Rubio of Florida are tied at 9%.

One point behind are Sen. Ted Cruz of Texas and longtime Texas Gov. Rick Perry. Former Sen. Rick Santorum of Pennsylvania, a 2012 GOP presidential candidate, stands at 4%.

That's a change from November, when Christie was 11 points ahead of the rest of the field. Huckabee was not tested in the November survey.
Of course, we're two years away from the New Hampshire primary. At this point in 2008, Rudy Giuliani and Hillary Clinton looked like the inevitable nominees.