Chris Christie Lampooned as Dallas Cowboys Cheerleader
The enmity against New Jersey Governor Chris Christie for daring to root for the rival Dallas Cowboys has reached new lows, with the state's newspapers lampooning him as a Dallas Cowboys cheerleader.  The Trentonian put this on its Friday cover: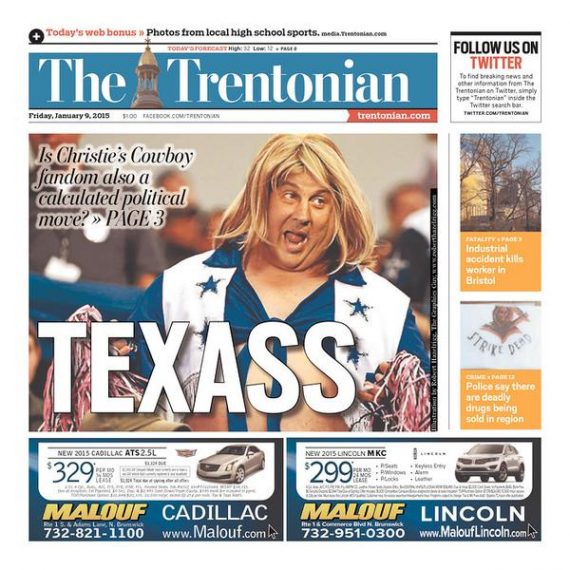 This follows Star-Ledger cartoonist Drew Sheneman's "Christie Does Dallas" parody earlier in the week: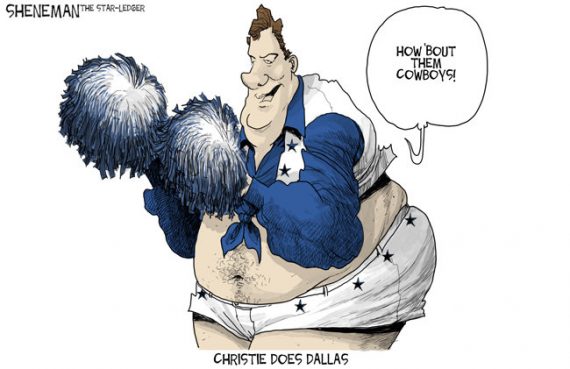 Sheneman's logic is amusing:
I am a Philadelphia Eagles fan. It's not something I chose, because who would. My fandom is the unfortunate side effect of my parentage and the geography of my birth. I'm from Philadelphia and my dad is an Eagles fan. There is no way out. It's hereditary…like heart disease.

I've lived in North Jersey for the past 30 years, I could justify rooting for the Giants. I would love to root for the Giants! They won two super bowls in the last 10 years and the Eagle's starting quarterback for the majority of the past season was 'Butt Fumble'.

If I could pick the team I root for my life would be easier, my blood pressure would be lower and I wouldn't feel like my dog died after watching Dallas move to the second round of the playoffs on the back of the worst blown since the dawn of the industrial age.

But alas, I cannot. I was born an Eagles fan and I will die an Eagles fan, probably earlier than I should.

That's why it always mystifies me when someone, like our esteemed Governor, feels justified in picking a team to which they have no familial or geographical association. This is football, not Chipotle. YOU DON'T GET TO CHOOSE! You root for the team you were born with, not the one with the coolest helmets! Your team is something inflicted upon you, not chosen on a whim. Your team is something to be endured, lamented and occasionally, if you're lucky or a Patriots fan, celebrated.
Christie disagrees. Back in 2013, when the Cowboys were awful and the Giants were still basking in two recent Super Bowl wins, he explained:
"I was a big fan of Roger Staubach, who was the quarterback for the Cowboys back then. The Giants and the Jets pretty much stunk when I was a kid and my father was a Giants fan. I used to remember watching him when I was eight, nine years old and every Sunday he would watch the Giants and yell at the TV set. I used to think to myself, 'Why would I want to root for a team that makes you angry?'"
Having likewise been a Cowboys fan going back to Staubach days—I had spent almost all of my life in either Texas or Germany at that point—I'd note that Christie's childhood strategy had limited shelf life. Certainly, there's been lots of cause for anger during the Jerry Jones era.