Chris Christie's Gay Marriage Decision And The Politics Of 2016
Chris Christie's decision to take a tactical retreat on the issue of same-sex marriage raises some interesting questions for 2016.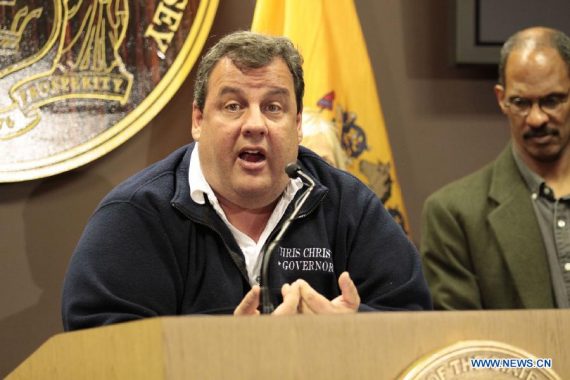 Not surprisingly, Chris Christie's decision yesterday to withdraw his Administration's appeal of a state trial court ruling legalizing same-sex marriage in the Garden State, thus making New Jersey the 14th state in which marriage equality has been recognized, is being viewed by many with an eye toward 2016 and what pretty much every one assumes will be the inevitable run for the Presidency. On its face it seems like a bad political move on his part given the fact that the GOP primary electorate tends to skew to the right and, in the case of early states like Iowa and South Carolina, very heavily toward the Christian Right. As Chris Geidner notes at Buzzfeed Politics, though, this may turn out to be less of a problem for Christie come 2016 than many believe:
Christie's entire defense of the marriage law, in fact, has been premised — like Monday's statement — upon process and not upon his personal opposition to same-sex couples' marriages, which he has continued to maintain in his bid for reelection.

When the trial court ruled against Christie in September, for example, he did not defend "traditional marriage" or something similar. Instead, he looked to process, with a spokesman saying, "Gov. Christie has always maintained that he would abide by the will of the voters on the issue of marriage equality and called for it to be on the ballot this Election Day. Since the legislature refused to allow the people to decide expeditiously, we will let the Supreme Court make this constitutional determination."

Christie, however, is a contender for president in 2016, and his decision to soft-pedal his defense as one about process and not one about "protecting traditional marriage" is a marked contrast for an elected Republican Party official with presidential aspirations. Back in 1996, when Hawaii courts looked like they would be requiring the state to allow same-sex couples to marry, Republicans in Congress pushed through the Defense of Marriage Act in an attempt to score political points on the issue and help Bob Dole's presidential campaign. In 2004, in response to the backlash against marriage equality in Massachusetts, President George W. Bush endorsed an amendment to the U.S. Constitution to ban same-sex couples from marrying.

Now, though, Christie has signaled — at least for him — that things could look different in 2016.

With the Supreme Court having struck down the federal ban on recognizing same-sex couples' marriages in the Defense of Marriage Act this June and seven states in the past year having joined the six states and the District of Columbia with marriage equality, Christie was faced with the dilemma of the Republican Party today. Although the party base — as reflected in a party platform that supports a constitutional amendment banning same-sex couples from marrying — still opposes most LGBT rights, the trajectory of public support for those same rights is increasingly clear to the people who fund and run Republican campaigns.

Christie chose to straddle the divide, fighting marriage equality — but not too hard — and maintaining his personal opposition — but not too loudly. And, eventually, he gave in. Christie's move echoes House Republicans, who similarly gave up defending laws — in their case, DOMA-like statutes — after it was clear they would be unconstitutional but before final court rulings declaring them so.

(…)

With the electoral math for anyone planning on running for president three years from now changing on this issue monthly, Christie came as close to taking no position on the issue as someone who is the governor of a state in the middle of a marriage equality fight could take. And yet, by 2016, that turn away from seeking to win elections on the politics of opposing LGBT rights, as subtle as Christie's move was on Monday, could look very smart indeed.
Of course, to get to the point where he can have the luxury of worrying about electoral math, Christie would first have to get past a Republican nomination process that, at least at a glance seems to be pretty hostile to a Northeastern Republican in particular and Christie specifically. After all, this is the same guy who has been criticized relentlessly over the past year for "cozying up to Obama" when the President came to visit New Jersey after the worst storm to hit that state in modern memory. He was even accused of costing Mitt Romney the election, even though the arguments in favor of that idea were and remain fundamentally absurd. When the Republican controlled House refused to act on a Sandy Disaster Relief Bill during the final hours of the 112th Congress, Christie, not surprisingly, went on something of an epic rant against House Republicans who he believed were unfairly holding back much needed aid to New Jersey residents. Between those two events, he was well on his way to being labeled a RINO despite being the most popular elected Republican in the country who is now headed for a blowout reelection in a a solidly blue state. With his latest decision, he's raised the ire of the social conservatives:
"This would suit him a lot better if he were running as a Democrat,"   Iowa conservative leader Bob Vander Plaats told the National Review.

According to Vander Plaats, social conservatives "had some cautionary flags raised already," aboutChristie. "

"This just adds more concern to those cautionary flags, because not only is he backing away from a very principled stance of one-man-one-woman marriage, he's also backing away from the Constitution and the separation of powers," he told the Review.

Christie, who is up for reelection in two weeks is widely speculated to have his eyes on the White House.  As such, most of what he does is viewed through that prism as pundits, journalists and potential opponents parse his every move to determine its affect on his future aspirations.

Brian Brown, president of National Organization for Marriage, who set up shop in New Jersey during the legislature's first attempt to legalize gay marriage said the governor had abandoned the fight and might well pay should he jump into the 2016 race.

 "I wouldn't want to be going into Iowa and be a potential presidential candidate and be the one who refused to stand up to defend marriage in New Jersey," he said in an interview with the Review. "Do we have any illusions, given the nature of the decision, that there was a high likelihood that his appeal would succeed? No. But that's irrelevant. You do what's right regardless of the cost."
Of course, Vander Plaats and Brown and people like them were never really going to be strong Christie backers in a Republican primary to begin with. They're more likely to rally around one of the many socially conservative Republicans who have been mentioned as potential Presidential candidates, ranging from Ted Cruz to Rick Santorum. A potential Christie run for the GOP nomination in 2016 would likely bypass Iowa and South Carolina to a large degree and concentrate on New Hampshire as the kickoff, followed by Florida and other big open primary states, and he'd likely have a lot of the same business community support behind it that Mitt Romney did in 2012. Already, in fact, it's being reported that the big time Republican donors are very pleased with Christie's decision to put the same-sex marriage issue behind him rather than letting it drag out to the ultimate defeat in the New Jersey Supreme Court.
The other thing to keep in mind is that the vast majority of Republican primaries outside of states like South Carolina will be open primaries that will allow people not registered Republican to vote in the election. These are voters that are far more likely to be sympathetic to a candidate like Christie than to someone like Ted Cruz or Rand Paul, who would find their base of support among hardcore party members and conservatives. Those open primaries are one of the things that allowed Mitt Romney to so easily put candidates like Santorum and Gingrich behind him even as they racked up a handful of wins in the more conservative states in the south that everyone knew would vote Republican in the General Election. Among the voters in those open primary states, not to mention delegate rich states like New York and California, Christie's decision to bow to the blindingly obvious when it comes to a legal fight that his Administration was going to lose anyway isn't likely to be all that much of a handicap.
Finally, as Geidner notes above, public opinion on same-sex marriage is constantly shift toward more and more acceptance. We now stand at 14 states where marriage equality is the law of the land. By 2016, that number is only going to expand, with likely candidate states including Illinois, New Mexico, Hawaii, and Oregon. Polling now shows that a majority supports the idea that gays and lesbians should be able to marry whomever they wish. By putting the issue behind him in this manner, Christie is arguably leading the GOP to the future rather than sticking his neck out. He can say, for example, that he still opposes same-sex marriage but that as Governor of New Jersey he will respect the rule of law in his state, and that he believes that each state should have the ability to decide the question for themselves. While it's not the position I agree with since I reject the "state's rights" argument here, it strikes me as the best place we can expect the GOP to evolve to in the near future, at least until the Supreme Court finally decides this issue once and for all. The days where the GOP could find it politically profitable by trying to stop same-sex marriage on the state level, or by supporting a ridiculous Constitutional Amendment, are over and Christie's decision offers Republicans a way to thread the needle that wouldn't create a cultural divide within the party, at least not in the short term. The question is whether Republicans will follow his path, or the one laid out by people liked Vander Platts and Brown, which just leads to increasing irrelevance.
More broadly, though, what's truly bizarre about all the Christie bashing that one sees from the hard right is the fact that, in many ways, he's the perfect Republican candidate for 2016:
Economically, Christie's policies have been typically Republican: spending cuts, property tax caps, bashing unfair advantages for public employees — but he is not an anti-tax dogmatist or an advocate of draconian spending cuts. His watchword is truly commonsense conservatism with regard to government. He wants it to work; he thinks there is a role for it, a big one. New Jersey's governor is uniquely powerful; the state's tax system is uniquely awful, unfair to both businesses and individuals; a little reform can build a lot of credibility with voters. At the same time, he has ideas about its role that will meaningfully differ with the Democratic presidential nominee.

There is nothing he has done — not one thing — that would render him unacceptable to a majority of the 2016 electorate. (Yes, he's against gay marriage. He's made it clear, by his actions Monday, that he is not prepared to litigate the issue nationwide, that he understands his personal views are on the wrong side of history, and that he will not expend political capital on an ideological crusade in order to please the Republican base.) If the GOP primary sorts out into a Ted Cruz-Rand Paul revanchist wing and a commonsense governing conservative wing, Christie can probably make it through the gauntlet of the GOP nomination contest. And about his size: it still marks him as a regular guy, and his surgery to reduce it is probably enough to satisfy any lingering concerns about his hardiness.

He might not run.

He might face a steamroller in Hillary Clinton.

He might find himself enveloped in a major scandal. (If you listen to Sean Hannity's radio program, Hannity certainly seems to think that there is a lot of untilled dirt out there.)

But right now, he's probably the best thing going for the GOP.
Obviously, it's a long time between now and when the voting for the 2016 GOP nomination actually begins, and what Marc Ambinder writes today may seem very outdated by then. We can all point to candidates in both parties who seemed like the obvious choice at this point in a recent election cycle who faded fast once the rubber hit the road. That may happen with Christie, or  it may not. So far, he's been uniquely lucky in politics. Before becoming U.S. Attorney for New Jersey under President George W. Bush, his only prior political experience had been a three year stint on the Morris County, New Jersey Board of Freeholders. Yet, he manged to win both the Republican nomination and the election in for Governor in 2009, although he was helped along in that task by the fact that the incumbent Governor, Jon Corzine, had suffered a remarkably bad decline in the opinion polls that was nearly as bad as the one that George W. Bush had suffered. Since then, he's managed to build up a reputation for legislative success notwithstanding a Democratic legislature and a public image as a "straight talker" that, as much as it rubs the people in the Acela Corridor the wrong way could arguably play very well out on the Presidential campaign hustings. So, as Ambinder says, the pieces of a potentially successful Presidential campaign are all there, the only real questions are whether Christie wants to take on the task and whether he'll be able to buck the Tea Party wave in his own party on his way to the nomination.