Christian Group Attacks Gingrich Over Marriages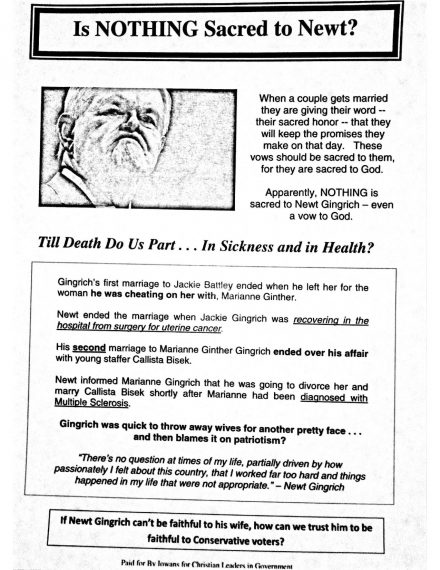 Politico's Ben Smith notes that the above flyer is being distributed by a Christian group in Iowa:
A reader forwards this flier, distributed by a heretofore unknown entity calling itself "Iowans for Christian Leaders in Government," picked up in the Hawkeye State. It attacks Gingrich on the substance of his divorces, putting the worse spin possible on them.

"If Newt Gingrich can't be faithful to his wife, how can we trust him to be faithful to conservative voters," it asks.

The flier is a classic of the anonymous late politics of the early states, but my source notes a bit of a twist in its distribution: It was slipped under the door of a guest on the 29th floor of the Marriott Des Moines, who was there on non-political business.
Fair game? I tend to be one of those people who thinks that anything is fair game in politics as long as it's truthful. If the voters think it's relevant they'll act on it, if they don't then they won't. Given the large evangelical population in Iowa, it will be interesting to see if stuff like this has an impact on Gingrich's support in the state.