Christie v. Booker In 2013?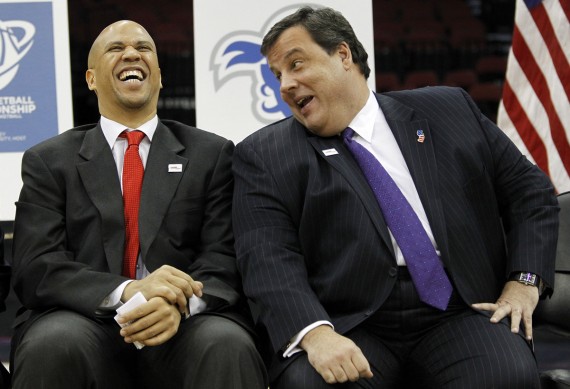 Newark Mayor Cory Booker is telling New Jersey Democratic County Chairs that he is considering running for Governor in 2013:
In the lead-up to next month's Democratic National Convention in Charlotte, Newark Mayor Cory Booker and his political consultant Mark Matzen are meeting face-to-face with county chairs and making it known that Booker is weighing a run for governor and plans to decide by December, according to party sources.

Some Democrats see Booker as the only 2013 option against Republican Gov. Chris Christie.

By virtue of his fundraising ability, charisma and potential to transcend a fragmented state party, others see him, at the very least, as the preferred nominee.

"He's the most viable candidate who comes to mind at this moment," said Charlotte DeFilippo, chair of the Union County Democratic Committee.

DeFilippo likes her home county leader, Elizabeth Mayor Chris Bollwage, as a candidate if Booker does not choose to challenge Christie.

So does DeFilippo's fellow Union County power player, state Sen. Ray Lesniak, (D-20), who has repeatedly publicly stated his preference as Booker first and Bollwage second.

One party source said he didn't necessarily read Booker's accelerated appearances before the chairs as an indication that the Newark mayor is leaning toward taking on Christie.

"I don't know what he ultimately plans to do," said the source.
There have have also been rumors that Booker is interested in making a bid for the U.S. Senate seat currently held by Frank Lautenberg, which is up for election again in 2014. Lautenberg, who is the oldest member of the Senate right now, would be 80 years old in 2014, and 81 when the new Congress would take office in 2015, and many political observers anticipate that he will retire rather than running for re-election. In that case, the seat would be up for grabs, and Booker's name recognition and fundraising advantages would be a huge help in a Democratic Primary and a General Election. All the same, though, New Jersey Democrats don't really have any potential Gubernatorial candidates as well known as Booker and the party would likely face an uphill battle against Christie with anyone else. More importantly for those who observe politics, a Christie v. Booker race would be fun to watch.
We'll probably know soon after the 2012 election what Booker's decision is, if not before then.