Chuck Hagel Likely Pick For Secretary Of Defense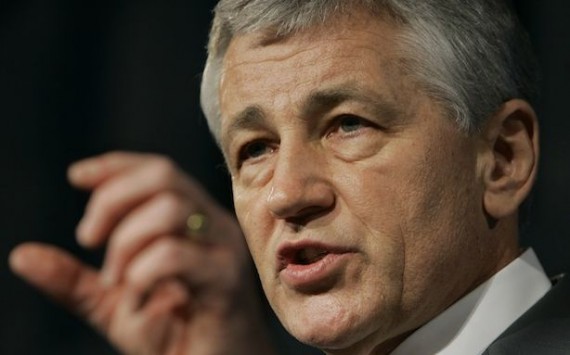 In the weeks since his name has been floated as a replacement for Secretary of Defense Leon Panetta, former Nebraska Senator Chuck Hagel has been subjected to preemptive attacks on his potential nomination. Largely, these have come from those on the right who have claimed, among other things, that he is insufficiently supportive of Israel and too dismissive of the potential threat of nuclear weapons. The vehemence of the attacks, and the fact that several Republican Senators have already vowed to oppose his nomination if it were put forward, have caused many to wonder if Obama would ever actually put his name in nomination.
Well, the answer to that question would appear to be yes:
Multiple sources on Capitol Hill and in key special-interest groups involved in national security issues say they have been told to be prepared for a Chuck Hagel nomination for Defense Secretary, either as early as Monday or perhaps more likely Tuesday of next week.

While it's still possible for the president to have a change of heart, all signs are pointing to a Hagel nomination.

That said, a White House spokesperson tells NBC News pretty emphatically that the president has not made a final decision and does not expect the president to make a final decision until he gets back from Hawaii.

The White House spokesperson adds, the "chatter" about Hagel-as-the-pick in the national-security and Capitol Hill communities is "premature." That said this spokesperson acknowledged Hagel is a "leading contender."

For what it's worth, the reason a lot of outside sources are being given a heads up on Hagel is that the White House knows if Hagel is indeed the president's choice, it's going to be a real fight.

There are as many as 10 Democratic senators who could vote no, Capitol Hill sources say. But Hagel has some big backers besides the president who would become the key point people in getting Hagel over the finish line – Vice President Joe Biden and Rhode Island Sen. Jack Reed, both of whom are huge proponents of Hagel.
Things could change before next week, of course, but it looks like Obama is fine with a fight this time around.