Cindy Hyde-Smith Easily Defeats Mike Espy In Mississippi Senate Runoff
In the end, the race between Cindy Hyde-Smith and Mike Espy was not even close.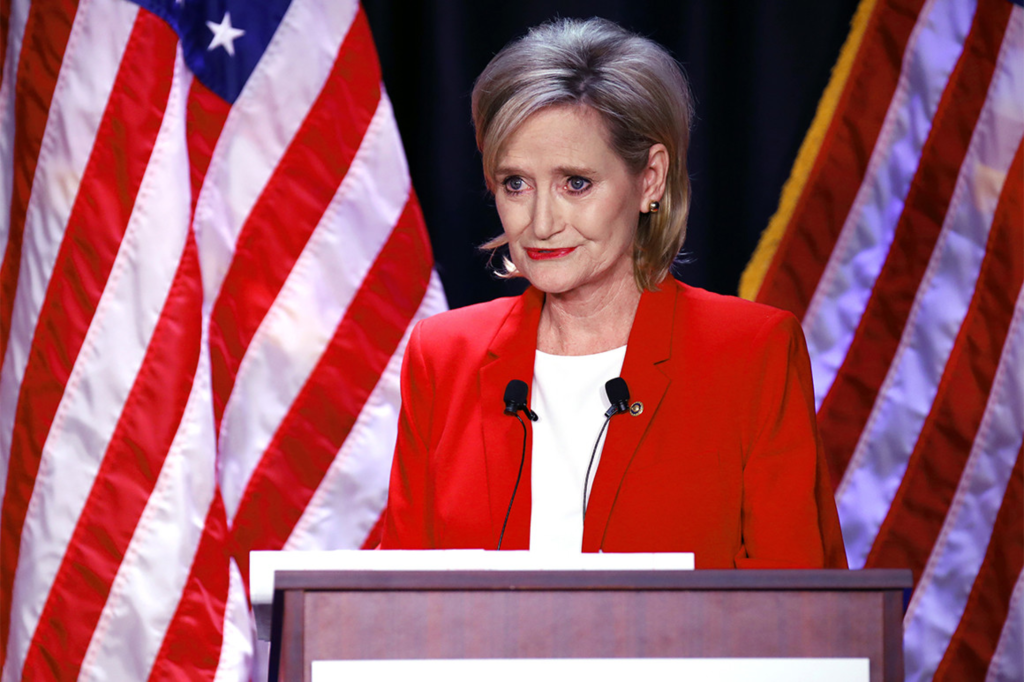 Notwithstanding three weeks during which she seemingly did everything possible to open the door to an upset victory by former Congressman and former Clinton Secretary of Agriculture Mike Espy, Mississippi Senator Cindy Hyde-Smith ended up winning the Special Election to succeed retired Senator Thad Cochran rather easily:
Senator Cindy Hyde-Smith, a Mississippi Republican who had to apologize for a cavalier reference to a public hanging, won a special runoff election on Tuesday, defeating the Democratic candidate, Mike Espy, who was trying become the state's first black senator since Reconstruction.

Ms. Hyde-Smith's victory, reported by The Associated Press, came in the final Senate race of the midterm elections and will set the Republican majority in the chamber at 53 to 47 once the new Congress is sworn in, a net pickup of two seats.

Teetering after several rhetorical gaffes drew a harsh spotlight to her campaign, Ms. Hyde-Smith received a last-minute boost from President Trump, who appeared at two rallies with her on Monday and cautioned Mississippians that a victory for Mr. Espy would also be one for Democratic leaders like Chuck Schumer and Nancy Pelosi.

The Republican win came as a deep relief to the party and Mr. Trump in a state where they rarely struggle, especially in Senate contests. Mr. Trump boasted repeatedly this year about his influence in helping his preferred candidates win elections, but the party had to go to unusual lengths — with the two rallies, multiple tweets by the president, a vast financial investment and dozens of Republican election workers dispatched to the state — to help Ms. Hyde-Smith over the finish line.

Her victory is clearly good news for Senate Republicans, who will now have an expanded, conservative majority to help advance Mr. Trump's judicial nominees and negotiate with a Democratic-led House.

With 95 percent of the precincts reporting, Ms. Hyde-Smith had just over 54 percent of the votes.

"The reason we won is because Mississippians know me and they know my heart," she said on Tuesday night. "This win tonight, this victory, it's about our conservative values, it's about the things that mean the most to all of us Mississippians: our faith, our family."

Mr. Espy was the third prominent black Democrat to go down to defeat in a statewide race in the South this year, following losses by two gubernatorial candidates, Stacey Abrams in Georgia and Andrew Gillum in Florida.

Addressing supporters at the Mississippi Civil Rights Museum here less than three hours after the polls closed, Mr. Espy said he had conceded to Ms. Hyde-Smith. "She has my prayers as she goes to Washington to unite a very divided Mississippi," he said.

Ms. Hyde-Smith's election reinforced Republicans' grip on power in Mississippi, a state they have come to dominate since the early 2000s, and showed that the political realignments taking shape in parts of the South are still in a nascent stage in Mississippi.

Still, the fact that Ms. Hyde-Smith faced a challenging runoff election, after no candidate received a majority of the vote on Nov. 6, suggested that Democrats could make select races competitive once again. And the frantic efforts to salvage her seat signaled that rhetoric seemingly steeped in Mississippi's racist past risks a modern political price.

Although Ms. Hyde-Smith was never on a glide path to power — she faced a Republican rival and Mr. Espy in the first round of voting, all but guaranteeing Tuesday's runoff vote — her campaign became more seriously imperiled through her own statements, including one in which she said that if a supporter invited her to "a public hanging, I'd be on the front row."

Without that comment, and a handful of other controversial remarks, Democrats and Republicans alike said, Ms. Hyde-Smith's victory on Tuesday would have been a near-lock.

Instead, Mr. Espy, 64, and his allies were able to seize on Ms. Hyde-Smith's rhetoric and argue that it was an anachronistic representation of Mississippi, a state that has struggled mightily to repair its image more than a half-century after some of the gravest abuses of the civil rights era.

During a debate last week, Ms. Hyde-Smith, 59, who was the state agriculture commissioner until this year, said her "public hanging" remark reflected "no ill will," and she asserted that she was being unfairly vilified.

Mr. Espy, a former agriculture secretary in the Clinton administration who was Mississippi's first black member of Congress since Reconstruction, replied: "It came out of your mouth. I don't know what's in your heart, but we all know what came out of your mouth."

Still, Mr. Espy refrained from attacking his opponent too strongly over her remarks, mindful of the large bloc of conservative white voters in the state who support Republicans and are deeply loyal to President Trump. It was a reflection of the balance Democrats need to strike as they try to make inroads in Southern states like Georgia and Texas, where appeals to the base of African-Americans, Hispanics and moderate suburbanites could alienate rural whites.

In region after region on Tuesday, Ms. Hyde-Smith was at her strongest in Mississippi's rural and predominantly white counties, outpacing past Republican luminaries like Mitt Romney, the party's presidential nominee in 2012. But in areas with greater numbers of college-educated white voters, such as the Memphis suburbs, she did less well, allowing Mr. Espy to draw closer than Democrats ordinarily do.
More from the Jackson Clarion-Ledger:
With lots of help from President Donald Trump, Republican Cindy Hyde-Smith defeated Democrat Mike Espy in Tuesday night's U.S. Senate runoff in Mississippi.

Hyde-Smith will serve out the final two years of Thad Cochran's term and make history as the first female elected to Congress from Mississippi. Espy would have made history, too. If he'd won, he'd be the first African American Mississippian elected to the U.S. Senate since Reconstruction.

Hyde-Smith told the crowd at her Jackson election party: "You've handed me a victory. I'm not going to let you down. I am going to Washington, D.C., first thing in the morning … The reason we won is because Mississippians know me and they know my heart."

"Thank you for stepping up, Mississippi."

Shortly after the race was called, Trump — who had been in Mississippi rallying for her the night before — tweeted: "Congratulations to Senator Cindy Hyde-Smith on your big WIN in the Great State of Mississippi. We are all very proud of you!"

Hyde-Smith said she had talked to Trump by phone earlier in the night and told her crowd, "Right now, Mr. President, thank you so much for all of your help."

Gov. Phil Bryant, a Trump ally, in April appointed Hyde-Smith to Cochran's seat temporarily and helped her campaign and secure Trump's endorsement.

"Cindy Hyde-Smith has come through the crucible of the most negative campaign in modern Mississippi," Bryant said Tuesday night.  "She won with character and dignity —something her opponents know little of. She will continue to serve as the first woman from Mississippi elected to the United States Congress."

In incomplete and unofficial results, Hyde-Smith led Espy 54 percent to 46 percent.

"I'm very proud of this historic campaign. And I'm so very grateful for all the support we received across Mississippi," Espy said in a concession speech, moments after calling Hyde-Smith to congratulate her. He added he hopes she heads back to Washington, D.C. to "unite a very divided Mississippi."

Espy reflected on what he called a grassroots campaign organization that was the "largest in a generation" in Mississippi. And he framed his run as only the start of a movement in a state that has long been dominated by Republican leadership.

"Make no mistake," Espy said. "Tonight is the beginning, tonight is not the end. For those of you out there who have met in these universities, who have looked at our campaign, looked under the hood, and decided one day you want to run for office — go for it."

Espy and Hyde-Smith were forced into a runoff when neither candidate took more than 50 percent in the four-way Nov. 6 special election. Each received about 41 percent of the vote in that contest.

The runoff — the final outlier of this year's congressional midterms — drew the eyes of the nation, and Mississippi was cast in a harsh light as issues of race dominated the narrative in the closing weeks.

Comments Hyde-Smith referred to as an "exaggerated expression" about attending a public hanging if a friend invited her attracted a flurry of criticism, national media attention and references to Mississippi's dark past including lynchings.

Sensing an opening in recent weeks, national Democrats focused money and energy on a Senate seat that would otherwise have been considered safely Republican in one of the reddest states in the country. This prompted the national GOP — and even Trump — to respond to help Hyde-Smith in the weeks between the Nov. 6 vote and Tuesday's runoff. Nearly $5 million was spent on TV ads for the three weeks before the runoff.

Trump held rallies for Hyde-Smith in Tupelo and Biloxi on the eve of the election, saying, "I don't want to take my chances," as he hoped to increase the GOP majority in the Senate to 53-47 with her win. Trump's support previously appeared to buoy Hyde-Smith before the Nov. 6 special election, where she had faced a serious Republican challenger and the runoff.

Trump's endorsement and her devotion to him and his agenda was the main theme of Hyde-Smith's campaign, which otherwise relied on Republican red meat issues such as abortion, border security, gun rights, Senate confirmation of conservative judges and "our conservative values."

Political experts in Mississippi said the Senate seat should have been an easy win for Republicans.

"It should have been a slam dunk," said John Bruce, who chairs the Political Science Department at the University of Mississippi. "We're here because of the president and the national mood. And we're here because Cindy Hyde-Smith has run a bad campaign. She has tripped over herself more than once."
As I noted in my preview post on Monday, notwithstanding the fact that Hyde-Smith opened the door to criticism and potentially a reason for voters who might otherwise support her to either stay home or switch sides the outcome of this race was never seriously in doubt. This is, after all, Mississippi, a state that has been more or less solidly Republican going back at least twenty years now, especially at the statewide level. The state last went for the Democratic Party's Presidential nominee in the 1956 Presidential Election, and other than the 1960 Election, in which it went to "Southern Democratic Party" nominee Harry Byrd and 1968 when it went for George Wallace, the state has gone Republican in nearly every election since then, including the 1964 blowout election with the 1976 election between Jimmy Carter and Gerald Ford being the lone exception to that trend. In 2016, President Trump defeated Hillary Clinton by some 215,000 votes. Additionally, the state has not elected a Democrat to the Senate since John Stennis was re-elected to his final term in office in 1982. Finally, while the polling of the runoff re-election was limited, the small amount of that was done showed Hyde-Smith with a solid enough lead to support the conclusion. Perhaps signaling that, while national Democrats did send some money Espy's way they did not invest heavily in the race in the manner that they had in Alabama last year and there was not a parade of out-of-state surrogates supporting Espy and campaigning for him in the three weeks between the Jungle Primary and the runoff yesterday. Had they believed Espy actually had a chance of winning then they would have obviously approached the race differently.
This morning some analysts are pointing to Espy's better than expected showing in the runoff as a sign that states like Mississippi might be on a path toward an era where it could be possible for Democrats to start winning in the state again. While that day may one day come, I'd be cautious about drawing too many conclusions from the results of a Special Election on the Tuesday after Thanksgiving. As I've noted before, Special Elections are typically very different animals from a typical GeneralElection both because turnout is generally smaller and because the Special Election tends to bring a different variety of voter to the poll than what you'd see on a regular Election Day. In Hyde-Smith's case, for example, she will next be required to stand for re-election to a full term in her own right in just two years. Because this will be a Presidential election year in which the Republican nominee will be heavily favored to win the state by a huge margin, and those coattails will innure to Hyde-Smith's benefit regardless of who her Democratic opponent turns out to be. For the foreseeable future, the best chance Democrats had of capturing this seat was this year. Future elections are going to be far more difficult for a Democrat to repeat Espy's performance which, of course, was good but not nearly good enough.
In any case, with this win, the Republican majority in the Senate now stands at 53-47, a net gain of two seats from where the body stood prior to Election Day. While Republicans did see states like Nevada and Arizona slip out of their hands, they did manage to flip seats in North Dakota, Indiana, Missouri, and Florida, thus offsetting the Democratic gains in those two states. This somewhat stronger majority will strengthen the hand of Senate Majority Leader Mitch McConnell going forward, especially when it comes to confirmation battles since it means that he doesn't need to concern himself so much with the possibility of losing moderates like Lisa Murkowski and Susan Collins on specific votes. It also puts the GOP in a somewhat stronger position heading into 2020 when they will have to defend the seats they won in 2014. As things stand now, Democrats would need to flip five Senate seats to win back the upper chamber, something that is obviously more difficult than what they would have had to do if the majority were still 51-49. As a result, we can expect the Senate to move aggressively on nominations, and that it will be a significant roadblock to any legislation the Democratic House of Representatives may pass.