Cities Matter More Than Ever
Despite recurring predictions that the Internet and mass communications would allow people to work from anywhere, talent continues to cluster in big cities.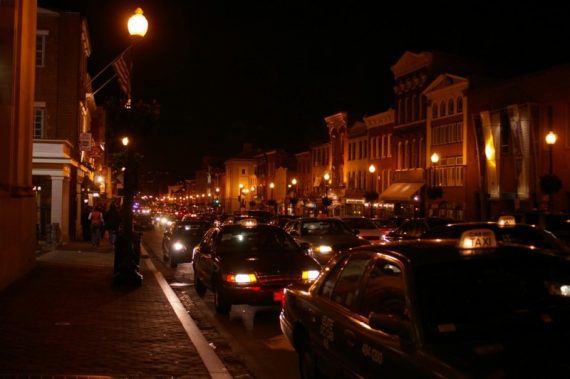 Mario Polèse explains "Why Big Cities Matter More than Ever," despite recurring predictions that the Internet and mass communications would allow people to work from anywhere.
In rich nations today, urbanization levels are on the order of 80 percent or higher. China and India are urbanizing at breakneck speed, with Shanghai and Bombay racing each other to become the world's largest metropolitan area and eclipse Tokyo (currently 33 million strong). Why is it that cities have lost none of their powers of attraction, despite the new freedom that information technology brings individuals and firms? The economic advantages of cities—of urban "agglomeration," in the language of the people who study these things—are difficult to measure precisely and not the same for all firms.
He lists Seven Pillars of Agglomeration, the first several of which are obvious (economies of scale in production and transportation) but apply mostly to manufacturing.  For most of the West, that's passé.  But many apply even more crucially in the Information Age.
Proximity brings numerous advantages. To name just one: face-to-face contacts remain essential for the most valuable and sensitive information. Finance, among the most spatially concentrated of industries, is an obvious example. Trust must be constantly renewed; millions of dollars will be committed based on a brief encounter. The greater the risks and sums involved, the greater the need for relationships built on something more than e-mail exchanges. Body language, facial expressions, and eye contact are among the signals that financial workers use to judge others.

Personal contact is also crucial in industries where creativity, inspiration, and imagination are vital inputs. For firms working in these rapidly evolving industries—high fashion, say, or computer graphics—the surest way to stay on top of the latest news is to locate near similar firms. The more that information can be transmitted electronically, it seems, the more valuable becomes information that cannot be so transmitted. Electronic and face-to-face communications tend to be complements; business travel, for example, has accelerated since the advent of the Internet. The more people communicate, the more they want to meet in the flesh.

Lower recruitment and training costs are additional advantages of proximity, particularly in highly specialized fields. A firm clearly benefits if it can hire from a pool of available workers with relevant training acquired at previous employers. The chances of finding a first-rate, experienced screenwriter will be a lot better in Los Angeles than in Baton Rouge.

Companies that require a wide array of talents, across a broad range of industries, will be drawn to big cities as well. Thus pillar five: the advantages of diversity. Consider advertising, a field whose products are constantly changing and come with no blueprint. Successful ad firms must rapidly assemble dizzying combinations of expertise and talent according to various clients' needs. Each ad campaign, after all, is unique: one may call for animation, another for symphonic music, a third for trained chimpanzees. Where better to find the necessary components than in big cities, with their myriad industry clusters?
Certainly, this has been my experience.  I can frankly write from anywhere. But connections matter and, in the politics and foreign affairs realm, they're going to be made in Washington and, to a lesser extent, New York.   In DC, I could, if I chose, attend half a dozen interesting events every weekday and network with important people in the field.  I simply couldn't do that in, say, Nashville.
A related advantage is that, if my day job goes away — as it has twice since I moved up here eight years ago — there's an excellent chance that I will be able to find comparable employment without moving.   There are only a handful of places on the planet where that would be the case, all of them major cities. cit
And then there's this:
Finally, there's pillar seven: buzz and bright lights. Talented and ambitious people benefit from being in a big city, just as firms do—in part because the companies can hire talented and ambitious workers. Some people move to cities not just because they need to make a living (though being in a metropolis does offer all the advantages of a diverse labor market) but also because they want to be where the action is. Ambition, dreams, the need for recognition—all are powerful forces in human behavior. Many a young man or woman will ask: Where are my chances best of meeting the right people and doing exciting things? The answer, for good reason, will often be the big city. Why, indeed, are some people willing to spend small fortunes for apartments on Fifth Avenue or homes in Beverly Hills if not to feel that they are truly at the center?
Whether because of my personality, my age, or my upbringing, this is of less interest to me than many.  And, indeed, my wife and I have chosen a nice home in the suburbs rather than an apartment on Dupont Circle — which means I'm seldom actually in DC proper in the evenings.   But it's an undeniable draw for young talent.
Indeed, I was frequently amused when I lived in small town Alabama how little people there understood this.   I was president of the local Kiwanis club and we frequently had international students come in and give talks about their homeland.  Invariably, someone would ask them how they like it here, fully expecting that they will be amazed by the wonders that America has to offer and how awesome it was compared to their horrible Third World country.   Most of the time, though, the kids were trying to figure out a polite way not to tell us how incredibly boring it is living out in the middle of nowhere when you're used to a bustling city with an exciting night life.
Georgetown photo courtesy Hin's Photoblog