Claire Foy Earned Less Than Her On-Screen Husband for 'The Crown'
While examples of Hollywood sexism are seemingly endless, this is not one of them.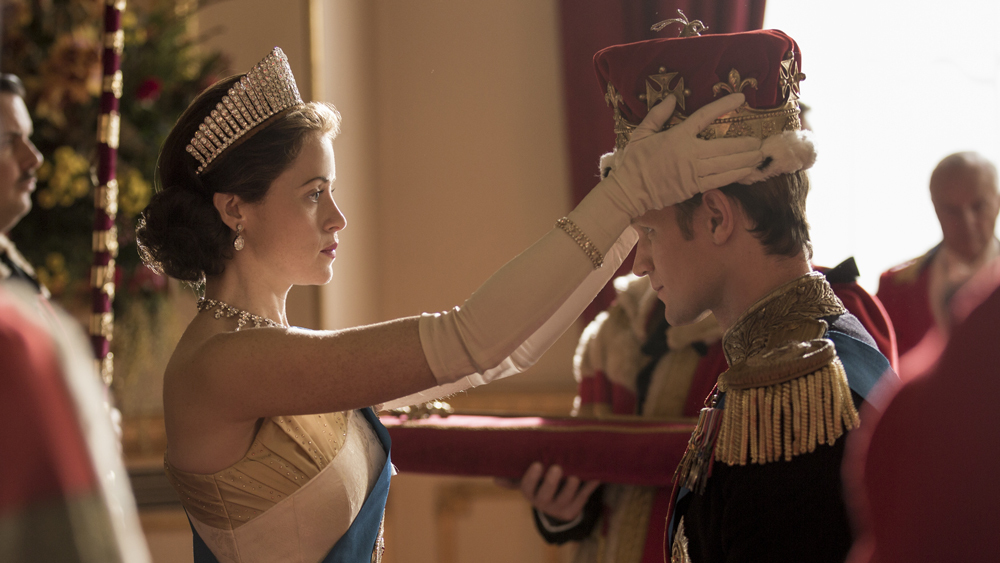 Variety ("Claire Foy Was Paid Less Than Matt Smith on 'The Crown'"):
Asked whether Foy was paid the same as Smith, the producers acknowledged that he did make more due to his "Doctor Who" fame, but that they would rectify that for the future. "Going forward, no one gets paid more than the Queen," said Mackie.
Despite the headline, that factoid was the 7th paragraph of the piece, which is about the challenges of making a fictionalized Netflix series about living figures and the unique concept whereby the show will be completely recast every two years with new actors.
In recent months, a spotlight has been shined on how poorly Hollywood treats women, with several famous cases of women being paid far less than men. On its surface, this case seems especially egregious: How can the star of the show make less than a supporting player? But the sentence that introduces the controversy also explains it nicely: Smith was a much bigger star than Foy at the time they were hired.
The NYT coverage ("Claire Foy, Queen on 'The Crown,' Was Paid Less Than Her On-Screen Husband") is much better on this count:
Not even the queen of England can get an equal slice of the mincemeat pie.

The actress Claire Foy, who charmed critics and fans as a young Queen Elizabeth II in the Netflix series "The Crown," was paid less than her co-star Matt Smith, who played the queen's husband, executive producers acknowledged on Tuesday at the INTV Conference in Jerusalem.

Mr. Smith came to Netflix as an established actor in Britain, most notably as the titular character on the BBC staple "Doctor Who" from 2010 to 2013 — a fact that informed the producers' decision around salary, they said at the conference.

Aside from a role in 2015 in the Golden Globe-winning BBC mini-series "Wolf Hall," Ms. Foy, 33, was a relative unknown when she was cast in "The Crown." But in the show's first two seasons, which centered on her character's reign, Ms. Foy became its breakout star, earning a best actress Golden Globe for Season 1 and a Golden Globe nomination in the same category for Season 2. She was also nominated for an Emmy for outstanding lead actress in a drama for Season 1. Mr. Smith, 35, was not nominated for an Emmy or a Golden Globe for his role as Prince Philip.
Both were exceptionally good, in my opinion. But the Phillip character is written as something of a cold fish and a whiny brat. Foy's queen is much more sympathetic. Regardless, actors aren't paid based on talent but on their ability to draw eyeballs—and their negotiating leverage. And Smith's part in the show was huge; there were whole episodes devoted to Phillip.
The NYT piece references one of the more egregious recent cases:
In January, it was revealed that Michelle Williams, the female star of the Ridley Scott film "All the Money in the World," was paid a per diem of $80, a bit above the union minimum, for 10 days of added work after the disgraced actor Kevin Spacey was purged from the film and replaced with Christopher Plummer — a move that required reshoots. Her male counterpart, Mark Wahlberg, received the same per diem — plus a negotiated fee of $1.5 million.

As a response, Mr. Wahlberg and his talent agency donated $2 million in the name of Ms. Williams to a fund dedicated to fighting pay inequity and harassment of women in Hollywood.
Wahlberg's being shamed into giving his money away notwithstanding, this wasn't gender discrimination but rather chutzpah. Williams worked for scale on the reshoot in solidarity with the studio's writing out Spacey whereas Wahlberg demanded to be paid his customary fee. Given that the movie business isn't a charity, I don't blame him one bit.
The case of The Crown is weird in that, from a public standpoint, it seems obvious that the actor playing the lead character should be paid more than a supporting character. But that's not always the case, regardless of gender. Jack Nicholson made twelve times what Michael Keaton did for the 1989 Batman movie—and Keaton was already a big star.
And, thanks to her starring performance in The Crown, so is Foy. Now. One suspects she'll be paid quite handsomely in future roles.