Class War Within a Class War
It's the 5% versus the 1% moreso than the 99% against the 1%.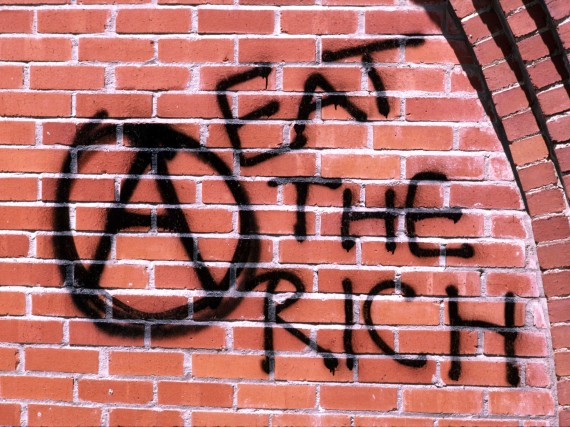 Several people I've been reading for years have stumbled on to variations of the same theme: that the real class fight in America right now is between the very wealthy and those just below that threshold rather than between rich and poor.
My colleague Dave Schuler, writing it his own digs, was struck by a long passage from Joseph Schumpeter's 1942 masterwork Capitalism, Socialism, and Democracy which begins with the sentence, "One of the most important features of the later stages of capitalist civilization is the vigorous expansion of the educational apparatus and particularly of the facilities for higher education. " The upshot of the rest is that we create more people who are ostensibly qualified for white collar and intellectual pursuits than we have need for while at the same time denigrating blue collar and non-intellectual employment. This manifests,  Schumpeter asserts, in unemployment or underemployment among this class and, ultimately, resentment of the capitalist system itself.
Anne Applebaum points to a growing class divide. She argues that the emphasis on the phenomenally well-off top 1 percent misses the real problem. Rather, the "American upper-middle class . . . is now sociologically and economically very distinct from the lower-middle class, with different politics, different ambitions and different levels of optimism. Thirty years ago, this wasn't the case. A worker in a Detroit car factory earned about the same as, say, a small-town dentist, and although they might have different taste in films or furniture, their purchasing power wasn't radically different. Their children would have been able to play together without feeling as if they came from different planets."
One could argue that a dentist actually ought to earn considerably more than an unskilled assembly line worker. But Applebaum argues that we've lost a sense of community with this inequality:
"Middle America" also once implied the existence of a broad group of people who had similar values and a similar lifestyle. If you had a small suburban home, a car, a child at a state university, an annual holiday on a Michigan lake, you were part of it. But, at some point in the past 20 years, a family living at that level lost the sense that it was doing "well", and probably struggled even to stay there. Now it seems you need a McMansion, children at private universities, two cars, a ski trip in the winter and a summer vacation in Europe in order to feel as if you are doing minimally "well". You also need a decent retirement fund, since what the state pays is so risible, as well as an employer who can give you a generous health-care plan, since health care is so expensive.
That's overstating it more than a little bit. But it's certainly true that our points of comparison have changed, with the elites striving to emulate the lifestyle of the rich and famous rather than to be a step ahead of the salaryman.
Glenn Reynolds points to an essay he wrote more than eight years ago during the most intense period of the angry debate over the Iraq War:
I can't help but notice that anti-Americanism, and the various manifestations of what some have called Transnational Progressivism, are most common among people who, well, have state-supported managerial or intellectual jobs, the people who made up what Milovan Djilas and others called the "New Class" of bureaucrats and managers in the old Communist world. Not surprisingly, the New Class was deeply concerned with matters of status and position, and deeply opposed to things that might have led to competition on merit. There's nothing new about such a view, which predated communism: As David Levy and Sandra Peart note, it's an attitude that even in the nineteenth century was characteristic of anti-capitalists and anti-semites – and, nowadays, there's a lot of overlap between anti-capitalists, anti-semites, and anti-Americans.

A common thread among anti-semitism, anti-capitalism, and anti-Americanism is the fear of being outdone by people willing to work harder. It's not surprising that such a fear exists among a disproportionate number of those who take state-supported jobs. It's thus not surprising, then, that New Class sensibilities are so often anti-American and anti-capitalist, and increasingly (or perhaps I should say, once again) anti-Semitic, too. The New Class, in this regard, as in many others, is like the old haut-bourgeoisie.
He adds, "The New Class is characterized as much by self-importance as by higher income, and is far more eager to keep the proles in their place than, say, Applebaum's small-town dentist. It's thus not surprising that as its influence has grown, economic opportunity has increasingly been closed down by government barriers."
Now, I disagree with much of Glenn's analysis here but I think he's right on this point: We've created in recent decades a class of people who have a sense that they're entitled to a posh lifestyle because they've achieved certain credentials, the gaining of which tends to lead them to view the world through a radically different lens than their fellow countrymen. Hell, I'd argue that Glenn and I are on the fringes of that class ourselves.
Kenneth Anderson takes this analysis a couple steps further, arguing that this New Class is now seeing their station under threat.
The problem the New Class faces at this point is the psychological and social self-perceptions of a status group that is alienated (as we marxists say) from traditional labor by its semi-privileged upbringing — and by the fact that it is actually, two distinct strands, a privileged one and a semi-privileged one.  It is, for the moment, insistent not just on white-collar work as its birthright and unable to conceive of much else.  It does not celebrate the dignity of labor; it conceived of itself as existing to regulate labor.  So it has purified itself to the point that not just any white-collar work will do.  It has to be, as Michelle Obama instructed people in what now has to be seen as another era, virtuous non-profit or government work.  Those attitudes are changing, but only slowly; the university pipelines are still full of people who cannot imagine themselves in any other kind of work, unless it means working for Apple or Google.
Now, like Reynolds and myself, Anderson is actually living that sort of life–he's a tenured law professor at American University–making aspersions against those who prefer it to manual labor rather uncharitable. But the psychology of the diagnosis nonetheless strikes me as correct: We've defined "success" and "the good life" in such a way as to exclude almost everybody. As desirable as it may be to work in the knowledge creation or policy making worlds, there are simply fewer of those jobs than there are qualified people who want them.
Much of the rest of the essay strikes me as incoherent hippy punching but this analysis of Occupy Wall Street strikes me as plausible if overbroad:
OWS is best understood not as a populist movement against the bankers, but instead as the breakdown of the New Class into its two increasingly disconnected parts.  The upper tier, the bankers-government bankers-super credentialed elites.  But also the lower tier, those who saw themselves entitled to a white collar job in the Virtue Industries of government and non-profits — the helping professions, the culture industry, the virtueocracies, the industries of therapeutic social control, as Christopher Lasch pointed out in his final book, The Revolt of the Elites.

[…]

The OWS protestors are a revolt — a shrill, cri-de-coeur wail at the betrayal of class solidarity — of the lower tier New Class against the upper tier New Class.  It was, after all, the upper tier New Class, the private-public finance consortium, that created the student loan business and inflated the bubble in which these lower tier would-be professionals borrowed the money.  It's a securitization machine, not so very different from the subprime mortgage machine.  The asset bubble pops, but the upper tier New Class, having insulated itself and, as with subprime, having taken its cut upfront and passed the risk along, is still doing pretty well.  It's not populism versus the bankers so much as internecine warfare between two tiers of elites.
Megan McArdle is reminded of George Orwell's observations on the changing social conditions in England before and after World War I in Road to Wigan Pier:
Before the war you were either a gentleman or not a gentleman, and if you were a gentleman you struggled to behave as such, whatever your income might be.  Between those with £400 a year and those with £2,000 or even £1,000 a year there was a great gulf fixed, but it was a gulf which those with £400 a year did their best to ignore.  Probably the distinguishing mark of the upper-middle class was that its traditions were not to any extent commercial, but mainly military, official, and professional.  People in this class owned no land, but they felt that they were landowners in the sight of God and kept up a semi-aristocratic outlook by going into the professions and the fighting services rather than into trade.  Small boys used to count the plum stones on their plates and foretell their destiny by chanting "Army, Navy, Church, Medicine, Law"; and even of these "Medicine" was faintly inferior to the others and only put in for the sake of symmetry.  To belong to this class when you were at the £400 a year level as a queer business, for it meant that your gentility was almost purely theoretical.  You lived, so to speak, at two levels simultaneously.  Theoretically you knew all about servants and how to tip them, although in practice you had one, or at most, two resident servants.  Theoretically you knew how to wear your clothes and how to order a dinner, although in practice you could never afford to go to a decent tailor or a decent restaurant.
She sees the same sort of thing mirrored in her own circles and the disdain for the folkways of those on the outside:
It's not entirely crazy to suspect, as Orwell did, that this has something to do with money.  Specifically, you sneer at the customs of the people you might be mistaken for.  For aside from a few very stuffy conservatives, no white people I know sneer at hip-hop music, telenovelas, Tyler Perry films, or any of the other things often consumed by people of modest incomes who don't look like them.  They save it for Thomas Kinkaid paintings, "Cozy cottage" style home decoration, collectibles, child beauty pageants, large pickup trucks***, and so forth.

In part, obviously, this is a reaction to the politics of it, since uneducated white people of modest means vote (and attend church) very differently from the hyper-educated but modestly remunerated people in New York or DC.  A group of people who are quite empathetic, even tender, in writing about the financial difficulties of lower-middle class whites as workers, can also be quite vicious about them as voters and consumers.

And they're worse when it comes to the tastes of people in successful-but-not-intellectual people like sales(wo)men. The vehemence makes it seem, at least in part, like a way to say "I may have their incomes, but I'm not like them.  I'm better."
The next several paragraphs are personal reflection that I commend to you. A very inadequate summary: When she was working as an IT consultant on Wall Street during the height of the dot.com boom, she sensed a lot less resentment towards the very rich than now. She believes this was because the middle class had more cause for optimism and because hey were comparing themselves to their high school classmates, who they had easily surpassed in lifestyle, rather than to the bankers. Additionally, because most of her colleagues had come from working class backgrounds and lacked fancy degrees, they "didn't feel entitled to be very rich."
She notes that, at a recent reunion of her University of Chicago business school class, she realized that she is much happier with her lifestyle than most of those who had gone on to make a pile of money in the financial sector. While they're much better compensated, they work ridiculously long hours doing a very stressful job they hate while she makes a reasonably comfortable living doing what she once did as a hobby.
But of course here's the difference between me and the outraged lower-upper-middle-class: I chose it.  I decided to have terrible grades and major in English, and then job hop in New York before settling down as an IT consultant.  After business school, I picked a job at the Economist instead of searching for something that might have enabled me to move up the food chain from ramen.  And at each step I understood perfectly the risks I was taking, the things I was giving up–if anything, I was too pessimistic.

The people at the We Are the 99% blog didn't choose it.  They didn't see it coming. Yes, yes, maybe they were naive about the possibilities of a fulfilling and secure life in the field of non-profit environmental management.  Probably they should not have sunk tens of thousands of dollars into acquiring a BFA.  But these mistakes didn't usually used to be crippling.  They were a drag, as you paid off those huge student loans with your tiny little income.  (Ramen and cheese doodle surprise again?  Yummmmmm . . . )

Unfortunately their choices became utterly, horrifyingly disastrous just at the moment when we had a terrible financial crisis that spiked our unemployment rate up to 10%.  We can argue about exactly who is at fault and to what extent, and how much longer our public sector spending would have been sustainable without the financial crisis.   But whether or not you think their reaction is empirically correct, it certainly isn't surprising.  To them it looks like a bunch of greedy, stupid bankers stole the jobs that they were entitled to.  And why the hell do a bunch of thieves get to drive around in BMWs while I take the bus?
I'm much closer to Megan's than to the Reynolds-Anderson attitude towards Occupy because I can see why these people are so resentful.
Not too many years ago, I'd have been on the other side of this one. Having grown up in a working class family and gone to colleges that lend very little prestige to my resume, it's hard to work up much sympathy for the pampered kids with Ivy League degrees whining about their lot in life. But, as much as those who've had some success in life like to point to their own hard work and sacrifices, the fact of the matter is that a lot of factors beyond our control had just as much impact. Like Megan, my career path has been highly unusual with lots of twists and turns, ultimately leading to my making a decent living doing something that I want to do. And, yes, both of us prepared ourselves to take advantage of unexpected opportunities and took some risks along the way. But we didn't do anything to earn the advantages of relatively high intelligence, good health, or a good home life that encouraged achievement. Nor, frankly, can any of us control timing. It's certainly worked against me more than once. My Army career was cut short by the post-Cold War drawdown and I finished my PhD at a particularly inhospitable time. But those are minor blips compared to graduating college right into the face of the worst economic crisis in two generations.
While one can certainly question the wisdom of going deep in debt to get a degree in Women's Studies or Elizabethan Poetry from a fancy school, the fact of the matter is that these people were quite attractive to employers in precisely the kind of jobs that the New Class analysis makes fun of until the bubble burst. Given that most of the world's top economists failed to see it coming, it's perhaps a bit much to expect 17-year-olds embarking on college to have done so.