Cleveland Police Let 12 Year Old Tamir Rice Lay Dying After Unprovoked Shooting
New details in the shooting of 12 year old Tamir Rice raise more questions.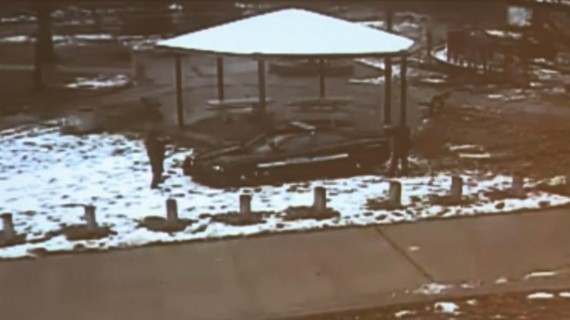 At the same time that the nation was being rocked by protests in the wake of the refusal of Grand Juries in Ferguson, Missouri and New York City to indict police officers implicated in deaths of Michael Brown and Eric Garner respectively, another incident occurred in Cleveland, Ohio that resulted in the death of a 12 year old boy who, it turns out, was simply playing in a park with a toy gun. In the weeks after the shooting of that boy, Tamir Rice, we learned that there were conflicting reports as to whether or not the police who had been called to the scene in response to a 911 call from a neighbor who reported a young African-American male walking around play-acting with a gun. In the 911 call, the caller says that it appears to him that the gun in question was a toy gun, but it's unclear if that information was communicated to the police car that was dispatched to the scene. In any case, as the surveillance video of the incident that was initially released showed, the responding officer drove his car to an area within feet of where the person was reported and began shooting almost immediately after getting out of the car. There is no indication in the video that police made any effort to determine what was actually going on, to identify the person in the park sufficiently to make it clear that it was a child, or to determine if shots were actually being fired. As a result of the officer's actions, a 12 year old boy named Tamir Rice was dead almost instantly, and now an extended video indicates that, after shooting him, the responding officers made no effort at all to render aid:
The two Cleveland police officers involved in the fatal shooting of Tamir Rice, a 12-year-old boy who was carrying a pellet gun, stood by without rendering medical aid as the boy lay wounded next to their patrol car, a newly released extended surveillance video shows.

Then, about a minute and a half after one officer had shot Tamir, the other officer tackled the boy's 14-year-old sister as she tried to reach her brother. Tamir was shot Nov. 22 after someone called 911 to report "a guy" who had been pointing a "probably fake" pistol outside a community recreation center on Cleveland's west side.

The video, obtained by the Northeast Ohio Media Group, provided fresh detail about a shooting that roiled Cleveland and quickly became the latest shooting to be absorbed into a broader national narrative about police violence in African-American communities.

After the second Cleveland officer, Frank Garmback, subdued Tamir's sister — he pushed her to the ground back-first, tumbling on top of her in the process — the girl was handcuffed and put in the back of the police cruiser, a few feet from her brother.

The officers stood by without tending to Tamir, the extended video showed. It was not until four minutes after the shooting, the video showed, that Tamir received medical assistance when another man was seen bent down next to him. According to Benjamin Crump, the Rice family's lawyer, the man who provided the first medical assistance was an F.B.I. agent who was in the neighborhood. Paramedics arrived eight minutes after the shooting, and Tamir was taken away on a stretcher about five minutes later, the video shows.

A shorter surveillance video released earlier showed Tamir being shot by a rookie Cleveland officer, Timothy Loehmann, seconds after the police cruiser arrived and skidded to a stop next to the boy at a gazebo outside the recreation center. The black pistol that Tamir had, which looked like a real handgun, was an imitation. His mother later said it had been given to Tamir to play with by a friend that afternoon.

The police said Tamir was told to raise his hands but instead reached to his waistband for the gun, though the previously released surveillance video showed that the shooting happened so fast, it was hard to know whether the officer issued any warnings or whether Tamir could have understood them if he did.

The killing, which occurred two weeks before a Justice Department report concluded that the Cleveland police had a pattern of "unreasonable and unnecessary use of force," angered many residents of the city, which has a black majority. On Thursday, the city's media relations director, Dan Williams, said the extended video was released once it was clear that it would not interfere with the investigation. "My intent was to get it out so the public could see all of the tape," Mr. Williams said.

A Cleveland police spokeswoman said they could not comment because the shooting was under investigation. Officials from Cleveland's main police union did not respond to a request for comment.

In an interview, Mr. Crump called the events on the video "outrageous and inhumane."

"How inhumane to put her in handcuffs and sit her in the car about four feet from where her brother lay dying," Mr. Crump said of Tamir's sister, "and she has to watch that. And they rendered no aid to this kid."

Family members thought it was important, Mr. Crump said, for "people see this video as they continue to fight for justice and see whether the grand jury will hold the police officer accountable." Mr. Crump said an audio recording from a phone of someone at the recreation center indicated Tamir was alive when the officers were detaining his sister. The recording, he said, reveals that a teenager had tried to calm Tamir's sister as she rushed to the shooting, saying: "He's not dead. He's still moving."
The Rice case is currently under investigation and will likely soon be referred to a Cuyahoga County Grand Jury and is already the subject of a civil lawsuit filed by Rice's family. While both of these matters are likely to take time to resolve themselves and the officers are, of course, entitled to all of the usual presumptions of innocence, it seems clear that there is plenty about this case that raises serious questions about how the officers responded in this situation. First, of course, there's the decision to bring the car right to the area where Rice was before making any effort to make a tactical assessment of the situation. Even giving the officers the benefit of the doubt in assuming that they were unaware of the 911 report that the gun appeared to be a toy, pulling up to the scene at a high rate of speed, jumping out of the car, and immediately opening fire without first determining what was going on seems to be grossly negligent at best and premeditated at worst. If the officers did try to get Rice to surrender, the video itself indicates that they gave him almost no time to respond, which would be unreasonable for an adult and seems even worse when talking about what should have been obvious to them at that point was a teenager if not a child. Instead of acting appropriately given those facts, or seemingly even taking any steps to ensure there were no civilians around who could have come within the range of fire, they acted in a manner that one would only expect police to act if they were in active pursuit of a fleeing felon who had already given indications that they were a danger to the public. Given that Rice was standing seemingly alone in a park, it seems hard to argue that any such danger existed. Perhaps there's more to this story, but as the video evidence stands right now this seems to me to clearly be an excessive and irresponsible use of deadly force. How the Grand Jury will ultimately rule on the matter is, of course, another question.
Here are the originally released and extended videos, so the reader can judge for themselves: