Clinton, Inc.
The personal, the political, and the Foundation are so intertwined as to be one enterprise.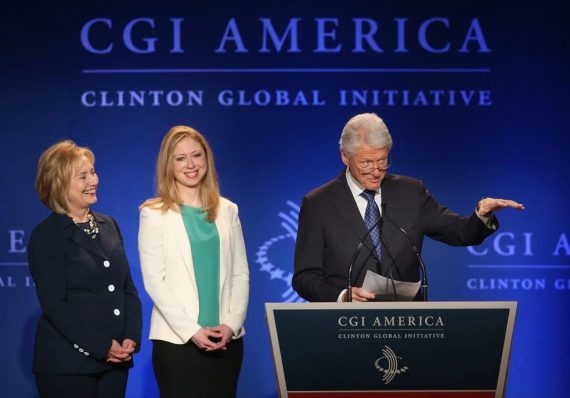 A WaPo report headlined "Inside 'Bill Clinton Inc.': Hacked memo reveals intersection of charity and personal income" verifies what I have long presumed to be the case: that there is no meaningful distinction between the Clintons' political, personal, and foundation lives; they are an intertwined whole.
The setup:
Let me reiterate at the outset that I'm deeply troubled about the extent to which stolen documents that invade private conversations, even among public figures, has become a routine part of our news coverage. That this was done by the criminal enterprise Wikileaks, quite probably with the help of the Russian government, makes it even worse. But, alas, here we are.

When top Bill Clinton aide Douglas Band wrote the memo, he was a central player at the Clinton Foundation and president of his own corporate consulting firm. Over the course of 13 pages, he made a case that his multiple roles had served the interests of the Clinton family and its charity.

In doing so, Band also detailed a circle of enrichment in which he raised money for the Clinton Foundation from top-tier corporations such as Dow Chemical and Coca-Cola that were clients of his firm, Teneo, while pressing many of those same donors to provide personal income to the former president.

[…]

The memo, made public Wednesday by the anti-secrecy group WikiLeaks, lays out the aggressive strategy behind lining up the consulting contracts and paid speaking engagements for Bill Clinton that added tens of millions of dollars to the family's fortune, including during the years that Hillary Clinton led the State Department. It describes how Band helped run what he called "Bill Clinton Inc.," obtaining "in-kind services for the President and his family — for personal travel, hospitality, vacation and the like."
More specifically:
"We have dedicated ourselves to helping the President secure and engage in for-profit activities," Band wrote. He also said he had "sought to leverage my activities, including my partner role at Teneo, to support and to raise funds for the foundation."

Band's memo provided data showing how much money each of Teneo's 20 clients at the time had given to the Clinton Foundation, how much they had paid Bill Clinton and, in some cases, how he or Kelly had personally forged the relationships that resulted in the payments.

Band wrote that Teneo partners had raised in excess of $8 million for the foundation and $3 million in paid speaking fees for Bill Clinton. He said he had secured contracts for the former president that would pay out $66 million over the subsequent nine years if the deals remained in place.

For instance, Band wrote that Kelly arranged for the former president to meet the chief executive of Coca-Cola in January 2009 at the Clintons' home in Washington. In all, according to Band's memo, Coke had contributed $4.33 million to the foundation between 2004 and 2010.

A Coca-Cola spokesman said the company had supported the Clinton Foundation because it believed "in the great work that can be done when businesses, civil society and governments come together to solve problems." He said Teneo had been hired to provide "business and communications" consulting.

Band also described how Kelly helped expand a fruitful relationship with UBS Global Wealth Management, introducing Bill Clinton to a top executive at a 2009 charity dinner. In the ensuing years, UBS upped its giving to the foundation, signed on as a Teneo client and agreed to pay Bill Clinton for speeches, Band wrote.

Records show UBS paid Clinton about $2 million in speaking fees between 2011 and 2015 for a series of appearances, generally alongside former president George W. Bush. The company also paid Hillary Clinton $225,000 for a 2013 speech.

UBS declined to comment.

Another achievement cited by Band: Laureate International Universities, a chain of for-profit international colleges, which donated to the foundation and agreed to pay Bill Clinton $3.5 million a year to serve as honorary chancellor.
Unlike my co-blogger, Doug Mataconis, I am not a lawyer. I do, however, read a lot of analysis by legal professionals and I have seen no credible charge that any of this violates the law.
Despite charges by many on the right, I believe that the Clinton Foundation does in fact do substantial, valuable charitable work. But, rather clearly, it also helps support a lavish lifestyle for the Clintons and has also been leveraged to directly enrich them via the speech circuit.
Now, of course, the Clintons would be doing fine on the speech circuit on their own. The fact that Bush 43 was on part of the circuit with his predecessor is but one piece of evidence for that.
Additionally, it looks very much like the leveraging went both ways:
Chelsea Clinton grew concerned when news leaked in late 2011 that MF Global, the hedge fund owned by former New Jersey governor Jon Corzine, had been paying the Clinton-tied firm $125,000 a month just before MF Global went bankrupt.

According to emails released by WikiLeaks, Chelsea Clinton complained in December 2011 to longtime Clinton aide John Podesta, who at the time was serving as an adviser to the Clinton Foundation, that she had been informed that a member of her father's office staff who answered to Band had been making calls to British lawmakers "on behalf of President Clinton" for Teneo clients, particularly for the chief executive of Dow Chemical.

Chelsea Clinton wrote that the calls were occurring without her father's knowledge and that the reactions she was hearing to them would "horrify" Bill Clinton. In another email, she wrote she feared Teneo was "hustling business at CGI."

Chelsea Clinton's concerns helped spark efforts at the foundation to adopt new policies governing outside consulting agreements designed to erect a more solid wall between Bill Clinton's private and charitable activities. Emails show that Cheryl Mills, who at the time was serving as Hillary Clinton's chief of staff at the State Department, was deeply involved in the foundation's proceedings.

Bill Clinton also separated from Teneo, returning to the company all but $100,000 of the money he had been paid, tax returns show.
It's not clear which of the monies Clinton repaid. Just those directly from Teneo?
But Band believed he was being held to a higher standard:
"I don't deserve this from her and deserve a tad more respect or at least a direct dialogue for me to explain these things," Band wrote to Podesta at the time. "She is acting like a spoiled brat kid who has nothing else to do but create issues to justify what she's doing because she, as she has said, hasn't found her way and has a lack of focus in her life."

Band complained that no similar scrutiny was being applied to Bill Clinton himself. Band noted that he had previously signed a conflict of interest document for CGI.

"Oddly, WJC does not have to sign such a document even though he is personally paid by 3 cgi sponsors, gets many expensive gifts from them, some that are at home etc.," he wrote.

The Band memo disclosed by WikiLeaks on Wednesday made no direct reference to Hillary Clinton.

But Band outlined that Kelly, his Teneo co-founder, had served simultaneously between 2009 and 2011 as an unpaid economic envoy to Northern Ireland appointed by then-Secretary of State Hillary Clinton and as head of a separate consulting company whose clients included Coke, UBS and Dow. Band wrote that the arrangement was consistent with Kelly's State Department ethics agreement.

Kelly's multiple roles came together during one State Department event in 2010, when then-Secretary Clinton recognized Dow, among other companies, for creating jobs in Northern Ireland and thanked Kelly for his work on the issue.
Separating Bill Clinton from Hillary Clinton here is an absurdity: they're a partnership. His status as a former president benefits the team. So did her status as a sitting Secretary of State and presumptive frontrunner for the 2016 Democratic nomination. The possibility of gaining access for donating to the foundation and providing lavish speaking fees and other perquisites was implicit; so, too, was the threat of being shut out for not doing these things.
Again, I don't have any reason to think any of this is illegal. The Clintons are highly competent legal minds and presumably employ legions of others to keep their actions in the gray zone.
Part of this is simply the essentially unprecedented situation of having a husband and wife team where both are in such high-powered roles. This has been a problem going back to the Arkansas days:  It's impossible to nail down what benefits Hillary got from being married to the sitting attorney general and governor and how much was earned purely own her own, not inconsiderable talents. Since Bill left the presidency in 2001–days after Hillary ascended to the Senate—the situation has been reversed.  A man with his resume and natural charm was going to get rich if he so desired. But her new perch and the very real prospects of her following him in the White House in the very near future certainly didn't hurt.
None of this makes Donald J. Trump any less of an unqualified sleazeball. But it's a large part of why a lot of people, myself included, are having a very difficult time making that tiny last step of endorsing Hillary Clinton for president.