Clinton, Sanders Lead In Reports Of Fundraising For Last Quarter Of 2015
Hillary Clinton and Bernie Sanders both released strong fourth quarter fundraising reports, as did Republicans Ted Cruz and Ben Carson.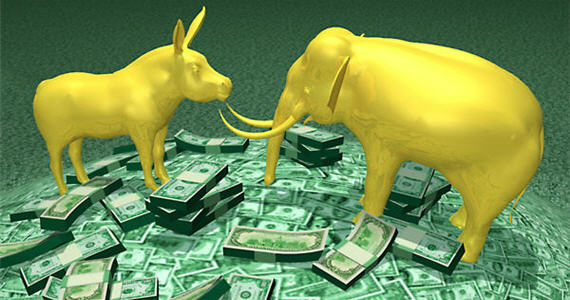 With the last fundraising quarter of 2015 ended on New Year's Eve, several of the Presidential campaigns have already begun releasing their top-line numbers, especially the ones with the numbers worth crowing about.
First up, there's Hillary Clinton campaign, which raised a grand total of $55 million, although not all of it for the exclusive use of the campaign:
Hillary Clinton's campaign had good news to announce as it rang in the New Year — the campaign said Friday it raised $55 million in the final fundraising quarter of 2015, and $112 million in total for the year.

About $37 million of the year's final haul was in hard primary dollars, and $18 million was raised for the Democratic National Committee and state parties through the Hillary Victory Fund. The final quarter of the year put the campaign over its goal of raising $100 million for the year. The campaign has spent $74 million so far, and now enters the election year with about $38 million in cash on hand.

(…)

The Clinton campaign said Friday that it made history, raising more money than any non-incumbent ever has in a non-election year. The campaign said Clinton raised roughly the same amount as President Obama did in his 2011 during the off-year of his reelection campaign.

"Helping Democratic candidates win up and down the ticket is a top priority for Hillary Clinton which is why she's also proud to be doing her part to ensure Democrats have the resources we need to win," said campaign manager Robby Mook.

The campaign noted that more than 60 percent of donations came from women, and 94 percent of all donations in the final quarter of the year were $100 or less.

With many Clinton stalwarts already tapped out after donating the maximum $2,700 contribution for the primary, Clinton's fundraising team has also been actively courting new donors to keep the money coming in.
Vermont Senator Bernie Sanders, who is Clinton's only real rival for the Democratic nomination, pulled in $33 million for his campaign, just $4 million behind the amount that Clinton took in exclusively for her campaign:
Senator Bernie Sanders's presidential campaign raised more than $33 million in the final three months of 2015, as his wide base of small-amount donors enabled him to come within $4 million of the amount raised by Hillary Clinton, his rival for the Democratic nomination, his campaign said Saturday.

Mr. Sanders, a senator from Vermont, has now raised $73 million for his nomination fight, his aides said in a news release.

The campaign said more than one million individual donors had made more than 2.5 million contributions, passing President Obama's previous record of about 2.2 million for the number of individual donations, which was set at the end of 2011.

"This people-powered campaign is revolutionizing American politics," Jeff Weaver, Mr. Sanders's campaign manager, said in a news release accompanying the release of the figures.

Mr. Sanders's spending on the campaign also appears to have shot up. The campaign now has $28.4 million in cash left from the $73 million raised, the release said.

The release announcing the haul was replete with references to how, "unlike other campaigns," Mr. Sanders was doing well with small-amount donors. The references were a veiled shot at Mrs. Clinton, who raised $37 million in the last quarter and has taken in more than $112 million in donations over all. Mrs. Clinton also has a "super PAC" supporting her.

Mr. Sanders's campaign has aggressively targeted and courted low-dollar donors, developing a deep network of people it could keep tapping for new contributions.

Mrs. Clinton, by contrast, struggled in the second and third quarters of the year to establish a low-dollar donor base, relying primarily on fund-raising events with ticket prices of $2,700 to bring in donations..
At least on paper, this strong fundraising by Sanders would seem to be a threat to Clinton in an ordinary election year, but if you look at the polls it's fairly clear that the Democratic race remains a race in name only. As 2015 closed out, Hillary Clinton held seemingly insurmountable leads in the national polls, Iowa, South Carolina, and Nevada, which holds its caucus in late February, while Senator Sanders continued to hold on to a small lead in New Hampshire that's had more or less consistently since mid-August. In other words, notwithstanding the fact that Sanders is raising a lot of money, more than many Republican candidates in fact, there's little sign that he's having much of an impact, or that he's really making much of an effort in any state other than New Hampshire itself. Perhaps that will change if he manages to pull out a win in the Granite State, but what seems more likely is that Clinton wins big in Iowa, manages to parlay that into a win in New Hampshire notwithstanding the current polling, and then goes on to coast to wins in South Carolina and Nevada. If that happens, then the Democratic race will effectively be over by the end of February, but even if Sanders wins in New Hampshire it seems unlikely that Clinton's advantages in South Carolina and elsewhere will melt away. More importantly, Clinton's campaign seems to be far better positioned in the primaries that follow February. Sanders is likely to stay around thanks to the money he's raised, but it's likely that he'll use the time to push his agenda rather than really take Clinton on in an effort that won't succeed and is only likely to damage her for the battle in November.
Among Republicans, so far only Ted Cruz and Ben Carson have released their numbers:
Ted Cruz and Ben Carson will each report substantial fundraising hauls in the final fundraising quarter of 2015, according to media reports. The news comes as their campaigns end the year moving in opposite directions in Iowa and amid a staff shake-up for Carson.

Cruz pulled in almost $20 million in the fourth quarter, according to a memo from campaign manager Jeff Roe to staff and backers of the Texas senator, The Wall Street Journal reported Wednesday. The total would mark a notable uptick from Cruz's $12.2 million haul in the previous quarter.

The memo notes that the nearly $20 million raised in the final three months of 2015 would bring Cruz's total for the year to more than $45 million, according to CNN.

"Some campaigns are focused solely on a man, some on a movement," Roe said, CNN reports. "Ours is a hybrid of the two built to win."

Carson, meanwhile, despite declining poll numbers and internal turmoil, brought in $23 million, said campaign manager Barry Bennett, according to Politico, a slight increase over his $20.8 million total from the the third quarter.

That announcement came before Bennett and communications director Doug Watts resigned from the Carson campaign on Thursday.
Carson's strong fundraising comes at the same time that he has fallen in the polls consistently since early November and just days after a staff shake up that seems to make it unlikely that he'll be able to reverse that decline at the same time that other candidates are rising candidates. Cruz on the other hand had jumped to second place in the national polls, as well as in polling in South Carolina, and Nevada, third place in New Hampshire, and a narrow first place position in Iowa. If nothing else, numbers like these will put Cruz in a good position to capitalize on his rise in the polls, and it will be interesting to see what kind of fundraising numbers we see from other candidates. Marco Rubio, for example, has risen slowly in the polls since October but his fundraising in the second and third quarters last year was rather disappointing to say that least. It will also be interesting to see if New Jersey Governor Chris Christie, who has risen in the polls in New Hampshire sufficiently to put himself into third place there and potentially become the 'surprise' candidate coming out of the state, has been able to capitalize on his rise on his polls with the increase in fundraising that would be necessary to given him a chance past the first in the nation primary. Other candidates to keep an eye on in the coming days as reports start to trickle out include Rand Paul, who has fallen consistently in the polls and may be on his last legs, and Jeb Bush, who has been able to do well in fundraising notwithstanding disappointing fundraising.
In one case among Republicans, though, it will will be more important to look at how much is being spent than how much is being raised. Since Donald Trump is, allegedly at least, largely self-funding his campaign rather than relying on donor and SuperPACs, his actual fundraising numbers will be interesting, but not really a good indicator of what kind of campaign he's actually running. Trump's third quarter FEC report showed that he wasn't really spending much money on the campaign at all, which has led many to question whether he has the kind of campaign infrastructure necessary to capitalize on his high poll numbers. This is especially true in states like Iowa and New Hampshire, where a strong ground game seems to be needed to get people to the polls, especially when polling indicates that many of the people who tell people they are supporting Trump haven't been regular primary voters or caucus attendees, and some of them have openly told reporters that they aren't sure they'll actually end up making the effort to support Trump on primary or caucus day. Trump's expenditure reports, which we may not see until mid-month, will give us at least some clues about what kind of ground operation his campaign may actually have. If it shows he's not really spending much on his campaign, then one has to wonder if the Trump phenomenon of 2015 may end up being the biggest illusion in recent American politics.