Clinton To Testify Before House Benghazi Committee October 22nd
Get ready for another pointless political circus.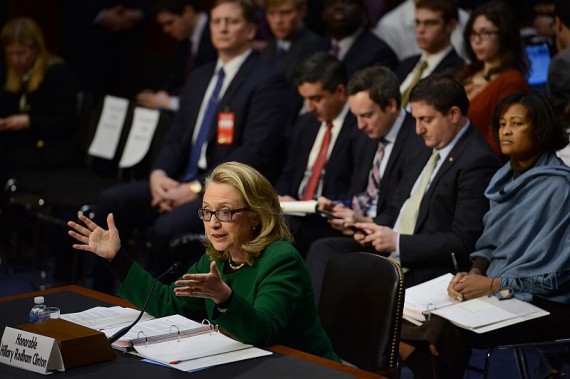 Hillary Clinton will be testifying before the House Select Committee investigating the Benghazi attack on October 22nd:
Hillary Rodham Clinton will testify on Oct. 22 before the House select committee investigating her role in connection with the deaths of four Americans in Benghazi, Libya, Clinton campaign spokesman Nick Merrill said Saturday.

The testimony will be public, Merrill said. It follows months of wrangling between the Republican-led committee and Clinton, whose allies accuse the panel of conducting a fishing expedition for damaging material that might be used against her as she runs for president in 2016.

Clinton had long offered to testify in public, but the committee chairman, Rep. Trey Gowdy, had initially said he preferred a private interview. Although he said he was trying to keep the session from becoming a circus, Clinton's team objected on grounds that a closed session could allow Republicans to selectively leak unflattering details.

Clinton's lawyer has also accused the committee of trying to drag out its investigation into 2016, the better to use it as a cudgel against the Democratic front-runner.
This won't be Clinton's first time testifying before a Congressional committee regarding the Benghazi affair, of course. She testify before both House and Senate Committees that were investigating the matter prior to leaving office as Secretary of State in January 2013. Both of those encounters were quite intense, of course, and led to the now famous confrontation between Clinton and Wisconsin Senator Ron Johnson and  in which Clinton utters the now famous line "What difference, at this point, does it make?" These hearings, coming as they will just months prior to the start of the Presidential campaign season, will likely be just as contentious, if not more so. There are no Presidential candidates on this committee, of course, but it is likely that the campaigns will be watching the hearings with interest and, to the extent they can, suggesting lines of questioning to Republican committee members. It will, no doubt, be interesting television.
In the end I tend to think that the hearings will end up helping Clinton, or at least not causing her any harm. The January 2013 hearings were pretty much a bust in terms of finding anything that actually implicated Clinton in wrongdoing or even wrong decision making with respect to the events of September 11, 2012. Additionally, none of the investigations into the Benghazi affair have found anything approaching wrongdoing or a cover up on the part of the Obama Administration generally or the State Department specifically. The House Intelligence Committee's investigation of the entire affair concluded that there was no wrongdoing and, basically, that the entire event was an unfortunate tragedy that perhaps only could have been avoided had Ambassador Stevens not traveled to Benghazi at all that day. This time around, of course, it is likely that much of the questioning will concentrate on the issues concerning Clinton's use of a private email server while she was Secretary of State and any email correspondence she may have had regarding Benghazi while she was Secretary of State. Most of all, though, it is likely that this hearing will be primarily about Clinton herself and the fact that she is the presumptive Democratic Presidential nominee. The goal, as it has been for some time now, won't be about finding out the "truth" Benghazi, which seems like an utterly pointless exercise considering this is the sixth Congressional Committee to investigate the matter, but about scoring political points for 2016. The American people likely to see right through that, and unless there is some kind of smoking gun that implicates Clinton in a cover up or something similar to that, it is unlikely that the hearing will do anything more than serve as red meat leading into the final months before Republican voters start picking their Presidential nominee.