Clinton Up Four Points In New Arizona Poll
With the lone exception of Bill Clinton in 1996, Arizona hasn't gone for a Democrat since 1948. That streak could end this year.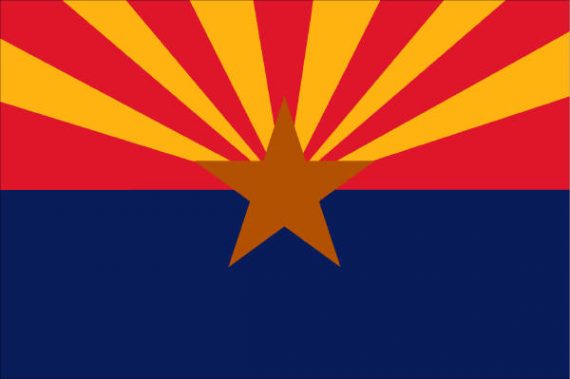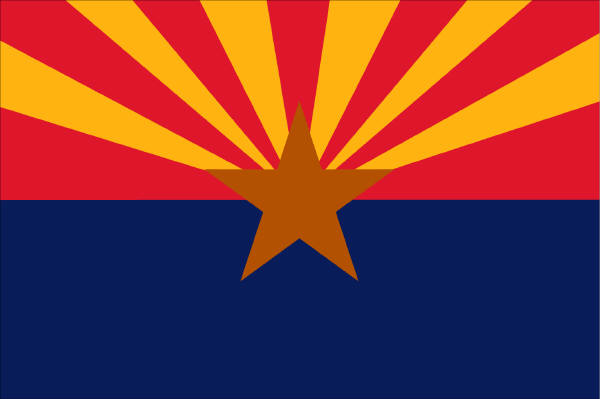 With the notable exception of Bill Clinton's win over Bob Dole in 1996, the last time Arizona saw its Electoral Votes go for a Democrat was in 1948 when Harry Truman scored his surprise win over Thomas Dewey. In every election since then, the state has been a solidly red state for the past sixty-four years. New polling out of the Grand Canyon State indicates that Donald Trump's campaign is going so badly that Hillary Clinton could win there in three weeks:
Hillary Clinton is hanging on to a small but widening lead over Donald Trump in what remains an up-for-grabs race for Arizona's 11 electoral votes, according to a new Arizona Republic/Morrison/Cronkite News poll released Wednesday.

Clinton, the Democratic presidential nominee and a former U.S. secretary of State, was supported by 39 percent of the likely Arizona voters surveyed, while Trump, the Republican nominee and real-estate developer, is backed by 33.9 percent.

Another 20.7 percent hadn't decided yet who to vote for in the Nov. 8 general election.

The statewide telephone poll was conducted Oct. 10 to Oct. 15, following a turbulent week in the presidential race. The candidates met in a notoriously rancorous second debate on Oct. 9, days after many Republicans across the nation — and, in Arizona, U.S. Sen. John McCain — withdrew their support for Trump over his vulgar remarks about women, captured in a 2005 recording.

And it arrives as the Clinton campaign has this week dispatched a trio of high-profile surrogates to Arizona: U.S. Sen. Bernie Sanders of Vermont was in Flagstaff and Tucson on Tuesday; daughter Chelsea Clinton to Tempe on Wednesday and first lady Michelle Obama in Phoenix on Thursday. There is speculation Hillary Clinton herself could make an appearance.

The Clinton campaign announced Monday that it is putting more than $2 million into its advertising efforts in Arizona.

Gary Johnson, the Libertarian nominee, is supported by 5.9 percent in the poll, while Jill Stein, the Green Party nominee, has less than 1 percent support.

The poll's margin of error is plus or minus 4.3 percentage points.

Clinton was leading Trump by less than 2 percentage points, 35.1 percent to 33.5 percent, among likely voters in an Aug. 17 to Aug. 31 Republic/Morrison/Cronkite News poll. That outcome also fell within the poll's margin of error.

The still-significant number of undecided voters in the most-recent poll could give hope to either campaign that the race could still break late in their direction.

When including "leaners" in the sample, the number of undecideds drops to 8.1 percent. Clinton's support rises to 43.3 percent while Trump's support increases to 37.8 percent. Johnson gets 6.5 percent while Stein gets 4.3 percent. The margin of error for the sample including the leaners is plus or minus 4 percentage points.

"At some point, those undecideds don't show up," said Jennifer Duffy, a national political analyst with the nonpartisan Cook Political Report in Washington, D.C. "Or, if they show up — because I assume a decent number of those are, frankly, Republicans — and if they do show up, they skip the top."

Of the 20.7 percent of likely voters who said they are still undecided about the presidential race, 26.6 percent are independents, 19 percent are Republicans and 14 percent are Democrats.

About two-thirds of respondents said their opinions were not swayed by the combative Trump vs. Clinton debate, where Clinton said Trump's campaign was "exploding" and Trump arrived in the debate hall with three women who have accused her husband, former President Bill Clinton, of sexual improprieties.

But 16.5 percent said the debate made them more likely to support Clinton and 9.2 percent made them more likely to support Trump.

Around the state, Clinton is leading Trump in Maricopa County, where about two-thirds of Arizona voters reside, 41.2 percent to 32.4 percent. Clinton also is dominating Trump in Democrat-friendly Pima County, the state's second-largest county, 54.1 percent to 26.1 percent. Trump is leading in greater Arizona, 41.6 percent to 25.8 percent.
One of the main reasons why this red bastion appears to be in jeopardy? People really, really don't like Donald Trump: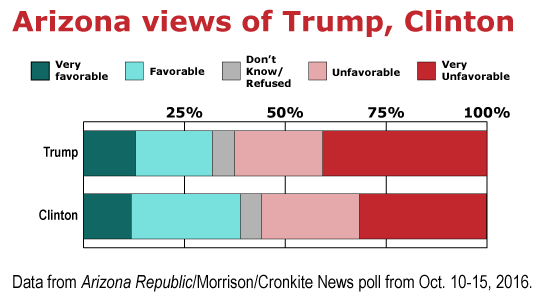 This is the second poll showing Clinton with a modest lead in Arizona, with the first being an Emerson College poll that gave Clinton a two point lead in the state. The result is that Clinton now has a modest 0.2 point lead in the RealClearPolitics average. Not much of a lead admittedly, but a lead nonetheless.
It's possible, of course ,that the polls will tighten and that we'll see the state swing back into the Republican camp. Given the way the polls are going, though, it seems like it's equally likely that the next three weeks will see Clinton gaining in traditionally Republican states like Arizona and Georgia, while independent Evan McMullen threatens to end fifty-two years of Republicans winning in Utah, and that Hillary Clinton will do even better on November 8th than many are suspecting.