Clinton v. Sanders: Some Key Numbers
Despite media narratives to the contrary, I do not see this as a truly competitive contest.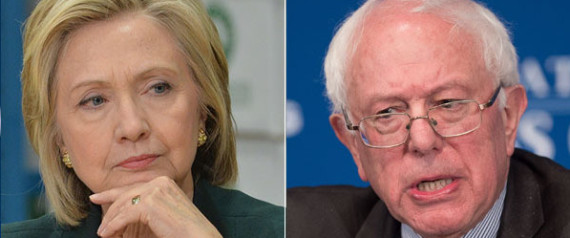 Despite the razor-thin margin of victory for Clinton yesterday, and despite the fact that Sanders is polling well in New Hampshire, there are a number of reasons why I do not think this competition will remain competitive after March 1st (regardless of what they are saying at Sanders' HQ or on cable news).
Three of those reasons are in the following paragraph (emphasis mine):
The former secretary of state has only a small advantage over Sanders with men (46 percent to 43 percent), but she boasts a significant lead with women (56 percent to 32 percent.) She also has a huge lead over Sanders with African Americans (63 percent to 20 percent) and Hispanics (54 percent to 33 percent).
I would note especially the substantial national edge Hillary has over Bernie with African Americans and Hispanics.  Guess what there are a lot of in Iowa and New Hampshire? (Yes, white folks).  Guess what ceases to be true when voting moves south and west? (I suspect the answer is obvious).  The calendar can be found here and the only clear win for Bernie on March 1 is Vermont.  I do not have enough solid data to say for sure that is the only contest he will win that night, but I will not be surprised in the least if that ends up being the case.
Simply put:  African Americans are a key Democratic demographic an Hillary has a 3:1 advantage over Bernie (and a almost a 2:1 with Hispanics).  Baring something dramatic, I see no route for Bernie to overcome that advantage.
If one does like the survey cited above because it uses an online sample, there is this from an MSNBC story:
A recent Fox News poll showed Clinton with 71 percent of the non-white vote nationally (it did not break out by race, but the majority of non-white Democratic voters are black), compared to 20 percent for Sanders. A December poll by YouGov of South Carolina Democrats found that Sanders and Clinton were effectively tied among whites, but Clinton was winning about 80 percent of the black vote, compared to about 20 percent for Sanders.
See also David Wasserman at the Cook Political Report:
In poll after poll, Sanders's best group within the Democratic Party is liberal whites. Unfortunately for Sanders, Iowa and New Hampshire couldn't be much further on the extreme end of the party's demographic or ideological spectrum. According to our estimates, based on past exit polls and Census data, there is only one state where whites who self-identify as liberals make up a higher share of the Democratic primary electorate than Iowa and New Hampshire.

You guessed it: Vermont.

In fact, 98 percent  of pledged Democratic delegates will come from states with lower shares of liberal whites than Iowa and New Hampshire. Just 447 of 4,051 pledged Democratic delegates – 11 percent – are tied to results in states or districts with higher shares of college-educated whites than New Hampshire. Moreover, just 13 percent of pledged Democratic delegates will be awarded in caucus states like Iowa, which as 2008 proved, tend to bring out more liberal participants than primaries.

In other words, if Sanders prevails narrowly in Iowa or New Hampshire, his support among liberal whites and in college towns – essentially Portlandia – would be entirely consistent with a scenario in which he also gets clobbered by Clinton nationally.
And, as we now know, Sander's went 50-50 with Clinton in very white Iowa and so the scenario that Wasserman notes above seems to be on track.
So, despite media narratives to the contrary (and even if Sanders wins NH next week), I do not see this as a truly competitive contest.  It is worth noting that he currently has a commanding lead in the RCP average for New Hampshire.  I wholly expect that to be the zenith of his 2016 bid.