CNN's Erick Erickson: Obama's Arizona Moment Of Silence Intended To "Accommodate Atheists"
Yet more ridiculous political commentary arising out of the tragic shootings in Arizona.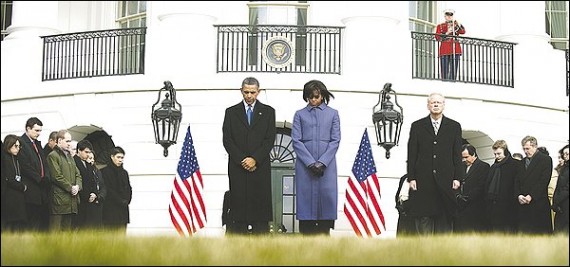 Yesterday, President Obama led the nation in a moment of silence for the victims of the shootings in Arizona. It's something that's become fairly common in the United States when events like this occur, but that didn't stop CNN talking head, and owner Managing Editor of Red State, Erick Erickson from using it as an opportunity to bash the President and anyone who doesn't happen to fit into whatever vision of Christianity he adheres to:
I feel the need to make a political point here about why this President is getting bashed for his "moment of silence" when other Presidents, from Carter to Reagan to Bush to Clinton to Bush, did not.

He recently made people mad by quoting the Declaration of Independence and leaving out the bit about the Creator. During his inaugural address he mentioned atheists and subsequently proclaimed us not a Christian nation.

In yesterday's "moment of silence" he wanted prayer or reflection. Here's the problem — when conservatives push for school prayer and advocate for a "National Day of Prayer," they include "or reflection" to get around namby-pamby atheist objectors.

But the left uses it too. The left uses it to accommodate atheists.

President Obama's statement stands out because it is just another verbal telling that he's ideologically of the left. He already has problems with a public perception of him and his faith. That things like this keep coming up suggests the general public is right in their skepticism of the sincerity of his faith.

If you are on the left, you are seeing red right now. Everyone else is nodding slowly in agreement.
As Erickson notes earlier in the piece, on September 11, 2001, before he left the Emma Booker Elementary School, President Bush appeared on camera and asked for a moment of silence (not a moment of prayer) for the victims in the still-burning Trade Center and Pentagon. When Obama does the same thing, however, Erickson bashes him and cites it as evidence in favor of those who continue to question President Obama's faith despite his continued statements that he is, in fact, a Christian and, perhaps most offensively, to assert that the President specifically choose a "moment of silence" so that he could "accommodate atheists" when there was no serious person making similar allegations when Presidents Reagan, Bush 41, Clinton, or Bush 43 did the same thing. That isn't political analysis, its personal hatred of the President disguised as political analysis and its hackery.
Even worse than that, though, is the clear implication in Erickson's propaganda disguised as commentary that there is something wrong with a government official taking into account the fact that not all of his constituents share his religious beliefs, or those of the majority of the country. He doesn't explain exactly what's wrong with this, although considering the audience he's writing for at Red State, I guess he doesn't really have to because that's clearly a universe where non-Christians are suspect to begin with and atheists are only one level above Muslims in their version of Dante's Inferno, maybe even a level below Muslims. However, that isn't the universe we live in, and Erickson obviously needs an education in the First Amendment and America's long tradition of freedom of thought when it comes to religion.
This is the problem that Social Conservatives have when it comes to religion. They want the government to reflect their beliefs, but they have zero respect for the beliefs, or non-beliefs, of others. To borrow a phrase that they are always eager to throw around, that's just un-American.
Photo Credit: The Washington Post