Colin Powell and Political Opportunism
Jennifer Rubin accuses Colin Powell of political opportunism for hedging on whether to renew his endorsement of Barack Obama.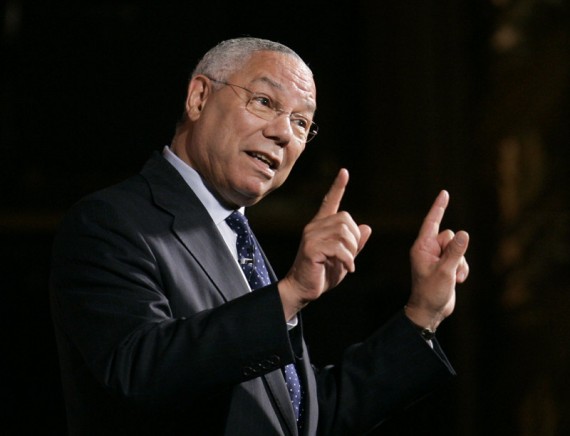 Keith Urbahn flags to my attention Jennifer Rubin's post charging that Colin Powell with "rank political opportunism" for declining to renew his 2008 endorsement of Barack Obama.
Former Secretary of State Colin Powell declined Tuesday to renew the presidential endorsement he gave Barack Obama four years ago, saying he wasn't ready "to throw my weight behind someone" at this time.

The former chairman of the military's Joint Chiefs of Staff and Cabinet member under President George W. Bush demurred when asked if he was backing Obama again this time around. Four years ago, Powell caused a stir in Republican political circles when the longtime GOP figure endorsed Obama over war hero Sen. John McCain, calling Obama a "transformational figure."

Not so this time, Powell said in an appearance on NBC's "Today" show. At least, not yet.

Pressed to say why he was holding back on giving Obama his blessing a second time, Powell told anchor Matt Lauer, "I always keep my powder dry, as they say in the military."He said that Obama had "stabilized the financial system" in the wake of the deep recession of 2008-2009 and "fixed the auto industry." Powell also said he thought the country was on the right path toward winding down the war in Afghanistan.

But he also said he thought Obama needed to work still more on the shaky economy and said he thought that he owed it to the Republican Party to listen to the proposals that presumptive nominee Mitt Romney will be offering, particularly on the economy. Powell said he's "still listening" to Republican ideas and that he wasn't ready to make a commitment to Obama.
In response, Rubin chortles,
Conservative foreign-policy gurus will have a hearty guffaw over that one. To be blunt, Powell has no real weight to throw around; it's hard to fathom that voters are hanging on his decision.
It's true that Powell's public profile is dramatically less than it once was. He's 75 years old now and he expended a lot of his political capital over the Iraq War, earning enmity from both sides. Democrats point to his UN speech as a key milestone leading us into that war, while Republicans think he was disloyal in not backing the war more enthusiastically early and for turning against the war once it became an obvious debacle. Similarly, Republicans consider him a traitor for backing Obama while Democrats give him no credit for the political courage it took to do so.
Rubin continues,
More to the point, Powell has acquired quite the reputation on the right for suck-uppery to the Beltway establishment and the Davos-hopping, Aspen Institute-blathering, "Charlie Rose"-admired set.
This line of attack has been a favorite of the Right for years and continues to baffle me. I've never been invited to Davos, Aspen, or the Charlie Rose show and likely never will. Davos, in particular, is slightly outside my budget. But what the hell is wrong with aspiring to be part of a crowd of intellectuals and influentials? Or being admired by them?
Surely, Powell's life story is one that should be admired by conservatives? He was born in Harlem to parents of modest means, worked his way through school, and joined the military where he served with heroism and distinction, making it all the way to the top. And, while he's been somewhat to the left on social issues since he started publicly talking about them, he's identified himself as a Republican—one of the few truly prominent blacks to do so.
He is less than (ok, entirely un-) beloved by those offended by his gross moral failure in the Scooter Libby case and those who went to bat for the surge in Iraq. When he came out to endorse the entirely under-prepared Barack Obama in 2008, heaping scorn on his longtime colleague Sen. John McCain, the universal reaction among hawks (aside from the involuntary retch) was that this was yet one more play to the Georgetown cocktail circuit.
Sigh. It's amusing, indeed, for a criticism that Powell is too inside-the-Beltway to be followed in the very next paragraph with a criticism that only those inside the Beltway could possibly care about. I wrote dozens of blog posts over the years about the Valerie Plame scandal and even attended a few days of the Scooter Libby trial and have only vague recollections of Powell's role. Perhaps that's because his role was almost non-existent; even in Rubin's telling, it consisted of not being sufficiently forthcoming about Richard Armitage being the man who inadvertently revealed Plame's cover to Bob Novak. Regardless, I doubt more than a dozen people on the planet–none of whom didn't already have very strong feelings about Powell one way or the other–have any strong opinion about it.
As to the Iraq Surge, Powell's position was hardly unreasonable. By that point in the war, it was an obvious debacle. Even though I'd supported the war, I'd long since acknowledged that. Unlike Powell, I thought that the least bad option was to continue muddling through–including engaging in the Surge–for a variety of reasons, not least of which were our promises to Iraqis who bet their lives on American resolve. But deciding that it wasn't worth more American lives at that point would hardly have been an unpatriotic stance. And Powell wasn't even all that adamant on the issue.
And, seriously, the "Georgetown cocktail circuit" trope? Directed at a former Chairman of the Joint Chiefs and Secretary of State? Not only has the man attended enough parties to last several lifetimes, but he's almost certainly going to be welcome at any party he cares to attend for the rest of his days.
That Powell is now contemplating withholding his support for the once-"transformational" Obama says nothing about Mitt Romney, and everything about which way the wind is blowing in Washington. No one who fancies themselves as a wise elder and who hopes ever to serve again in government (especially on a well paid and lightly attended board or commission) has the nerve to defend Obama's record robustly.
Oh, c'mon. Powell is a wealthy man with no remaining political ambition. At 75, he's not going to be Romney's vice president. He's already been Secretary of State. And he's not some mid-level bureaucrat or political appointee; he can make more money giving a 45-minute lecture somewhere than for a year of service on any government commission. He's not angling for any job here; rather, he's engaged in the one he's had since leaving Foggy Bottom: elder statesman.
Look, Powell didn't get to the top by being imprudent. He weighs his words carefully. And my hunch is that he enjoys stringing these things out, since it's more fun to be courted for one's endorsement than to deliver it early.
Now, if I were forced to bet, I'd do so on the side of Powell re-endorsing Obama, albeit with less enthusiasm than in 2008. Expectations were sky high then, and even seasoned hands like Powell were drawn in. Despite Obama's charisma and the historic nature of being the first black president, he hasn't been a "transformational figure."  I don't think a John Kennedy or Ronald Reagan–or, hell, a George Washington–could achieve that in the current poisoned atmosphere.
Powell, like a lot of us–especially those who aren't doctrinaire religious conservatives–has been frustrated with the Republican Party for some time. He flirted with endorsing Obama for months before finally doing so. Mostly, like a lot of other prominent elder statesmen whose loyalty to the GOP was forged under the likes of Richard Nixon, Gerald Ford, and George H.W. Bush, he was turned off by both neoconservative adventurism and the increasing stridency of the party on social issues. Further, it would be foolish to ignore the fact that Powell likely sees a lot of himself in Obama, another black man who started with very little and achieved very much. The fact that he's still hedging actually says quite a lot in that context.