College and Path Determination in American Economic Life
The best single means of becoming such an economic winner is to gain admission to a top university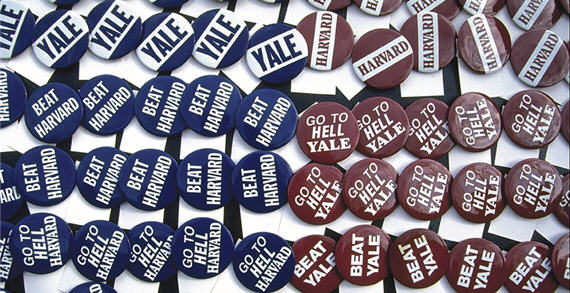 In "The Myth of American Meritocracy," Ron Unz argues that we shouldn't be surprised by large cheating scandals at Harvard and other elite universities.
In the last generation or two, the funnel of opportunity in American society has drastically narrowed, with a greater and greater proportion of our financial, media, business, and political elites being drawn from a relatively small number of our leading universities, together with their professional schools. The rise of a Henry Ford, from farm boy mechanic to world business tycoon, seems virtually impossible today, as even America's most successful college dropouts such as Bill Gates and Mark Zuckerberg often turn out to be extremely well-connected former Harvard students. Indeed, the early success of Facebook was largely due to the powerful imprimatur it enjoyed from its exclusive availability first only at Harvard and later restricted to just the Ivy League.

[…]

[T]his situation, sometimes described as a "winner take all society," leaves families desperate to maximize the chances that their children will reach the winners' circle, rather than risk failure and poverty or even merely a spot in the rapidly deteriorating middle class. And the best single means of becoming such an economic winner is to gain admission to a top university, which provides an easy ticket to the wealth of Wall Street or similar venues, whose leading firms increasingly restrict their hiring to graduates of the Ivy League or a tiny handful of other top colleges.3 On the other side, finance remains the favored employment choice for Harvard, Yale or Princeton students after the diplomas are handed out.4

As a direct consequence, the war over college admissions has become astonishingly fierce, with many middle- or upper-middle class families investing quantities of time and money that would have seemed unimaginable a generation or more ago, leading to an all-against-all arms race that immiserates the student and exhausts the parents. The absurd parental efforts of an Amy Chua, as recounted in her 2010 bestseller Battle Hymn of the Tiger Mother, were simply a much more extreme version of widespread behavior among her peer-group, which is why her story resonated so deeply among our educated elites. Over the last thirty years, America's test-prep companies have grown from almost nothing into a $5 billion annual industry, allowing the affluent to provide an admissions edge to their less able children. Similarly, the enormous annual tuition of $35,000 charged by elite private schools such as Dalton or Exeter is less for a superior high school education than for the hope of a greatly increased chance to enter the Ivy League.5 Many New York City parents even go to enormous efforts to enroll their children in the best possible pre-Kindergarten program, seeking early placement on the educational conveyer belt which eventually leads to Harvard.6 Others cut corners in a more direct fashion, as revealed in the huge SAT cheating rings recently uncovered in affluent New York suburbs, in which students were paid thousands of dollars to take SAT exams for their wealthier but dimmer classmates.7

But given such massive social and economic value now concentrated in a Harvard or Yale degree, the tiny handful of elite admissions gatekeepers enjoy enormous, almost unprecedented power to shape the leadership of our society by allocating their supply of thick envelopes. Even billionaires, media barons, and U.S. Senators may weigh their words and actions more carefully as their children approach college age. And if such power is used to select our future elites in a corrupt manner, perhaps the inevitable result is the selection of corrupt elites, with terrible consequences for America. Thus, the huge Harvard cheating scandal, and perhaps also the endless series of financial, business, and political scandals which have rocked our country over the last decade or more, even while our national economy has stagnated.
Now, I'm not sure that Unz connects the dots on this larger point with anything more than conjecture and innuendo. He presents no evidence that Ivy League graduates are more prone to cheating than others and, certainly, there are plenty of incentives for corner cutting. But the smaller point–the degree to which winning slots at a handful of elite institutions as a teenager has become the primary path to the top, with the enormous path determination that implies–is itself rather amazing.
It is, of course, possible to be quite successful in American life without a degree from an elite university. In many fields, it's probably not even all that big an advantage to have gone to Harvard or Stanford. In a handful of prestige fields, though–politics, law, academia, the news media, and large parts of the entertainment business—it's virtually impossible to rise to the top without having punched one's ticket at an elite school very early in life. Ronald Reagan was the last president not to have an Ivy League degree. Almost every Supreme Court Justice in modern times have gone to Harvard, Yale, Columbia, or Stanford. And while it's possible to rise to the top in American media, entertainment, and academic circles without a prestige degree, it's infinitely easier with one.
That wouldn't inherently be a bad thing if our best and brightest were being funneled into our best schools. Certainly, many of them are. But, as Unz argues, it's also true that mediocre students whose parents are particularly rich and well connected can rig the game. Beyond that, even in sorting among the best students, those whose parents have the wherewithal to get them into the best preschools, prep schools, and test prep programs have a substantial advantage over their peers having to claw through the system on their own initiative.