Colorado Fire Threatens Air Force Academy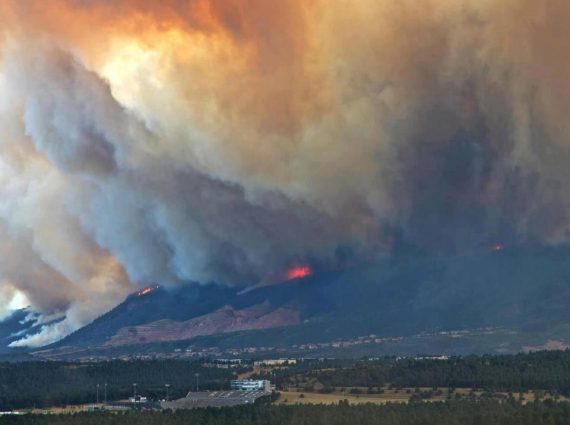 One of the fires ravaging Colorado is threatening the Air Force Academy:
(CBS/AP) WOODLAND PARK, Colo. – A stubborn and towering wildfire jumped firefighters' perimeter lines in the hills overlooking Colorado Springs, forcing frantic mandatory evacuation notices for more than 9,000 residents, destroying an unknown number of homes and partially closing the grounds of the sprawling U.S. Air Force Academy.

Heavy smoke and ash billowed from the mountain foothills west of the city. Bright yellow and orange flames flared in the night, often signaling another home lost to the Waldo Canyon Fire, the No. 1 priority for the nation's firefighters.

Interstate 25, which runs through Colorado Springs, was briefly closed to southbound traffic Tuesday. All told, officials said, evacuation orders affected as many as 32,000 residents.

"It was like looking at the worst movie set you could imagine," Gov. John Hickenlooper said after flying over the 9-square-mile fire late Tuesday. "It's almost surreal. You look at that, and it's like nothing I've seen before."

With flames cresting a ridge high above its breathtaking, 28-square-mile campus, the Air Force Academy told more than 2,100 residents to evacuate 600 households. There was no immediate word on whether a new class of 1,045 cadets would report as scheduled on Thursday.

A curtain of flame and smoke teetered above the academy's Falcon Stadium; billowing gray clouds formed a backdrop to its aluminum, glass and steel Cadet Chapel, an icon of the academy. Elsewhere, police officers directing traffic and fleeing residents covered their faces with T-shirts and bandanas to breathe through the smoke.
That photograph above, from a local television station, depicts the fire as it moves down the mountains. The football stadium you see in the foreground is Falcon Stadium, where the Air Force Falcons play their home games. In addition, hundreds of homes have already been burned and thousands more are threatened.
Stephen Green, who lives in the area has a detailed update of the status of the Waldo Canyon fire this morning, and he adds this:
It's unbelievably dry here, and it's been record-setting hot, too. That's why every report you read about this fire has somebody saying something about how fast and aggressive it is. Melissa and I are pinning our hopes on the Air Force. For the fire to reach us, it would have to first get through the Academy — and we can't imagine the Air Force allowing that to happen.
Here's hoping that Stephen, his family, and everyone else in the area stays safe and this fire ends quickly, because, it looks terrifying: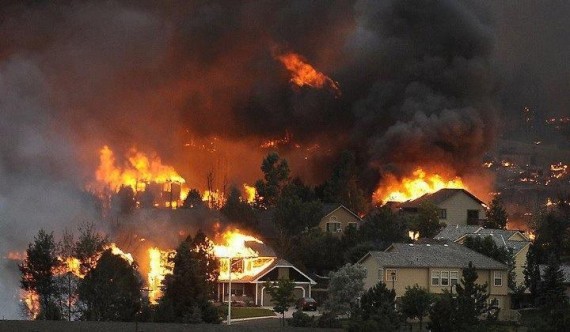 For those in the area, some wildfire survival tips.
Update: The Denver Post has a collection of more amazing photographs.