Colorado Primary Shows Evidence Of Enthusiasm Gap
The results of last night's Colorado Senate primaries should be causing Democrats to worry.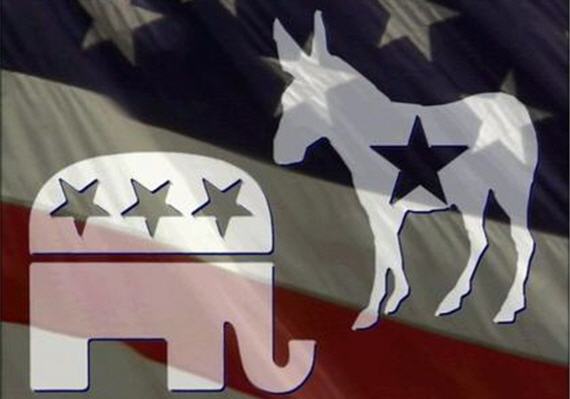 Sam Stein at The Huffington Post takes a look at some numbers that should cause Democrats to worry, a lot:
For all the chatter about the White House's ability to get out the vote in Colorado's Tuesday night primary, the election produced one statistic that could leave Democrats unsettled.

The losing candidate in the Republican race, former Lt. Gov Jane Norton, actually earned more votes (197,143) than the winning candidate in the Democratic primary, Sen. Michael Bennet (183,521).

A voting breakdown like that is troubling enough for the party. That it occurred in Colorado — a state targeted by the Obama presidential campaign and turned into a potential Democratic stronghold in 2008 — makes it slightly more frightening. When the loser in the Kentucky Democratic primary, Lt. Governor Dan Mongiardo, received more votes (221,269) than the winner of the Republican primary, Rand Paul (206,159 votes), it was routinely highlighted by party officials as a sign of viability in the bluegrass state.

Party officials refused, on Wednesday, to downplay Bennet's win because of the aggregate voting trends.
The difference, of course, is that Democratic registration in Kentucky is far higher than Republican registration, even though the state has a habit of electing Republicans in statewide national elections. That, combined with the fact that the Kentucky primary is closed to independent voters, means that it wasn't surprising that there was a difference between turnout in the two races.
Colorado is different. It's a marginal state that has gone for both Republicans and Democrats in important elections. The fact that Republicans are more energized there is something that ought to have Democrats nationwide worried, especially since this enthusiasm gap appears to be a nationwide phenomenon: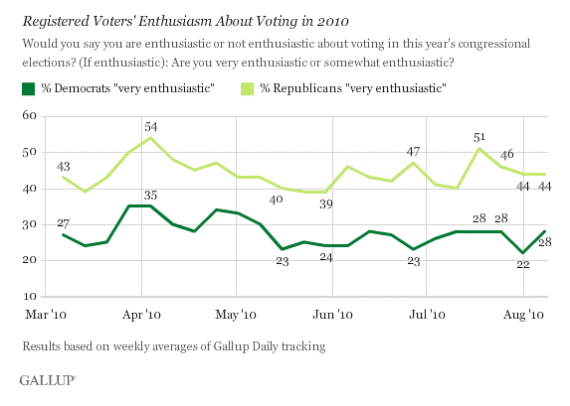 If this trend continues into late October, especially in places like Colorado, Florida, Illinois, and Ohio, then it's likely to be a bad night for the Democrats on November 2nd.