Colorado Springs Shooter Robert Dear Admits Guilt, Confirms Motive, In Courtroom Outburst
The man who killed three and wounded several others at a Colorado Planned Parenthood seemingly admitted guilt and motive in a courtroom outburst, but questions about his mental capacity remain.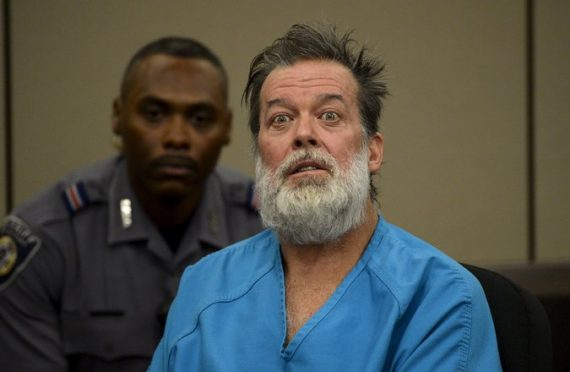 Robert Dear, the man who killed three and injured several others during a late November standoff at a Colorado Planned Parenthood clinic seemingly admitted his guilt and a motive during a court hearing yesterday, but also raised questions about his mental state that are likely to become a focus of his case going forward:
COLORADO SPRINGS — "I'm guilty. There's no trial," the accused mass killer Robert L. Dear Jr. told a startled courtroom here on Wednesday. "I'm a warrior for the babies."

It was a bizarre development in a horrific case, with Mr. Dear using his first court appearance since the deadly rampage at a Planned Parenthood clinic to disrupt the proceedings. There were angry outbursts, declarations of guilt and expressions of anti-abortion politics.

"Let it all come out," he said in one of a series of outbursts that seemed to remove any doubt about his motivation. "The truth."

Mr. Dear — bearded and unkempt, his leg and arms in manacles — was in court to face 179 felony counts, including first-degree murder, in the Nov. 27 shooting that killed three people and wounded nine.

It was a vivid reminder of the horror of the Colorado shooting, which was eclipsed by the massacre in San Bernardino, Calif., five days later

As Judge Gilbert Anthony Martinez of Colorado's Fourth Judicial District and the lawyers discussed which parties might be affected by a pretrial publicity order, Mr. Dear, 57, shouted: "Could you add the babies that were supposed to be aborted that day? Could you add that to the list?"

Mr. Dear's declaration of guilt came before his formal arraignment, which has not yet been scheduled. His lawyer, Daniel King, a public defender, said in court Wednesday that he wished to explore issues of Mr. Dear's mental health, and hinted that he might argue that he was not competent to stand trial.

"We have serious concerns about competency in this case," Mr. King said, shortly after Mr. Dear had exclaimed, "You're not my lawyer!"

Mr. Dear has been described by relatives and neighbors as a loner with an antigovernment worldview and has expressed extreme anti-abortion views, say an ex-wife and others. According to one law enforcement official, Mr. Dear said "no more baby parts" after his arrest. But the authorities have not publicly ascribed a motive to the shooting.

The charges against Mr. Dear are so numerous that Mr. King waived the right to have them read aloud in court. The charges of first-degree murder could potentially carry the death penalty, which prosecutors will have the opportunity to seek after an arraignment.

There are eight first-degree murder charges in all, covering the three shooting deaths. In a news conference, Dan May, the district attorney for Colorado's Fourth Judicial District, explained that the multiple charges stemmed from the fact that there were distinct "theories" undergirding each of those charges.

For example, three counts were filed related to the death of Jennifer Markovsky, a 35-year-old mother of two children. One of the counts alleges that Mr. Deal acted with "deliberation" when he caused her death. A second count alleges that Mr. Dear caused her death in furtherance of a burglary, for which he was also charged (prosecutors allege that he unlawfully entered the Planned Parenthood building).

A third murder charge alleges that he evinced an "attitude of universal malice manifesting extreme indifference to the value of human life generally."

Multiple counts were also filed related to the deaths of K'Arre Stewart, 29, an Iraq war veteran, and Garrett Swasey, 44, a police officer at the local campus of the University of Colorado.

Many of the other charges are counts of attempt to commit first-degree murder and first-degree assault, all of them connected to Mr. Dear's arrival at the clinic and the subsequent attack and standoff, in which the authorities said Mr. Dear was armed with a semiautomatic rifle.

On Wednesday, Jeff Dorschner, a spokesman for the United States attorney for Colorado, said that a federal investigation, headed by the F.B.I. and assisted by the Bureau of Alcohol, Tobacco and Firearms, was continuing. Investigators are interviewing Mr. Dear's friends, associates and relatives to determine whether he had ties to any extremist groups or if anyone helped him plot the attack, according to senior law enforcement officials. The authorities also want to know whether Mr. Dear told anyone about his intentions in recent weeks, the officials said.
Given that he was caught at the scene of the shooting after a standoff during which he exchanged gunfire with police, and apparently identified as the gunman by several people who saw him before he entered the building, there has never really been any doubt that Dear was in fact guilty of the crimes in question. In the initial days after the attack, though, it was unclear exactly what may have motivated his actions or whether he had ties to any outside groups, and most importantly the help of any other parties in obtaining weapons and planning for the attack on the day after Thanksgiving. On at least some level, Dear admission in court would seem to answer the motive question, or confirm it for those who had already come to that conclusion on their own, but it doesn't necessarily tell us very much more about the case itself. As numerous reports have indicated, for example, there doesn't seem to be much evidence that Dear has ever had much contact with formal pro-life organizations, either back in North Carolina where he apparently still maintained a home in the woods or in Colorado. Additionally, it doesn't seem apparent that he had any assistance in his attacks either in terms of planning or obtaining weapons and ammunition. Instead, it would appear for all the world that, not unlike people like Syed Farook in San Bernardino, Dear was self-radicalizing in that he was consuming news about the abortion issue on his own and digesting it in whatever manner he did.
In that regard, his behavior and appearance in Court also seem to raise questions about whether or not he is competent as well as whether or not his lawyers will be pursuing some kind of mental illness defense if the case does end up going to trial. On the first issue, establishing that someone is not competent to stand trial is not an easy affair since one must essentially prove that someone is so seriously mentally ill that they are not really aware of the world around them, don't understand the charges against them, and are unable to assist their attorney in their own defense. Because of that, it's rare that a defendant will be found incompetent to stand trial and, when they are, the usual course of action is for them to be committed for treatment to determine if they can be brought to a state where they are competent. This is what happened, for example, with Jared Lee Loughner, the man who shot former Congresswoman Gabrielle Giffords, who was initially found incompetent to stand trial and then, after treatment, eventually ended up pleading guilty to the charges against him. As far as the issue of mental illness as a defense goes, this generally requires that it be established that the Defendant was unable to understand that what he was doing was wrong and/or not understanding the nature of the charges against him. This is generally a very hard standard for defense counsel to meet, but Colorado is different from other states in that the law essentially requires the prosecution to establish the Defendant's legal sanity as part of its case in chief. As the case of James Holmes, the man who killed more than ten people in a Colorado movie theater shows us, though, that isn't necessarily a difficult task, although the mental health issue did appear to be sufficient for Holmes to avoid the death penalty.  In any case, it's still early in the proceedings and the defense hasn't indicated whether they would be raising a competency or mental health defense at trial as of yet, although it seems quite apparent that there is a basis for them to do so.
Photo via The New York Times