Comey and Brennan are Right but Should STFU
For intelligence and law enforcement to function, their leaders must remain outside the partisan fray---even in recent retirement.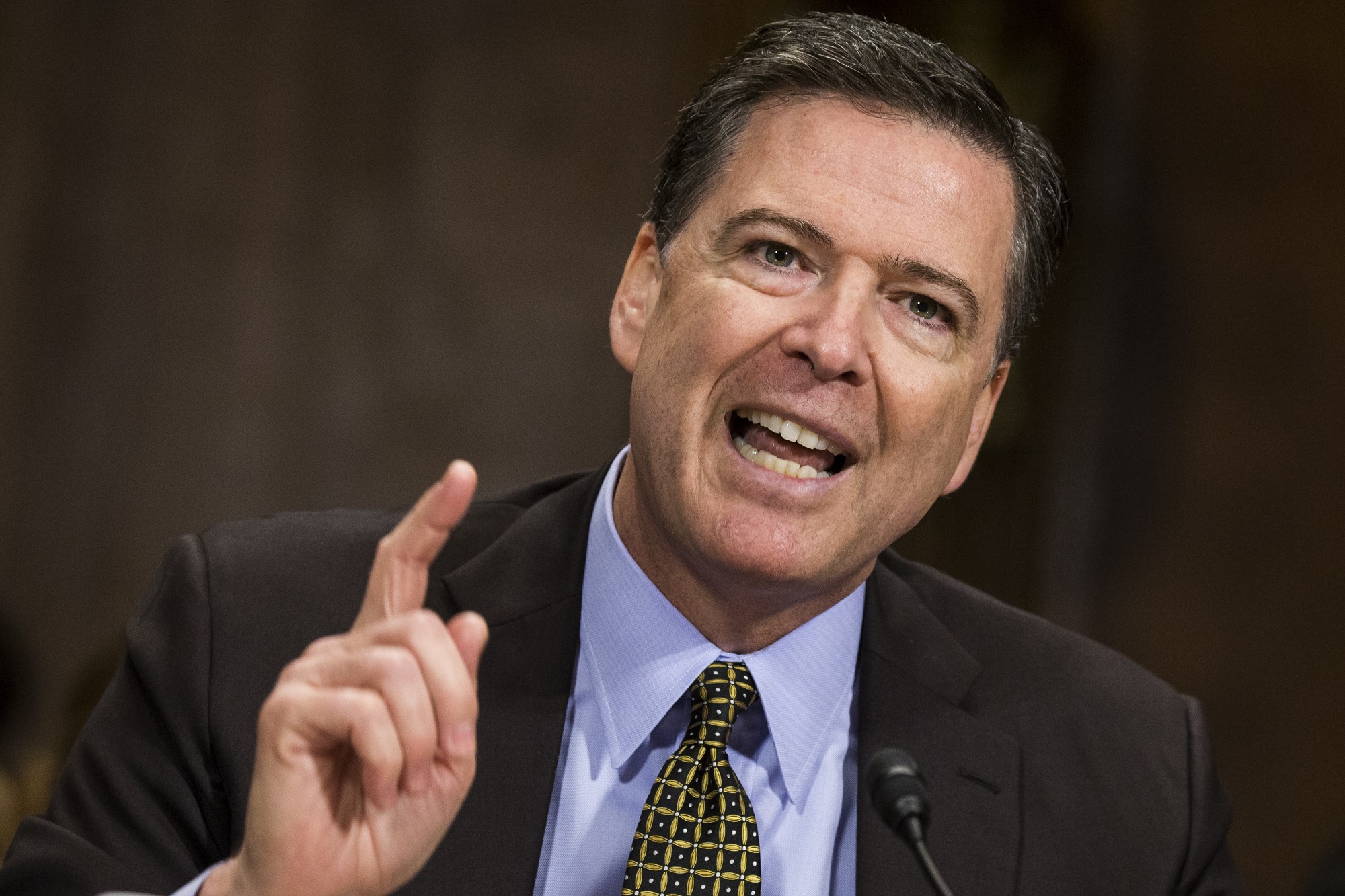 Mark Penn, who served as a top strategist for both Bill and Hillary Clinton, has a rather unhinged op-ed at The Hill titled "Comey's last stand for the deep state."
They were among the most powerful men of the last decade. They commanded armies of armed agents, had the ability to bug and wiretap almost anyone, and had virtually unlimited budgets. They were the leadership of the FBI, the CIA and the director of national intelligence under President Obama. Each day, it becomes clearer that they are the real abusers of power in this drama.

The book by former FBI Director James Comey and the daily hyperbolic John Brennan sound bites are perhaps the final reveal of just how much hubris and vitriol they had. Comey's book, according to reports, contains nothing new of legal consequence to Trump (while suggesting that former Attorney General Loretta Lynch has something to worry about), but it unmasks the hatred that Comey had for Donald Trump from the beginning. It impeaches Comey's fitness to have ever held high, nonpartisan office.
Those are wildly provocative charges not backed up in the slightest by the remainder of the article.
Amidst some bizarre ax-grinding, though, he hits on a feeling that I've had for some time about both Brennan and Comey: that while I agree with virtually everything they've said since being freed from the constraints of their former lofty positions, the very fact they held those posts so recently makes me wish they would follow the immortal (and repeated) advice of Bob Gates  and just shut the fuck up.
While they're often quite valuable to me as a policy analyst who has never actually made policy, the various tell-all books coming out of administrations have long bothered me. Gates' Duty: Memoirs of a Secretary at War, for example, is a fine read but it was, at very least, weird to have a Secretary of Defense recounting private conversations with a still-sitting president that he served. (There was a surreal passage in the book where Gate recounted with apoplectic fury President Obama having remarked in a top-level meeting that he hoped he wouldn't see a conversation in a book, with Gates noting that it was outrageous to insinuate that anyone would do such a thing in his book which recounted the conversation.) Presidents ought to be able to have conversations with their cabinet secretaries without having to worry about them being repeated.
That's tenfold more true of fundamentally apolitical posts like the directorships of the CIA and FBI. As Penn rightly notes, we give these men (and, thus far, they've always been men) enormous power and trust. While both Comey and Brennan were controversial figures while in office, I believe both served honorably, balancing competing interests in the way they thought best for their country and the agencies they led.
But by entering the political fray so soon out of office, as both have in full-throated fashion, they absolutely feed the suspicions of those, like Penn, who believe the "deep state" is out to serve its own agenda.
Brennan has gone into full honey badger mode from almost the second his retirement became effective. His Twitter account has been used sparingly, with a mere 28 tweets. Almost all of them, though, have been viral attacks on the President.
His most recent put the word "kakistocracy" into the public lexicon:
Your kakistocracy is collapsing after its lamentable journey. As the greatest Nation history has known, we have the opportunity to emerge from this nightmare stronger & more committed to ensuring a better life for all Americans, including those you have so tragically deceived. https://t.co/eC6LATH2Gd

— John O. Brennan (@JohnBrennan) April 13, 2018
The previous tweet, mocking Trump for "self-adoration," might be a tad bit lacking in self-awareness:
I served 6 Presidents, 3 Rs & 3Ds. I directly supported Clinton, Bush 43, and Obama. While I didn't agree with all their policy choices, I admired and respected all of them, as they put country above their personal interests. Not so with you, as your self adoration is disgraceful https://t.co/A1brb0HW3V

— John O. Brennan (@JohnBrennan) April 5, 2018
His reaction to the McCabe firing got 103k retweets:
When the full extent of your venality, moral turpitude, and political corruption becomes known, you will take your rightful place as a disgraced demagogue in the dustbin of history. You may scapegoat Andy McCabe, but you will not destroy America…America will triumph over you. https://t.co/uKppoDbduj

— John O. Brennan (@JohnBrennan) March 17, 2018
While I applaud Brennan's instincts and think they're motivated by love of country and the institutions of its government he served for decades, they feed into the notion that the intelligence community has an agenda of its own. While Brennan may well not speak for the current leadership of the CIA, much less its officers and analysts, they carry so much weight precisely because of his recent post.
Comey has been more cautious until this weekend's launch of his book. His Twitter account has been a mix of banal observations about daily life, remembrances of the service of law enforcement officers, and the occasional soft jab at Trump. Some examples of the political:
That's it? Dishonest and misleading memo wrecked the House intel committee, destroyed trust with Intelligence Community, damaged relationship with FISA court, and inexcusably exposed classified investigation of an American citizen. For what? DOJ & FBI must keep doing their jobs.

— James Comey (@Comey) February 2, 2018
All should appreciate the FBI speaking up. I wish more of our leaders would. But take heart: American history shows that, in the long run, weasels and liars never hold the field, so long as good people stand up. Not a lot of schools or streets named for Joe McCarthy.

— James Comey (@Comey) February 1, 2018
Special Agent Andrew McCabe stood tall over the last 8 months, when small people were trying to tear down an institution we all depend on. He served with distinction for two decades. I wish Andy well. I also wish continued strength for the rest of the FBI. America needs you.

— James Comey (@Comey) January 30, 2018
Where are the voices of all the leaders who know an independent Department of Justice and FBI are essential to our liberty? "You are not only responsible for what you say, but also for what you do not say." — Martin Luther

— James Comey (@Comey) January 3, 2018
Where are the voices of all the leaders who know an independent Department of Justice and FBI are essential to our liberty? "You are not only responsible for what you say, but also for what you do not say." — Martin Luther

— James Comey (@Comey) January 3, 2018
Again, rather veiled in comparison to Brennan's contemptuous language. But, even they feed into the bipartisan—and largely incorrect, in my view—charged that the FBI has a partisan agenda.
The book is more problematic. While I haven't (and likely won't) read it in its entirety, there's both very little new knowledge about the Russia investigation and too much revelation of private conversations he had as FBI Director with President-Elect/President Trump. To the extent the latter have legal implications, he ought very much have shared them with the Justice Department and/or Robert Mueller. Putting them into a tell-all book to line his pockets and/or save his reputation undermines trust in the institution he claims to value so much.
Even beyond violating presidential trust, which can arguably be dismissed given Trump's continued attempts to humiliate Comey publicly, what possible purpose does this serve?
"[Kelly] said he was sick about my firing and that he intended to quit in protest. He said he didn't want to work for dishonorable people who would treat someone like me in such a manner. I urged Kelly not to do that, arguing that the country needed principled people around this president. Especially this president."
While this nugget might slightly enhance Comey's reputation, it makes it harder for Kelly going forward to be one of those "principled people" that the country needs.